The Ashes: Michael Clarke promises to lead by example on eve of first Test
Australia captain Michael Clarke has vowed to lead by example when the Ashes gets under way on Wednesday.
Last Updated: 09/07/13 10:00pm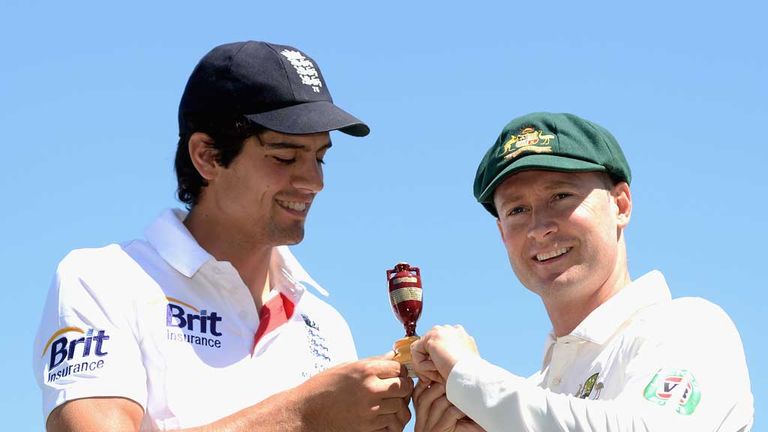 Clarke confirmed that the other 10 players in the starting XI have been told of their inclusion, and he is backing them all to fire in the first Test.
In an intriguing pre-match press conference, a relaxed Clarke said he was surprised by England's decision to drop Nick Compton, and added that he believes spin and reverse swing potentially hold the key to victory in Nottingham.
And Clarke insists he was personally physically fit and ready for the series after missing much of the last few months' action with a back injury.
"Everybody is fit as far as I know. I'm 100 per cent fit. It was nice to play a couple of tour games to get some match practice under my belt. I've got to deal with my back every day of my life. Though this series will be no different. It will be great to be back on the field with the boys," he said.
"It's about time I scored some runs for Australia. The other guys will be fine. They are looking forward to this challenge. I'm going to make sure I'm focussed on my job. I've got to make sure I'm scoring runs and leading by example. I'm really confident in the other guys."
"Conditions play a huge part. We've got a pretty dry wicket. Reverse swing will certainly play a part. It's been nice and warm here in the past week. Reverse swing and spin are going to play a big part as the game goes on," he said.
Clarke confirmed the players picked to play in the eagerly anticipated opener were told so they can "mentally prepare" for the match.
"I know the XI and the players do know. But at this stage I can't announce it and we'll do so at the toss. This is a long series, everyone wants to take part but you can only fit 11 into the first team," he said.
Opportunity
"I think for us to have success it's going to take the whole squad. It takes the whole touring party. The players that aren't playing know they have to keep working hard to get an opportunity. Their involvement around the XI that takes the field is just as important."
Joe Root will open for England along with skipper Alastair Cook, and Clarke admitted he was surprised at the omission of Compton.
Compton scored 81 for Somerset against the Aussies, and then, whilst guesting for Worcestershire, added another 79 against the tourists.
"We haven't bowled to Joe yet, but we didn't manage to get Nick out so easily so I'm happy he's not playing to be honest," Clarke said.
"Nick showed he has got class, he's got a very good defence, and I'm surprised he's not in the first Test team."
Root hit the headlines last month after being on the wrong end of a punch from Aussie star David Warner in a Birmingham nightclub.
Warner was subsequently suspended until the first Test starts and he played no part against Somerset or Worcestershire.
Good spirit
Clarke would not be drawn on whether the aggressive batsman would play on Wednesday, saying: "If David is selected I'm confident he'll have success."
And Clarke insists that despite the Warner incident, he is confident the Ashes showdown will be played in a good spirit.
"The rivalry between England and Australia is special. On the field it will be hard-fought cricket - both teams want to have success, both sides want to win, but off the field there will be that friendship as well," he said.