Ashes 2013: First day nerves account for wicket flurry, says Andrew Strauss
Both England and Australia fell foul of Ashes nerves on day one of the first Test, says Andrew Strauss.
By Andrew Strauss
Last Updated: 11/07/13 5:43pm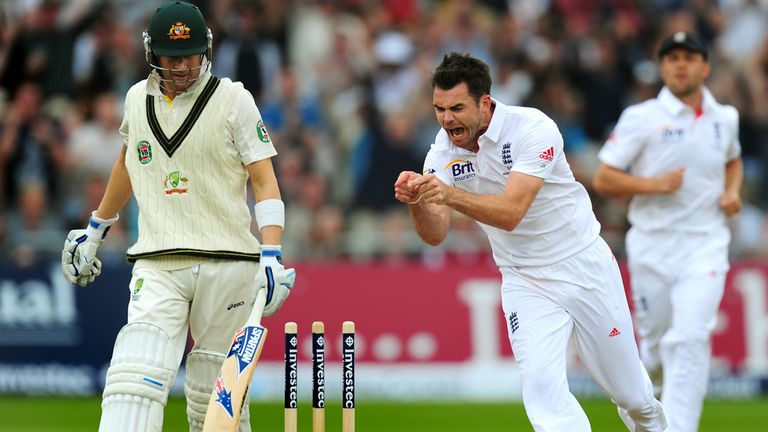 England won the toss and opted to bat under cloudy skies but a combination of poor shot selections and inspired bowling from Peter Siddle (5-50) saw the hosts post a below-par 215.
However, James Anderson and Steven Finn struck back late in the day to leave Australia wobbling on 75-4 at stumps, 140 behind.
After seeing 14 wickets fall in the day Strauss, who captained England to Ashes glory in the last two series between the sides, said: "The obvious explanation is nerves.
"[There's been] huge build-up, huge attention and the players had a lot of adrenaline going through their body.
"There were some loose shots, I don't think anybody can deny that, but they were from both sides."
Despite Australia profiting with a swinging ball during England's disappointing knock, Strauss backed Alastair Cook's decision to bat first and insisted the dry wicket in Nottingham would favour the side batting last.
"You can't make a decision at the toss for the first day of the game - you have to think of all five days," said Strauss.
"We don't know how this wicket is going to deteriorate but everything suggests, with those cracks, it is going to get up and down at the back end and the spinners are going to come into it.
"England knew they had to fight hard this morning - it was always going to be a tough day for the England opening batsmen - and at lunch they'd done a lot of the hard work. At 98-2 they had a platform to go on this afternoon.
"In some ways it was quite surprising in the middle session Australia dominated as much as they did."
Jaffa
However, while poor shots, nerves and good fortune may have accounted for many of the wickets which fell on day one, Strauss heaped praise on Anderson for his dismissal of Michael Clarke.
The Australia captain, whose batting ability is a major strength of the tourists, was bowled for 0 by a fine delivery from the seamer and the wicket moved Anderson onto 308 Test scalps, one more than Fred Trueman and into third spot on the all-time list of England wicket-takers.
"It's one of the big battles of this Ashes series: Anderson against Clarke, because he is their number one player - but that was an absolute jaffa," said Strauss.
"It doesn't matter who you are, how good you are, you're not going to play too many of those.
"Jimmy got him out in Adelaide and a couple of other times, I think. He lures Clarke into trying to drive at him and for Jimmy, being a swing bowler, that's a fantastic thing to get Clarke to do.
"That ball was an absolute beauty. You can't think of his technique or anything, it was a great delivery."
Watch day two of the first Ashes Test live on Sky Sports Ashes HD from 10am on Thursday and follow the action with the Ashes Events Centre, available through the Sky Sports App.