Revealed: What Glenn McGrath told Ashton Agar before first Test
Glenn McGrath's speech as he awarded Ashton Agar his 'Baggy Green' ahead of the first Test with England can be revealed.
Last Updated: 12/07/13 7:16pm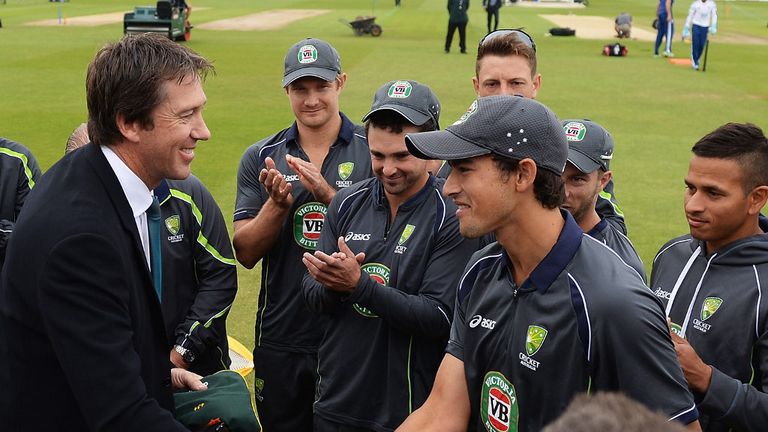 As is Australian tradition, the Test debutant was awarded his first cap by a former player, in this case the great McGrath.
Surrounded by the rest of the squad, McGrath congratulated Agar on his selection - the 434th player to be picked by Australia - and told him to "never give up, no matter what the situation."
Agar, 19, clearly took McGrath's words to heart, scoring an incredible 98 as he rescued Australia from the dire straits of 117-9, the highest score by a No 11 in Test match history.
Speaking to the left-arm spinner on the pitch at Trent Bridge on Wednesday morning, McGrath said: "Ashton was born the year I made my Test debut (1993) which is a bit scary. Mate, there is a lot of pride, honour, tradition and respect which goes into this Baggy Green. It's not something to be taken likely.
"Today you join a very elite group, a small number of Australians who have been lucky enough to wear this cap. To do it on the first day of an Ashes series is pretty special.
"I just want you to know that it is very special and the advice that I would pass on is that the reason you are here is because of the way you have bowled to date, so you don't have to change anything. Just concentrate hard, work hard, leave nothing in the tank and never give up, no matter what the situation, never give up.
"The one thing to remember, you are never out there by yourself. Look around you here, twenty million-odd people back home in Australia are supporting you and the rest of the team.
"It's a big honour for me, I know you will wear this with pride. So Ashton Charles Agar, number 434, mate, congratulations."