Hot Spot inventor: Operator error cost Jonathan Trott his wicket
The inventor of the Hot Spot system says operator error was to blame for Jonathan Trott's dismissal at Trent Bridge.
Last Updated: 12/07/13 7:16pm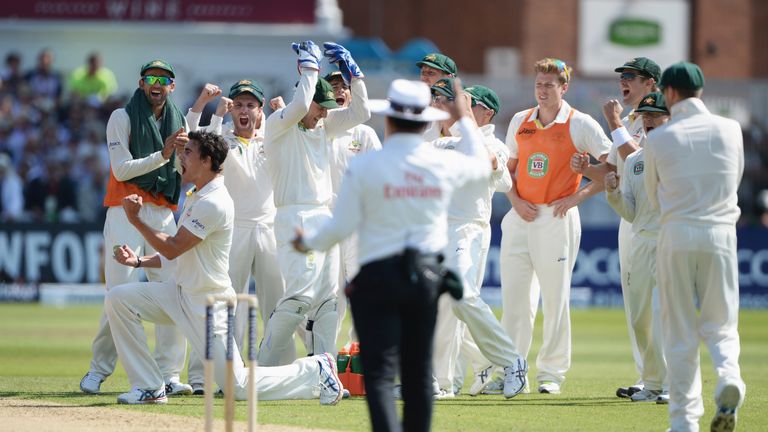 England batsman Trott was controversially given out by the third umpire on Thursday, the second day of the first Ashes Test.
The previous ball Joe Root was ruled to have nicked a ball down the leg side from Mitchell Starc behind to keeper Brad Haddin.
Root chose not to challenge the decision, though replays and technology suggests he would have been reprieved if he had.
Next ball, Pakistani on-field umpire Aleem Dar initially gave Trott not out in reply to Australia's lbw appeal.
Australia challenged his decision and South African third umpire Marais Erasmus overturned Dar's original verdict despite the fact the side on Hot Spot image of the dismissal, which might have confirmed whether Trott had edged the ball first, was not available.
Mistake
Hot Spot missed Trott's dismissal because it was still replaying Root's ball - and is unable to analyse two balls at the same time.
The inventor of the Hot Spot system, Warren Brennan, apologised for an "operator error".
"Here is the absolute truth from our perspective in regard to the Trott incident," Warren Brennan told cricinfo.
"It was operator error. My operator did not trigger the system in order to cater for the Trott delivery.
"Instead the operator sat on the Root delivery in order to offer a replay from the previous ball and did not realise until it was too late that he should have triggered the system for the Trott delivery as the priority.
"Simple mistake, something that anyone could have made but my Hot Spot operator has worked on the system since 2007 and to my knowledge this is the first serious mistake he has made."
Later the "Snickometer", which is not part of the official review system, revealed a thin edge.
But neither this nor the square leg Hot Spot angle were available to Erasmus who was able to view only shots picked up from behind the bowler's arm, which showed no mark on the bat.
Normally the third umpire overturns a decision only if there is conclusive evidence of an error and England have sought clarity from the ICC over the incident.
The ICC has hinted that its response will not be made public.
"(We don't) have a comment to make, because this was an umpiring decision," they said on Friday morning.
Sky expert Bob Willis said: "It was a shocking decision. It cost England dearly. That was a terrible decision and it may lose the game for England. It was staggeringly bad - unbelievable."