Day three recap
We look back on the best of the action, reaction, opinion and analysis from day three of the opening Ashes Test at Trent Bridge
By Mark Kendall - Twitter: @SkySportsMK
Last Updated: 13/07/13 10:35am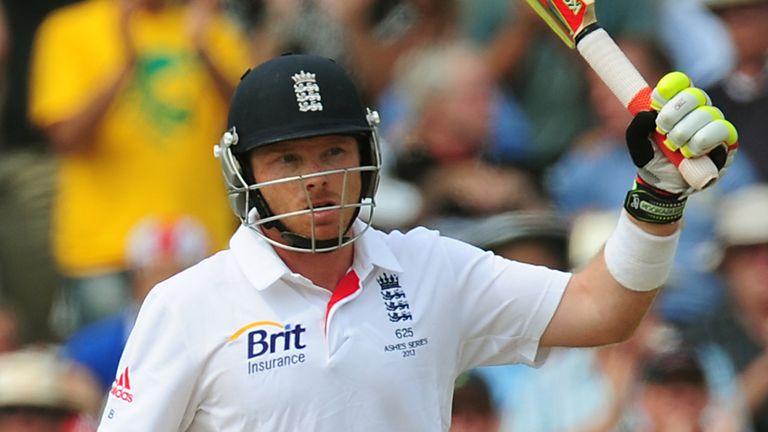 The contest remained delicately balanced for the first two sessions, but Bell's heroics ensured that England were in the box seat come the close.
However, it was Broad's failure to walk after a clear edge that got people talking... we take a look at all the best of the action, reaction and opinion.
England on top
For the opening two sessions of the day it remained hard to call which side had the advantage with England fighting admirably with the bat and Australia chipping in with timely wickets. But by the end of play it was the hosts who had got their noses in front thanks to a superb innings from Ian Bell who was ably supported by Stuart Broad following that moment of controversy. England finished the day 261 runs ahead with Bell (95 not out) poised to register the first century of the Ashes summer and are now favourites to move ahead in the series.
Best of the day
Cometh the hour cometh the man... England needed someone to stand up and play a big innings to regain control of the match and that man was Ian Bell. Valuable contributions from Alastair Cook, Kevin Pietersen and Stuart Broad all helped, but it was Bell's gritty, patient knock that held their second innings together and secured him our player of the day gong. The hosts, who now look in a strong position to push on for victory, are indebted to Bell for what former captain Andrew Strauss described as one of his best ever knocks for England. There were plenty of other highlights on day three, including a stunning Michael Clarke catch, that umpiring controversy and some of the most economical bowling figures you will see.
KP pleased with progress
Kevin Pietersen admitted the England dressing room were delighted with the position they had got themselves into by the end of day three at Trent Bridge. England's No.4 played an important role in laying the foundations for a big second innings total with a fine contribution of 64 and feels the hosts have the bowling firepower to go on and close out victory. "Generally I think we have got ourselves into a great position in this Test match. In that dressing room up there we have got some incredible bowlers and I think we are licking our lips in the position we have got ourselves into."
Starc staying positive
After a long, hot slog in the field that saw them take only four wickets, Australia's Mitchell Starc acknowledged it had been difficult day for the tourists. "It was a tough day, but that's Test cricket for you, it's tough out there," acknowledged the left-arm paceman. However, there were some bright moments with day two hero Ashton Agar picking up his first two wickets in Test cricket. And, despite England now seemingly holding the upper hand, Starc insisted Australia still fancied their chances of coming out on top. "There's plenty of time left in the game... it's an absolutely great wicket to bat on and there's no reason we can't chase down whatever is set of us."
Walking controversy
It was yet another fascinating day of Test cricket in Nottingham on Friday, but the action ended up being rather overshadowed by the controversy surrounding Stuart Broad's failure to walk. The incident prompted much debate with Andrew Strauss insisting that not walking is "one of the conventions of the game these days". The former England skipper also added that Australia had shot themselves in the foot by using up their reviews on "speculative" appeals earlier in the day, thus leaving themselves unable to challenge umpire Aleem Dar's call on Broad. However, Michael Holding had a rather different take on the episode and said that, given Broad's actions were "contrary to the spirit of the game", he should now face action from the ICC.
Cork has a pop
Former England bowler Dominic Cork has had his say on the Broad controversy and insists Australia do not have a leg to stand on. Australia's fielders could barely disguise their disbelief and disgust when Broad was given not out and failed to walk, but Cork claims many would have adopted similar tactics if the shoe was on the other foot. "Have you known any Australian to walk when he nicks it? Michael Clarke and the Australians having a go at Stuart Broad? Seriously Australia - it's sour tactics. I've played with Australians who would nick it to second slip and think they could just stand there. What makes me laugh is Australia standing on that pitch (slating Broad) for not walking. They've done it for about 50 years."
Nasser's video blog
Former England skipper Nasser Hussain was transfixed by another see-saw day in Nottingham but could not help but hail the contribution of Ian Bell. The right-hander swung the contest firmly in England's favour with a tremendous unbeaten 95, a knock which Nasser called a "very responsible innings under pressure". Like everybody else Hussain was left dumbfounded by Aleem Dar's failure to spot "the most obvious edge of all time" and now feels England could go on to wrap up victory on Saturday.
As it happened
You can relive all the best action from the second day by reading our interactive commentary from Trent Bridge. You can also view a gallery of the day's best images here.