Ashes tour: Michael Clarke insists Australia can still win first Test at Trent Bridge
Michael Clarke insists Australia can still win the first Ashes Test despite needing another 137 runs for victory.
Last Updated: 13/07/13 7:47pm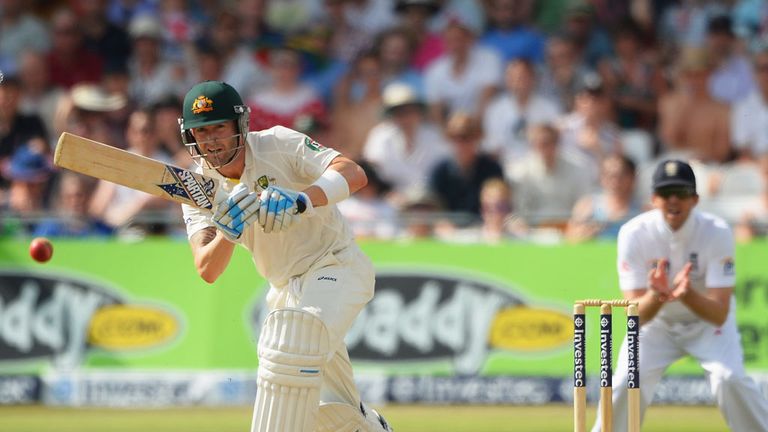 The tourists closed the fourth day at Trent Bridge on 174-6 in their second innings after England had been bowled out for 375 earlier in the day.
Shane Watson and Chris Rogers put on 84 for the first wicket as Australia started their innings strongly, but a steady stream of wickets culminated in two late dismissals by spinner Graeme Swann on a turning track.
However, Clarke remains optimistic with veteran Brad Haddin and first-innings hero Ashton Agar still at the crease.
When asked if Australia's chance of victory had now gone, Clarke replied: "You are asking the wrong person because I will never give up, especially when we have got young Ashton Agar, who is in really good form and batted beautifully in the first innings, and the experienced Brad Haddin at the other end.
"I think the other boys left to come in can certainly play handy roles so I'm still confident if we can start well tomorrow morning we can still win this Test match.
"There's not much bounce and the ball's quite soft so we are going to have to bat for a long time. We are going to have to use the majority of the day to make the runs - there's no doubt about it - and play Swanny well.
"I think obviously we are seeing a bit more spin now the wicket has deteriorated but we've got two good players at the crease at the moment."
Fine advertisement
Clarke believes the match has been a fine advertisement for Test cricket so far.
He added: "It's been interesting and I think it's been great for cricket. Day one we had a bit of sideways movement and I think the quick bowlers enjoyed it.
"The batters have enjoyed it on day two and day three and now I think we have seen the wicket staying a bit low, reverse swing is playing a part and obviously spin."
Clarke refused to criticise Stuart Broad for his refusal to walk on Friday and DRS was once again in the spotlight after the Australia skipper asked for a review of his own dismissal after he was caught behind by Matt Prior having got the thinnest of edges to a Broad delivery.
"It's up to him (Broad) there's no doubt about it," added Clarke. "I have always been a believer in the umpires are paid to make decisions, that's why they have a job.
"If every batter was going to walk when they hit the ball we wouldn't need umpires but obviously individual players choose to walk when they hit it. I certainly don't think any less of Stuart that's for sure."
On his own dismissal for 23, Clarke added: "I didn't think I hit it and obviously that's why I reviewed it. That's the way the game goes.
"I know I hit my pad and I didn't think I hit the ball. I spoke to Steve Smith up the other end and he didn't think I hit it either. I had a crack but that's the way it goes."