Don't talk about Stuart Broad, says Bumble... it's been the same for 35 years
Why are people talking about Stuart Broad, blogs Bumble, when every batsman does the same?
Last Updated: 16/07/13 1:29pm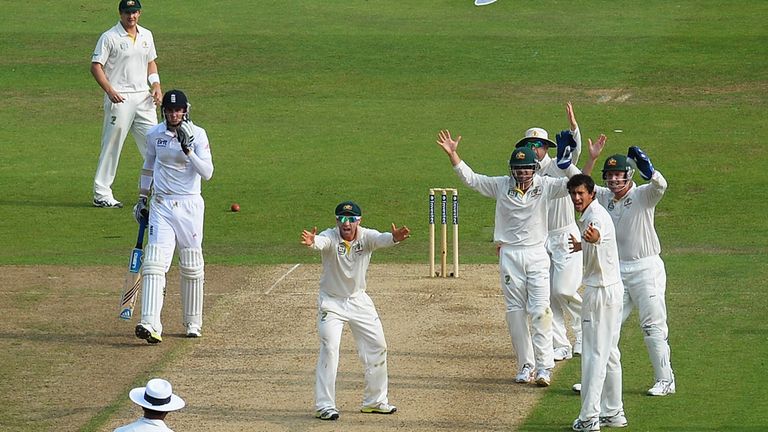 It was an awesome performance from Jimmy Anderson and it was no surprise that he went straight to sleep at the end of it!
But I liked the way Cook diffused the idea that this Ashes is all about Anderson versus Australia. He handled it really well by saying that this was Jimmy's day and the other two seamers will have their day elsewhere. Sometimes the conditions suit a particular bowler, but won't suit another.
I've been there and I know that's the case. Graeme Swann was striving like mad and it wasn't coming out right and he couldn't get a rhythm out there - but remember Trent Bridge isn't one of his grounds. He's never had much success there and I expect a better pitch at Lord's.
England have picked the same 13 and I suspect they'll pick the same team. Questions have been asked of Steven Finn, but Lord's is his home ground and I would think the pitch would have a bit more pace.
Let's major on the fact that England had a terrific win at Trent Bridge. The English attitude always seems to be about picking holes and looking at what's wrong rather than reflecting on coming out on top in what was a fantastic game.
Split finger
Australia went after England and would not lie down, which is very much Darren Lehmann's way.
Young Ashton Agar did brilliantly. As I said on commentary, England didn't know anything about him, but seemingly neither did Australia to put him in at number 11.
The problem now is that he's split his spin finger. It was so bad that he couldn't hold the ball properly. The next game starts on Thursday so it will be touch and go whether or not he plays.
I thought he bowled well - but I'd be interested to know how many days it will take to heal. Any spinners out there reading this blog... let me know!
I thought Chris Rogers looked a proper player and I would expect him to score heavily at Lord's, but their dilemma is whether or not to stick with Ed Cowan, who had a poor game.
Maybe they should give him a vote of confidence and stick with him at number three? If it was up to me, I would stick with the same team. Having made the decision to start him, one bad match doesn't mean he's no good.
But I suspect Lehmann wants his players to play in an aggressive manner, so we'll see.
Much ado about nothing
I don't see what any of the fuss over the umpires is all about.
Umpires will make mistakes and it's been the same since the game was invented. DRS is there to assist the umpires and it works almost perfectly.
We can debate the stumping of Agar on day two, but on that occasion the umpire decided there wasn't enough evidence to give him out. You can then look at the dismissal of Jonathan Trott. I thought that he hit it, but in the Sky Box (and this is an important point) we were absolutely split and we were still arguing about it two days later. However, in the umpire's eyes there was no doubt and he gave the decision.
Then you get to the Stuart Broad decision. He's getting hammered for refusing to walk after his thick edge, but all batters stand there. There might be the odd exception, but I can't think of one.
People talk about Adam Gilchrist, but he doesn't play any more. If you want to talk about that then you might as well talk about the 1960's and 1970's when 97 per cent of English cricketers walked.
The game has changed. Nowadays the player will stand and wait for the decision. Some people might want to twist that around and say that the batsman is cheating when he knows he's hit it, but that's how it is.
I was on commentary on Friday and I admit I was absolutely gobsmacked. The words just flowed out of my mouth as I said 'what's he doing?' I was trying to put a funny slant on it by talking about the audacity of it. His dad Chris allegedly texted him afterwards to ask how he kept his face straight!
But I'm totally mystified as to why we're all talking about Stuart Broad. Just go on to YouTube and type in 'Aleem Dar and AB de Villiers' and watch that unravel. In a match against India, he hit it to first slip off a fast bowler and just stood there.
Moving on from that point, I'm trying to work out the difference between a thick edge and a thin edge. In my own my mind there isn't one. I heard a guy spouting off on the radio that sometimes you don't know when you've hit the ball. I'm sorry, but you do.
Michael Clarke and Brad Haddin didn't walk in this match so what are we having all this talk about Broad? If we want to have this debate then we should have been having it for the last 35 years.
Players don't walk. They wait for the umpire's decision, even if they know that they've hit it. In this instance the umpire didn't see it and it was a genuine mistake. Clarke knows he needs to be more selective with his reviews so that those mistakes can be corrected.
Why are we having this debate now? Where has it been for the last 35 years? It's just a good story for the newspapers.
It completely baffles me why we're talking about one player. I've been shouting this from the rooftops since I started commentating. They're all at it.
If Broad is going to get any sort of punishment over this then there should be quite a long queue in front of that judge.
New toys
We particularly enjoyed ourselves in the Sky Box with the Sky Cart and the Ashes Zone and all the other new things we were using.
Andrew Strauss was very forthright in his opinions and Shane Warne is back for the next game, so I'm looking forward to some full-on cricket over the next few weeks.
Now I'm going to sort my pond out, pick some fruit and play a bit of golf before heading down to London.
See you then.