The Ashes: Glenn McGrath is hopeful Australia can bounce back this week
Australian bowling great Glenn McGrath thinks his compatriots are capable of winning the second Test.
Last Updated: 18/07/13 10:42am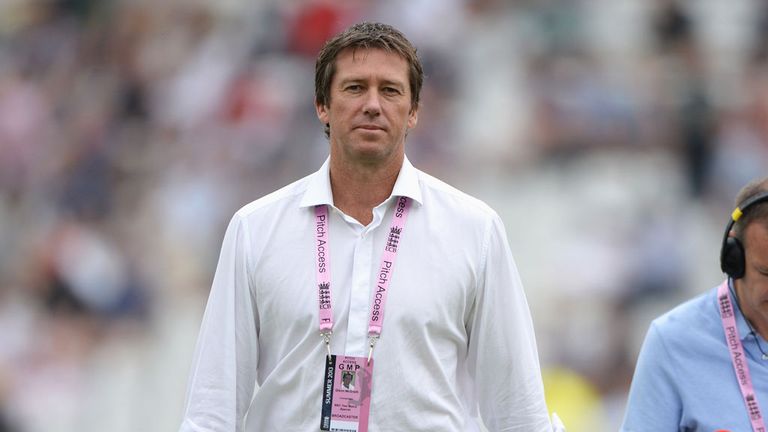 The tourists suffered an agonising 14-run loss in the First Test at Trent Bridge, which finished on Sunday, but McGrath was impressed by their spirited display.
And, speaking before he played for the McGrath Foundation in a charity T20 game at Chesterfield on Monday, he said: "The Australians really fought back hard, they didn't lie down, and that was the most heartening thing.
"(Ashton) Agar burst onto the scene and there was a lot of good stuff there. If they can take that into Lord's, and the top-order batsmen score a few more runs, then I think they've got a big chance.
"They need a win but there's a good feel around the Australian team. I like the energy (new coach) Darren Lehmann has brought in there and they seem to be a really close-knit team.
"I spent a bit of time with them last night after the game and they were pretty devastated not to get that last 14 runs.
"That really hurt them and they'll be keen to bounce back this Test match. They've seen that you can play against these bowlers and that you can take wickets against England.
"They are not overawed by the situation, they feel they can beat this England team, and they'll be ready to go at Lord's."
Great effort from Anderson
England seamer James Anderson took 10 wickets at Trent Bridge and McGrath thinks Australia must deal with him better if they are to defeat their hosts.
"It was a great effort by Jimmy Anderson," he said. "He's a class performer, no doubt about it. He's one of the best bowlers in the world right now.
"He was the main bowler, (Graeme) Swann was not as effective as I thought he'd be. Anderson was a stand-out and, if Australia can play him a little better at Lord's, we could have a different result."
McGrath agreed that England used DRS better than the Aussies, although he feels it is a little unfair that teams lose reviews when they get extremely close decisions wrong.
"The way Alastair Cook used it I thought was perfect, Michael Clarke not so good," he said.
"A lot of the referrals were umpire's calls so, whether you lose your referral, I think that's a little bit harsh. There is a grey area there, which I'd like to see made a little more black and white.
"I had a good chat to Michael Clarke about the DRS and he says he has to use it a little better. Next Test, he'll be a lot better."