Lord's build-up
Everything you need to know ahead of the second Ashes Test
Last Updated: 17/07/13 7:37pm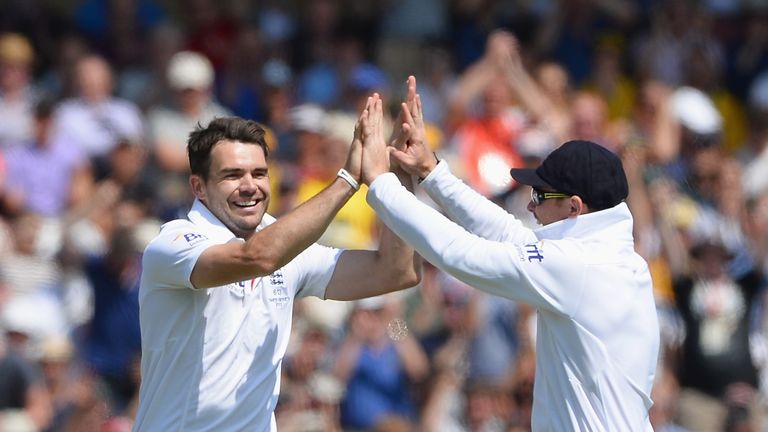 England completed a 14-run win shortly after lunch on the final day of a series opener that lived up to the heavy pre-match hype.
James Anderson got all of the four wickets needed on the last day to complete a 10-wicket match haul but not until Australia's last pair, Brad Haddin and James Pattinson, had taken them uncomfortably close to a target of 311.
It was only fitting that in a match littered with DRS controversies it required a review from England for Haddin's edge through to wicketkeeper Matt Prior to be confirmed.
England have named an unchanged 13-man squad with the only selection issue concerning the identity of their third seamer. Steven Finn is vulnerable after a mixed display at Trent Bridge with Tim Bresnan and Graham Onions the alternative options.
Australia handed a shock debut to teenage spinner Ashton Agar and he did enough - not least his 98 from No.11 in Australia's first innings - to earn an extended run.
Any changes to the tourists' XI are likely to be in the batting with No.3 Ed Cowan the man under most pressure.
David Warner is away in Africa to find form after his ban, leaving Usman Khawaja as the only viable replacement.
Ahead of the opening day at Lord's, we bring you all the latest news, views, video and opinion.
Winning formula
England batsman Ian Bell is targeting more of the same at Lord's. Bell's 109 in the second innings was the only hundred on either side during the first Test and ensured England could set a decent target. Bell said: "We were excited. We thought it was a great Test match (at Trent Bridge), every player enjoyed it. Let's hope the next one is exactly the same. I'm very happy to contribute to the team at the right opportunity and I'm hungry for more. That's in the past now and the important thing is what happens in this next Test match. I'll be doing the preparation over the next two days to make sure I can do the same again for England."
United front
Australia vice-captain Brad Haddin insists their are no problems in the touring squad after claims of a rift between skipper Michael Clarke and all-rounder Shane Watson. Haddin praised the job done by new coach Darren Lehmann and is looking forward to having another crack at England so soon after their near-miss in Nottingham. Haddin said: "Darren's done a wonderful job, like all our staff and our players. It's not hard to come up for as Ashes campaign, it's as good as it gets. All the other stuff is white noise. It's not something that has affected us at all. The Australia dressing room is fine."
Fit and ready
Matt Prior confirmed his fitness for Lord's after sitting out a golf day on Monday as a precaution due to an Achilles problem. The England wicketkeeper faced the press on Tuesday and said he was "completely fit and well" before going on to reflect on the first Test win. He said: "It was a pretty special game. It was amazing to watch but even better to be a part of. I'm not sure I could take four more games like that. I don't think the heart would put up with it. All in all it was an unbelievable advert for Test cricket, for Ashes cricket. It was always going to be tight. But we stayed calm. That was a lot to do with our preparation. The Australians are fighters - they are not going to lie down and die. We had to fight just as hard, if not harder to get ourselves in a position to win the game."
Selection considerations
England captain Alastair Cook said at his pre-match press conference that the hosts would look to "strike the right balance" when it came to their team line-up. The only issue for England concerns the third seam-bowling place - Steve Finn was selected at Trent Bridge but was used sparingly in Australia's second innings, though the second Test is held at his home ground. The other options are Tim Bresnan and Graham Onions. Cook said: "We're in a fine position at the moment in terms of fast bowling stocks. We've got a lot of very good fast bowlers and it's always a tough call."
Technology trouble
Sir Ian Botham says Australia must learn from their DRS mistakes at Trent Bridge. Australia were successful with only two of nine referrals during the match and it proved costly when Stuart Broad was able to get away with an edge behind during England's second innings after Australia had already burned their last review. He said: "Technology is here so get used to using it. It adds to the excitement; every time there's a decision everybody looks to the big screen to see what's happening. It's exciting; it's entertainment." Botham thinks the series is set up nicely, adding: "Australia did well; no one expected them to get as close as they did. They gave everyone a bit of a rev up and I think it sets the stall out for the rest of the Ashes series; it's going to be a great summer."
Venue guide
Known as the 'Home of Cricket', Lord's has a reputation as a results pitch in recent years after emerging from its record run of six drawn matches between 2006 and 2008. Just one of 10 subsequent Tests has failed to produce a winner, and the arena has traditionally provided help for seam and swing bowling: James Anderson and Stuart Broad are among the English pacemen who comprise the top five Test wicket takers at headquarters. The outfield falls more than two metres from north-west to south-east, across the strip, and some deal better than others with the peculiar demands of approaching the wicket on a slanted surface. A stick-in-the-mud reputation often pinned on Marylebone Cricket Club members has not been reflected in the often bold redevelopments of the ground. The Grade II listed grandeur of the 1890 pavilion sits incongruously alongside the tented canopies of the 1987 Mound Stand and the futuristic marshmallow-shaped media centre, which opened in 1999. Somehow the mish-mash of styles seems to work for even the most conservative spectator. Four further stands are due for a revamp over the next 10 years as the cycle continues, all under the watchful eye of Old Father Time, the famous weather vane donted to the MCC in 1926.
Last time out
Andrew Flintoff was man-of-the-match in England's 115-run victory at Lord's in the corresponding fixture of the 2009 Ashes series. Flintoff claimed 5-92 as Australia were all out for 406 in pursuit of a victory target of 522. Alastair Cook and Andrew Strauss set the game up for England with an opening stand of 196 after they chose to bat first, Strauss' 161 the top score in a total of 425. Australia were bowled out for 215 in reply, England's seamers sharing the wickets around including four for James Anderson and three for Graham Onions. Matt Prior's 42-ball 61 powered England to a second-innings declaration at 311-6 at stumps on day three. Despite Michael Clarke's 136 and 80 from Brad Haddin, Flintoff and Graeme Swann (4-87) bowled England to victory before lunch on day five to put them 1-0 up in the series. Australia's overall record at Lord's is good with 20 wins from 34 Ashes encounters, plus further Test victories on the ground over South Africa in 1912 and Pakistan in 2010.
Toss
The last two Lord's Tests have seen the team winning the toss bat first and go on to take victory in the match; England beat New Zealand earlier this year and South Africa saw off England in 2012. That represented a change of approach as in nine of the previous 10 Lord's Tests, the captain who called correctly at the toss chose to bowl first - a tactic that had limited to success with England's win over West Indies in 2012 the only time in that span bowling first resulted in victory.
Weather forecast
The forecast is good throughout the match with temperatures expected to reach a high point of 30 degrees Celsius on Friday afternoon before dropping off slightly over the weekend.