Ashes: Australia coach Darren Lehmann rules out calling up reinforcements for third Test
Australia coach Darren Lehmann has ruled out calling new players into the Ashes squad.
Last Updated: 22/07/13 6:28pm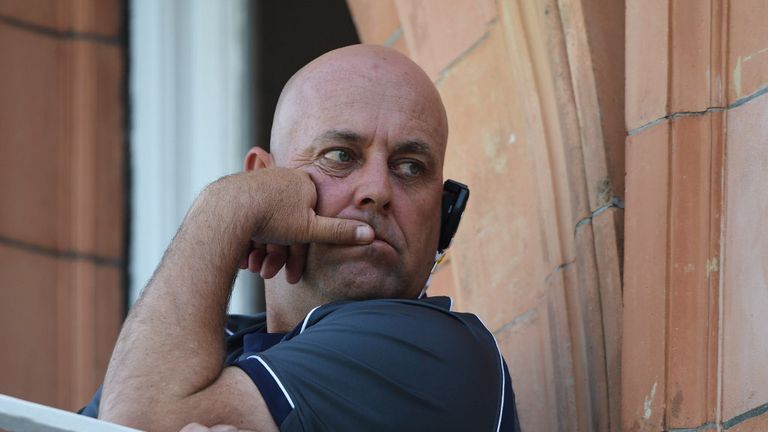 The tourists went 2-0 down in the five-match series with a thumping defeat at Lord's, with their top six batsmen again failing.
Their collective frailty led to speculation that the Australians may call in some experienced former Test players, such as Simon Katich who is currently scoring prolifically for Lancashire.
But Lehmann ruled out that option and insists the current squad - who will play Sussex this week - have got to improve.
Asked if he would look outside the squad for reinforcements, Lehmann said: "No. (But) we've certainly got to bat better - we know that. 55 overs in the first innings is not acceptable for this group so we've got to get better at batting, full-stop," he said.
Lehmann insists that the issue with the top six is not technical.
"It's probably more of a mental thing to be perfectly honest," he said. "We have to make sure they're ready to go and refresh as best we can. We'll have a good time down in Sussex and make sure we play some decent cricket, and last a lot longer than 90 overs if that's possible. That's the key for us.
"As a group we know we've got to play better. Simple. We were outplayed this game and I felt sorry for the bowlers as a team. They only got three-and-a-half hours off I think it was so the batters know we have to contribute the whole time. Top seven, the bottom order needs a bit of a rest before they go and bat."
Selection
Lehmann hinted at selection changes for the third Test at Old Trafford, where spin is often the key. Off-spinner Nathan Lyon, yet to play in the series, will be in the XI at Hove, where Ashton Agar will be rested.
"Ashton's a bit sore so I don't think he'll play at Sussex - Nathan will play obviously," he said. "And then again we have to look at the wicket. History shows it spins a bit and reverses so maybe two spinners. I don't know - we'll have to look at that when we get to Manchester.
"That's what happens when you have two losses you have to keep everything open. As selectors, we will have to speak about it and see where we go from there.
"We're going forward. We obviously need to make more runs. We've bowled really well in the Test matches barring probably Saturday afternoon where they got 150 odd or 160. But I can understand that to be perfectly honest considering how much they've bowled.
"I think the bowlers have only had one day off to be fair. So bowling's fine we've just got to get batting right but we're all going in the right direction so that's a pleasing thing and we've got to stick together as best we can."
"Michael Clarke and Usman Khawaja batted well but they need to make 100s when they get in that position - just like young Joe Root did.
"Certainly batters at the domestic level have to make 100s and force their way into the side I think.
"If we get the mental side of it right, we'll start to bat better and get some results. We've bowled, as I've said before, really well, so we can't worry about what anyone else says. We accept the criticism and we deserve the criticism to be fair - but we're going in the right direction."