Hampshire's Dimitri Mascarenhas to quit county cricket
Dimitri Mascarenhas will retire from county cricket at the end of the season after 18 years with Hampshire.
Last Updated: 23/07/13 4:16pm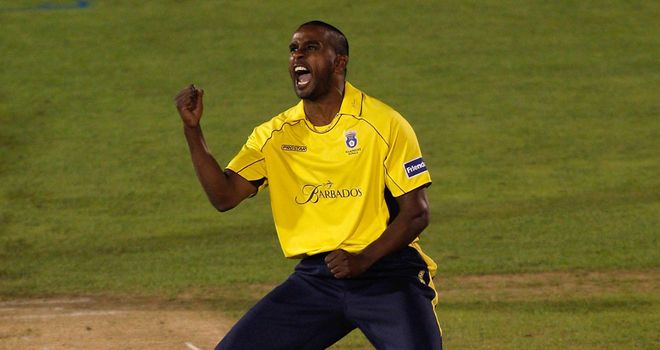 The all-rounder - the first Englishman to play in the Indian Premier League - has been one of the mainstays of the Hampshire team since making his debut against Glamorgan in 1996 when he made an immediate impact, taking 6-88.
He scored the first century at the Rose Bowl, against Worcestershire in 2001, and Mascarenhas went on to play in 30 one-day internationals for England, making his debut in 2007.
Although he took just 13 wickets, his economy rate was a respectable 4.62. The highlight of his international career was with the bat, when he smashed India's Yuvraj Singh for five consecutive sixes in an over at the Oval.
London-born but raised in Perth, Australia, the 35-year-old also played in 14 Twenty20 internationals and it was in the shortest form of the game that 'Dimi' was at his best.
His medium-pace bowling, with subtle changes of pace, proved difficult to score against, and he took the first recorded hat-trick in T20 cricket against Sussex in 2004.
He was appointed Hampshire club captain in 2008 and during his time at the helm he led the county to two Twenty 20 titles.
His exploits in the domestic T20 competition led him to becoming the first Englishman to play in the IPL in 2008, with Chennai Super Kings.
Injuries
Injuries took their toll in the latter years of his career, a serious Achilles injury causing him to miss much of the 2010 and 2011 seasons.
Mascarenhas admitted his Achilles injury was a major factor in his decision to quit the county game - though he has not yet confirmed if he will play T20 cricket abroad, be it in India or New Zealand where has often played in the winter months.
"It's not allowing me to play as I would have liked, especially in four-day cricket," he told Sky Sports News.
Mascarenhas, who also won the CB40 with Hampshire, said winning trophies were the highlights of his career.
"All the trophies we have won, especially recently, have been amazing. Any time you can win a trophy is very special. Let's hope we can finish with a couple more this year," he said.
"We're still in a good position this year (in the t20). We just lose our first game (of the season) on Sunday. It would be great to go out with the trophy."
He admits he does not have a plan when the current season ends, but he would like to stay in the game.
"I'm not 100 per cent sure what's next. I'd love to stay in the game, it's been my life and I'd love to give something back whether it's through coaching or something else," he said.
'Uncomplicated style'
Hampshire chairman Rod Bransgrove said: "Dimi has established himself as a true Hampshire icon and will be impossible to replace. His uncomplicated style and positive manner have made him a huge influence in and around the dressing room and his passion and commitment to the cause ensured that he would always be a crowd favourite.
"Whilst we will all miss him, on both a personal and professional level, we must thank him for his amazing contribution to this club and wish him, his wife, Nadine and son Lenny every success and happiness in the future."
Hampshire manager Giles White said: "When Dimi shared his intentions with his team-mates the changing room was a particularly somber place. He has been an integral part of the club since he arrived in 1996 and will be remembered as one of the county's most charismatic and influential players."