Ashes: David Hussey thinks James Taylor is ready if needed
David Hussey says his Nottinghamshire team mate James Taylor is ready for Ashes duty.
Last Updated: 25/07/13 3:08pm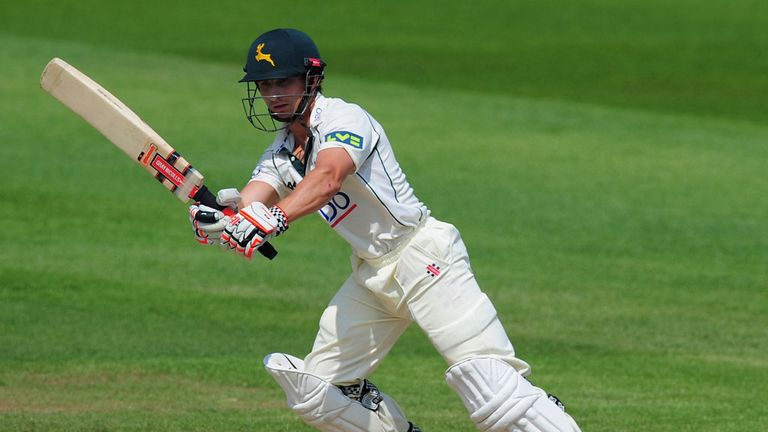 England may need to make a change in their middle order because Kevin Pietersen picked up a calf strain during the second Test at Lord's.
And Taylor appears to be hot favourite if a deputy is needed, the ECB having arranged for him to play for Sussex against the Australians at Hove this week.
Asked if he thought Taylor could flourish in the high-octane atmosphere of an Ashes contest, Hussey told Sky Sports: "Absolutely.
"I'm lucky enough to play with James here at Trent Bridge. He's a fine young person and a great young player, with a good temperament.
"He's got a huge future in the game and is going to play a lot of Test cricket for England.
"If he does get an opportunity at Old Trafford, he's another batsman the Australians will have to do their homework on. He's a fine young player."
Aussie Hussey has never been given a Test cap but is a regular in their one-day side and has not enjoyed watching them lose the first two Tests of the Ashes series.
"It's not great," he said. "Any time you go 2-0 down, it's not great.
"We're the wounded Australians but I'm sure the boys will be fit, firing and ready to go at Old Trafford (where the third Test starts on 1 August).
"The Australians are always up for the Ashes and, although they had a poor second morning at Lord's, other than that I think they have played pretty consistent cricket.
"I think the Australians are going to get some form up against the Sussex boys during the week and then turn up at Old Trafford and put up a good show. Hopefully, they can make it 2-1."
Batsmen to step up
Australia's specialist batsmen have come in for criticism for their Ashes displays and Hussey wants to see more from them at Hove.
"They need to get lots of batting time," he said. "This match will be about getting yourself in and batting long periods of time. Test match cricket is a five-game and you should make the opposition bowl a lot of overs.
"The bowlers are doing a sensational job, hopefully the batters can back up the bowlers."
Reserve wicketkeeper Matthew Wade will play for Australia at Hove and could be picked as a specialist batsman at Old Trafford if he impresses.
"He offers a lot," said Hussey. "I've played a lot of cricket with Matthew Wade and he's a fine young player. He's a bit of a fighter and, if he slots into the middle order, that would be fantastic.
"He's got a couple of Test hundreds and brings a bit of toughness to the middle order. If I'm a selector, I'd definitely be choosing Matthew Wade."