Cricket Expert & Columnist
Michael Carberry can deliver for England, says Michael Atherton
Michael Atherton says Michael Carberry deserves an England call-up for his fine one-day form.
Last Updated: 30/07/13 11:34am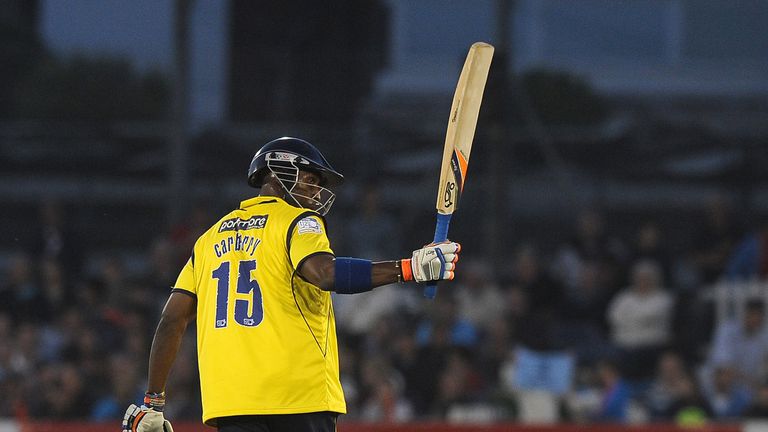 The Royals right-hander smashed a stunning 83 not out from 56 balls as the reigning champions crushed Kent by 62 runs in their Friends Life T20 encounter at Canterbury.
The knock was the latest in a string of superb limited-overs innings from the 32-year-old, who this season averages 55.85 in the 20-over format and 67.16 in the YB40 competition, and Atherton believes the Londoner could be an ideal addition to the national team's ODI or T20 line-ups.
"If England are looking for a one-day player at the top of the order, he's in as good as form as there is in the county game at the moment," said the Sky Sports expert.
"He's developed a certain style, with a rather curious back lift which gives him extra power, and he gets into that position where he gets the back foot out of the way and really opens himself up to hit both sides of the wicket.
"He's tremendously powerful, still very athletic - even though he's not as young as he once was - and he's very quick between the wickets. He's a good player."
Mark Butcher was equally impressed with Carberry's recent streak and agreed with Atherton's assessment that the former Surrey and Kent batsman deserved a shot on the biggest stage.
"I'm sure England have taken notice, it's very difficult not to have taken notice when the numbers are that emphatic," he said.
"But it's not just the numbers - the performances have been emphatic, too.
"We saw him make 150 against Lancashire earlier on in the summer and it was magnificent batting against the new ball.
"Against the spinners in particular he's very impressive; he hits the ball ferociously hard but along the ground and he has great placement and manages to manoeuvre the field.
"He's vastly experienced now - he knows his game inside out - and if he were given the opportunity, in one-day cricket or Test match cricket - who knows? He certainly wouldn't let anybody down because he's that good a player now."
Drubbing
South Group table-toppers Hampshire had already qualified for the quarter-finals and secured a home tie in the knockout phase ahead of their trip to Canterbury but the Royals showed hosts Kent little mercy on Monday night, with Neil McKenzie (45) and Liam Dawson (4-19) backing up Carberry's half-century.
Although conceding Kent's young team were unlikely to trouble the title-holders, Atherton believes Hampshire's performance deserved plenty of praise and reaffirmed their position, in his view, as the finest limited-overs side in the country.
"A 62-run margin in a 20-over game is a real drubbing - although it's not a surprising one when you look at the two teams," he said.
"Hampshire are the absolute form team of Twenty20 cricket over the last few years and they're in excellent form this year. Kent, meanwhile, look to be on paper a team that are missing a couple of experienced, senior players and are in a bit of a transition.
"Kent have got some good, young and exciting players but it will take a while before that comes to fruition, I fear.
"However, it was a very professional performance from Hampshire because they were already top of the group, already qualified, had already got a home draw and actually had nothing to play for.
"It was probably a smart move by them to say 'let's try something a little different, let's bat first, set a target and defend it' and get themselves a bit of an incentive that way.
"Hampshire are the best team I've seen in T20 cricket this year."