Old Trafford memories
Relive England and Australia's dramatic draw in the 2005 Ashes series
Last Updated: 31/07/13 5:53pm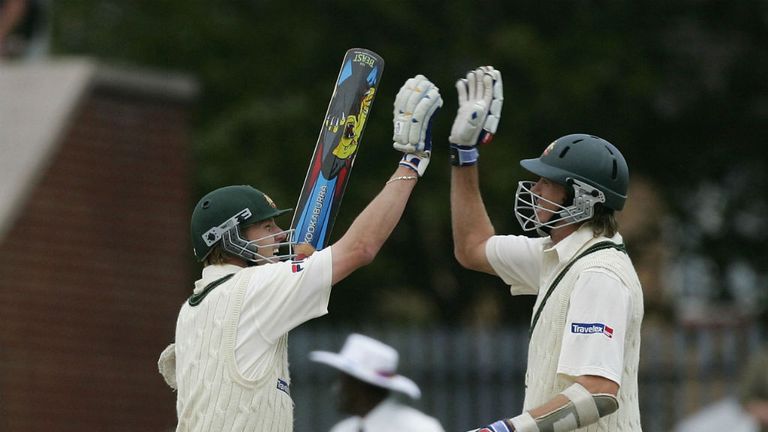 Such was the drama of that series that barely a session went by without it taking another amazing twist, but the third Test in Manchester was a contest that particularly stands out in the memory.
England had just taken an unforgettable win at Edgbaston to level the series after Australia triumphed in the opening Test at Lord's and the nation felt the momentum was with their side.
With the third Test of this year's series closing in quickly, we take you on a trip down memory lane to tell you the story of the last Ashes Test at one of England's traditional cricketing venues.
Vaughan rises to the occasion
England captain Michael Vaughan was under pressure heading into the third Test with his scores so far in the series reading 3, 4, 24 and 1. After England had won the toss and decided to bat, the Yorkshireman was going along nicely on 41 when he edged one behind to Adam Gilchrist, who failed to hold a diving catch. The very next ball, Glenn McGrath send his off-stump cartwheeling out of the ground, only to be called for a no-ball. Vaughan made the most of the reprieves to make a brilliant 166 - the first century of the series by either side - as England built a first-innings total of 444.
Jones gives England control
Many remember Simon Jones for bowling Michael Clarke with the Aussie batsman shouldering arms in the second innings, but the paceman's figures of 6-53 in the tourists' first innings cannot be overlooked. Jones' first scalp was Australia captain Ricky Ponting (7) before he personally accounted for each of the last five wickets, including a well-set Adam Gilchrist (30) and Shane Warne, who had frustrated the home side with a typically belligerent innings of 90. When it was all said and done, Jones had returned his Test-best bowling figures and England had a first-innings lead of 142.
Catch of the Century
After England declared on 280-6 in their second innings, Australia were left chasing 423 to win at the start of the final day. At 340-7 with fewer than 10 overs remaining it looked likely they would hold out for a draw, but England's hopes were given a major boost when wicket-keeper Geraint Jones removed Warne with one of the most spectacular catches anyone could remember. Warne prodded at a wide and full delivery from Andrew Flintoff but was beaten by the outswing and edged the ball to Andrew Strauss at second slip. But Strauss let the ball slip through his hands, the ball rebounding off his leg and towards Jones, who showed amazing reflexes to dive low, behind and to his right to gather the ball before it hit the ground.
Survival instinct
Australia began the final day on 24-0, needing to survive 98 more overs to avoid defeat. That looked unlikely when they were reduced to 182-5 in the afternoon session but skipper Ricky Ponting played one of the finest innings of his career to keep them in with a chance. He was given able support by Clarke (39) and Warne (34), and when the latter fell he was left in the middle with Brett Lee. The duo threatened to see it out but Ponting gloved behind to Geraint Jones on 156 to expose Glenn McGrath with four overs remaining. England scented another late win but the No 11 fended off nine balls and Lee also stood firm as the tourists completed a memorable rearguard action to snatch a draw.