The Ashes Zone: short ball is playing on Michael Clarke's mind
Michael Atherton and Michael Holding look at Michael Clarke's short-ball technique.
Last Updated: 01/08/13 12:28pm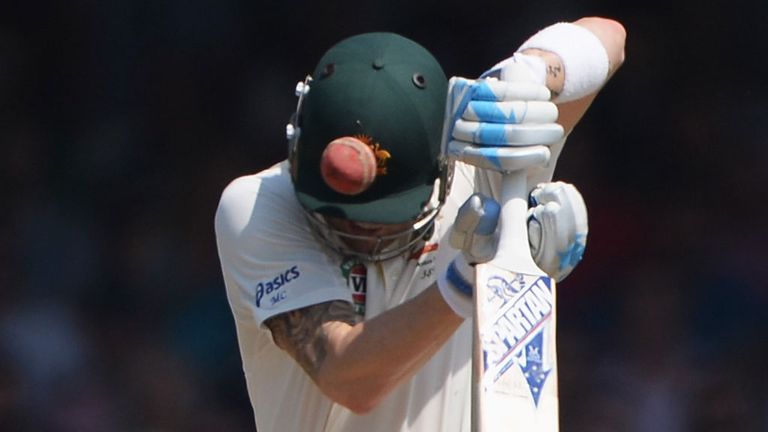 So why is the skipper struggling and is it more to do with his shortcomings or have England's bowlers got their tactics spot on?
Former England captain Mike Atherton and legendary West Indies paceman Michael Holding joined Ian Ward in the Ashes Zone to share their views...
Mike Atherton on Clarke's challenge...
"Clarke is a great player, make no mistake, but even with great players you're looking for a little chink in the armour and I think England feel that he doesn't necessarily play the short ball that well.
"What he doesn't do easily - and this may be to do with his back problem - is duck. He looks to stand and play so when the ball gets big on him he can get into some difficulties.
"I played with Mark Butcher and Mark Ramprakash who were two very easy duckers of the ball - it sounds a silly thing to say but they just went under the ball naturally when it was short, whereas I had a bad back and couldn't do that myself.
"That's the way England have targeted Clarke in this series. Broad hit him flush on the badge of the helmet at Lord's. He doesn't necessarily get out there but he is a bit uncomfortable and a bit discomfited and that is then in the back of his mind.
"So it's not the short ball that is getting him out - England get him out with the fuller ball because that short ball is in the back of his mind."
Michael Holding on intimidating batsmen...
"A fast bowler is trying to do two things - first of all they are testing the mental state of the batsmen and even today when you have helmets and so much protection, it still takes a bit of bravery to stand up to fast bowlers when they are bowling at 90mph.
"You are also testing their technical skill - if you have a physical disability you will have problems playing the fast bowler because you can't duck under it - but if you aren't technically good enough to play the fast ball you will pop it up to short leg or get caught hooking.
"Fast bowlers like to see a batsman hooking because it gives you an extra opportunity to get a batsman out. If they are ducking you are wasting your energy.
"It's very important that a fast bowler sets the tone. Those who say there shouldn't be any intimidation in the game are talking rubbish.
"One of a fast bowler's points of attack is intimidation - with your pace and accuracy. If you are bowling short and fast you have to target the body and batsmen get tentative, so you have a good chance of bowling a full delivery that they are a bit late on.
"You don't want to see people getting hurt, but it's a part of the game. If you can give batsmen sleepless nights they come to the ground the next morning a little teary-eyed!"
The Ashes Events Centre is available via the Sky Sports iPad app and online. | Sky Sports for iPad is available at no extra cost to Sky TV customers with Sky Sports.