Cricket Expert & Columnist
Ashes 2013: Michael Clarke captained well on day two at Old Trafford
Australia reaped the rewards of Michael Clarke's canny captaincy in Manchester, says Nasser Hussain.
Last Updated: 04/08/13 10:39am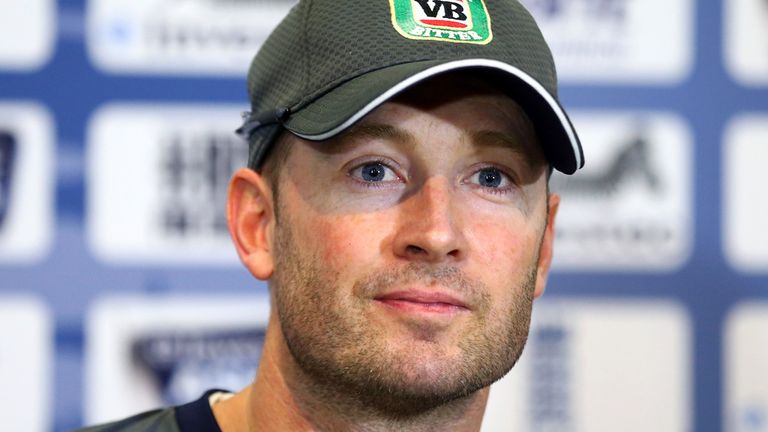 That was the view of Sky Sports pundit Nasser Hussain after Clarke amassed 187 runs to help propel his side to a first-innings total of 527-7 declared, and then saw his "patient" captaincy restrict England to a score of 52-2 at sumps on day two of the third Ashes Test.
Click here for our day two report
"I enjoyed Clarke's captaincy in that little session [before the close]," Hussain told Sky Sports Ashes.
"Sometimes when a captain has 550 runs to play with they go out there with three slips, two gullies, and a short leg and the bowler loses the plot, tries to take a wicket and gets giddy - but Australia sat in, were very patient and joined the dots.
"It's not a pitch you are going to blast someone away on, so you have to build pressure and that's what Clarke and his bowlers did really well.
"You'd take 50-odd in 30 overs with two wickets down every day on a pitch like this."
Odd
Hussain was also left bemused by England's decision to send in Tim Bresnan as a night watchman when Joe Root was removed by Peter Siddle half-an-hour before the close of play.
But did explain why he thought the Yorkshireman opted against reviewing his dismissal when he was adjudged caught behind by visiting wicketkeeper Brad Haddin, despite replays showing the ball clipped his trousers.
On Bresnan's introduction, which Sky Cricket analyst Shane Warne suggested 'sent out the message that England were a bit worried', Hussain said: "I thought that it was odd.
"Bresnan is a very good player and can bat for a long time - he batted for three hours and eight minutes at Lord's - but the cut-off point [for a night watchman] is generally 15-20 minutes. He came out, though, England went 50-2 and Australia had the better of the day.
"And Bresnan's problem [with his dismissal] was that he would have been thinking: 'I'm a bowler who bats a bit and I can't use up a review with these gun players, like Jonathan Trott and Kevin Pietersen, still to come so I will walk off' - but he should have used it."
Warne, meanwhile, believes England, who lead the five-match contest 2-0 following wins at Trent Bridge and Lord's, will recover from the late exits of Root and Bresnan and score big on day three.
But he thinks Clarke, whose century was the first by an Australian in the 2013 Ashes and the 24th of his Test career, will try to use all of his wisdom to stymie the hosts' charge
"I think Australia are in a good position and England are in a tough one - but if the sun shines tomorrow they should be able to go out there and make a lot of runs," said the legendary leg-spinner.
"However, Clarke has a lot of imagination as captain and we will see some funky fields and hopefully, for the sake of the Ashes, we see some quick wickets."