Ashes: Kevin Pietersen reacts with fury to reports of Hot Spot deception
Kevin Pietersen has angrily denied using silicon tape on his bat to prevent Hot Spot detecting contact with the ball.
Last Updated: 07/08/13 6:23pm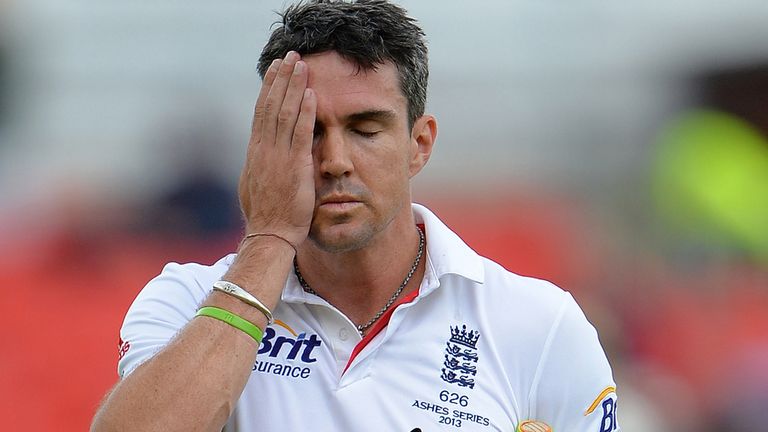 Reports in Australia alleged both England and Australia are under investigation by the International Cricket Council following several controversial DRS decisions during the ongoing Ashes series.
That suggestion has since been emphatically denied by the ICC, but in the meantime Pietersen was angered by the mention of an incident which saw him given out caught behind during the recent drawn Old Trafford Test.
The Hot Spot technology, which uses an infrared camera to detect friction caused by bat on ball, failed to show an edge but television picked up a sound as the ball passed the bat and Pietersen was ordered to walk.
Pietersen reacted to the reports on his Twitter page, writing: "Horrible journalism yet again! My name brought up in Hot Spot crisis suggesting I use silicon to prevent nicks showing! Such hurtful lies.
"I am never afraid of getting out! If I nick it, I'll walk.. To suggest I cheat by covering my bat with silicon infuriates me."
Wisdom
Pietersen also questioned the wisdom of attempting to conceal an edge which could preserve his wicket in the event of an lbw appeal.
He wrote: "How stupid would I be to try and hide a nick when it could save me on an LBW appeal, like in the first innings (at Old Trafford) where Hotspot showed I nicked it?"
Suggestions of improper conduct also came as a surprise to Australia captain Michael Clarke.
The Sydney Morning Herald carried quotes from Clarke saying: "If that's the case, then we're talking about cheating and I can guarantee there is not one person in the Australian change room that will cheat. That's not the way we play cricket."
And, speaking at a press conference, the allegations were further ridiculed by both England's Graham Onions and Steve Smith of Australia.
Onions, back in the squad for his home Test, said: "It is a huge accusation and it is outrageous really.
"From my point of view the excitement of getting called up and coming into the squad, seeing the lads again after missing out at Old Trafford, to have these discussions it seems a little bit unfair, a little bit wrong really."
Smith added: "I don't think any of us have done anything with silicon. We put fibre glass on the front purely for the protection of the bat - to try and make our favourite bats last as long as they can."
The latest row comes after complaints from both camps over the umpires' interpretation of the DRS.
Geoff Allardice, the ICC's director of operations, has been sent to meet with the teams and their coaches ahead of Friday's fourth Test at Durham, but the organisation's chief executive David Richardson rubbished reports of an investigation into either side's conduct.
He said: "These media reports are totally incorrect. Geoff Allardice is meeting with both teams and umpires to see how we can best use the DRS and the available technology, going forward in the next two Test matches. It has nothing to do with any players."