Cricket Expert & Columnist
Ashes 2013: Australia are on the up, says Nasser Hussain
Chris Rogers has helped move the momentum of this Ashes series Australia's way, says Nasser Hussain.
Last Updated: 10/08/13 8:27pm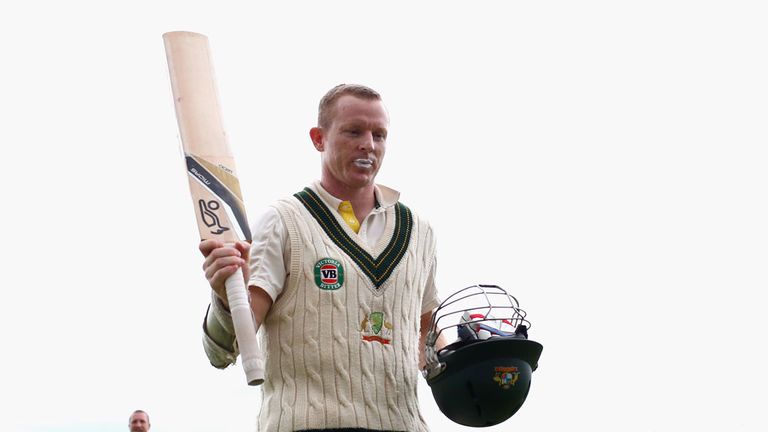 The tourists may be unable to win the famous urn having fallen 2-0 down in the series and seen the third Test curtailed by rain, but Hussain believes their performance at Old Trafford, coupled with the first two days of cricket at Durham, is evidence enough to suggest the tourists are now on top of their hosts.
Chris Rogers was the star of the second day of the fourth Test, patiently accumulating 101 not out to move Australia to within 16 of England's first innings knock and, with just five wickets down at the close, Michael Clarke's men appear to be in a strong position.
With the return series Down Under this winter Australia could just be providing themselves with a platform from which to reclaim the Ashes on home soil, suggested Hussain.
"Australia have not had that many good days over the last six months - on and off the pitch - but they've now put together a few good days and you just sense momentum in this series has shifted," said the Sky Cricket expert.
"Australia had lost six on the bounce and then they had the winning draw at Old Trafford, so now they just want that 'W' to give them the boost under their new coach they need - and Darren Lehmann will be desperate for his side to get it.
"But it will be a very happy Australian dressing room at the moment."
Even
Before the series there were several pundits suggesting England could crush Australia 5-0 this summer but, except for a comprehensive victory at Lord's in the second Test, the tourists have rarely looked on the brink of collapsing.
At Trent Bridge 14 runs separated the sides at the end of the game, whilst in the third Test the Australian players were confident of a final day victory before the Manchester rain intervened.
Now Hussain wonders whether Australia may look back at those moments at the end of the series and feel they could have in fact won the five-match contest outright.
"[The fact the series has not been as one-sided as predicted] is what will frustrate Australia," said Hussain.
"At the end of this series they'll think about the 14 runs at Trent Bridge, certainly. If you added up who has won the most days in this series it would be about even Stevens - but since Lord's Australia have bossed the series.
"Of course, the only stat that counts is 2-0 and England have retained the Ashes - but there is a shift in momentum."
Ton
Of course, things could have looked different at stumps on day three after England had Australia wobbling on 50-4. And for that reason, says Michael Holding, Rogers deserves even more credit for his batting performance.
"He played some old fashioned Test cricket today," said the Sky Cricket expert.
"We saw Alastair Cook, the England captain, do the same thing when England were batting - he went out there, battled in hard conditions, knowing what runs you'd get wouldn't be attractive runs.
"When Rogers got to the hundred that must have been a very proud moment for him but his captain and team would have been happy with way he approached his innings, too.
"There's no point thinking 'these aren't my conditions, if I get out, I get out'. If you are going to succeed at the highest level you have to be adaptable and he showed he could adapt."
Inspire
And Hussain feels Rogers' ton could inspire the rest of the Australian players, who he reckons will now be eager to put themselves in the limelight, as the Middlesex opener did on Saturday.
"Rogers didn't start this series well and a lot of people would have caved in - but not Rogers," said Hussain. "He seems to be a real fighter.
"He turned up at Old Trafford for the first innings where it was all about Shane Watson and he said 'no, it's about me, I'm going to go and smash 80'. Now he's in nick.
"Australia were 50-4 and if it wasn't for that partnership they may have been 150 all out. That would have been a decent first innings lead for England and with Australia batting last the dressing room's not such a happy place.
"But now there will be some real team bonding going on and genuine appreciation for someone who's worked hard all of their career for a moment like this. And that does lift the team.
"They've had problems at the top of the order but David Warner goes to bed tonight thinking 'Rogers got one, I want one' and other people lift their game. Whereas if you're all getting out you think 'you can't bat in England'."