County Championship: Zimbabwe paceman Kyle Jarvis poised to sign for Lancashire
Fast bowler Kyle Jarvis has signed a three-year deal with Lancashire according to the Zimbabwe Cricket Board.
Last Updated: 19/08/13 11:30am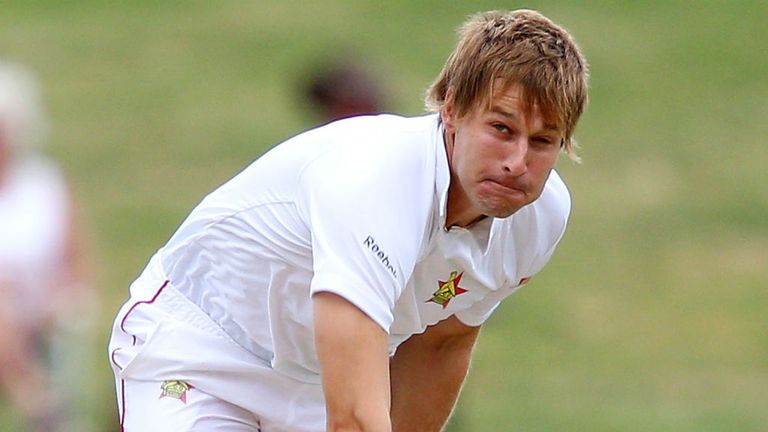 Jarvis told the Zimbabwe Cricket Board of his decision to resign ahead of their home series against Pakistan, which starts with a Twenty20 international in Harare on Friday.
The 24-year-old made his international debut in 2009 and has played eight Tests, 24 one-day internationals and eight Twenty20 internationals since - he is widely seen as his country's best seam bowler.
Lancashire are yet to confirm the deal, but a Zimbabwe Cricket statement read: "He told Zimbabwe Cricket authorities that he has received a lucrative offer from Lancashire County Cricket Club in England, and has decided to take it up.
"It offers him an opportunity to grow his game by playing alongside the likes of England international James Anderson and former South Africa batsman Ashwell Prince.
"Jarvis said that he has not turned his back on international cricket and that given his age, the three-year contract provides a unique opportunity to mature as a player who would then give back more then, than he has been doing now."
Jarvis said on Sunday that a deal had been agreed with a 'top English county' and admitted his decision had been swayed by the recent pay disputes that almost saw players go on strike ahead of the Pakistan series.
He said: "I have held off a few opportunities over the last few months but my decision was made about a week ago when the pay disputes arose and I felt my time to leave had come.
"I have retired from international cricket to pursue a county and global T20 career. We have had a few teams interested but me and my agents have agreed on a three-year deal at a top English county.
"I really hope the fans and public can understand my reasons for leaving, as job security is the main factor.
"I informed my team-mates yesterday that I would be leaving and they were supportive and fully understood why I was doing this. I then sat with the managing director and explained my position and we both left on good terms."