Ashes: Stuart Broad set for a hard time in Australia after Darren Lehmann comments
Darren Lehmann's comments on Australian radio will make Stuart Broad public enemy No 1.
Last Updated: 21/08/13 12:51pm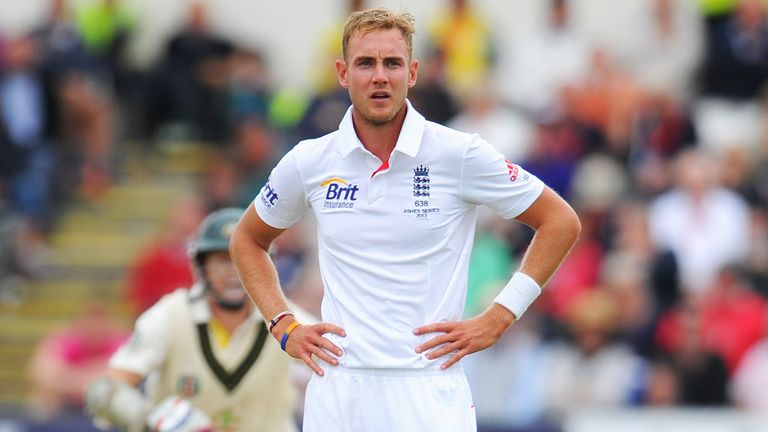 Click Here to hear the full interview on Sky Sports News Radio
Gus Worland hosts the 'Grill Team' breakfast show on Triple M radio in Sydney, and he was having a usual chat with the Australian coach ahead of the fifth Test at the Oval about team selections, the pitch and tactics.
The subject of Stuart Broad admitting to the big edge that was somehow missed by the umpires in the first Test, but not walking, then came up and Lehmann let rip at the Englishman's 'blatant cheating' and called on Aussie fans to have a real go at him come the return series this winter.
"It was a bit of a surprise," Gus told Sky Sports News Radio. "We were winding up the interview and I'd seen Stuart Broad had said he believed the Aussie crowd would've forgotten about his non-walk by the time he gets down there.
"So I thought it was a throwaway line to 'Boof' but as you know now, he went off on one."
Tough time
Worland says that the incident has obviously been chipping away at Lehmann, and warned that Aussie fans would follow his request and make life uncomfortable for the England paceman this winter.
"Boof is an old school cricketer, he never walked himself so he didn't have a lot to say about it at the time, but obviously it's been chipping away at him and he felt he needed to get something off his chest and once he heard that Broad was thinking he could get an easy ride over here he launched into it.
"And I've got to tell you, Broad will get plenty when he arrives here in Australia, he's our new public enemy No 1 if you like."
And don't count on Lehmann back-tracking or apologising for his comments either, with the fire now already well lit on the return Ashes Down Under.
"Boof says what he says, he shoots from the hip and he believes what he says, so I think he'll probably stand by those particular statements," added Worland.
Eyes on Broad
"It's now got everyone remembering a moment that's reared its ugly head again and we're focusing on something that we probably don't need to be that's done and dusted.
"When your boys eventually arrive down here every camera will be focused on Broad it won't be on Cook or Pietersen, it'll be all about Broad.
"We are hurting down here, we've got a proud history and results have not gone our way but Darren said we've not been too far away, but the Broad thing was obviously bristling away at him and he just launched into it.
"He probably thought it was a month ago I can talk about it now. It has been picked up, we talked about it on our show and now everyone's talking about it, at the end of the day we love this stuff.
"So much sport now is cliché and boring, it's nice when someone shoots from the hip and gives it exactly how they feel - we should want more of that than the cliché rubbish we get from every other sportsman."