Yorkshire Bank 40 final: Jim Allenby says Lord's final is still highlight of domestic calendar
Jim Allenby is hoping to deliver an historic victory for Glamorgan on the "No 1 day of the year" at Lord's on Saturday.
By Alex Williams
Last Updated: 19/09/13 7:05pm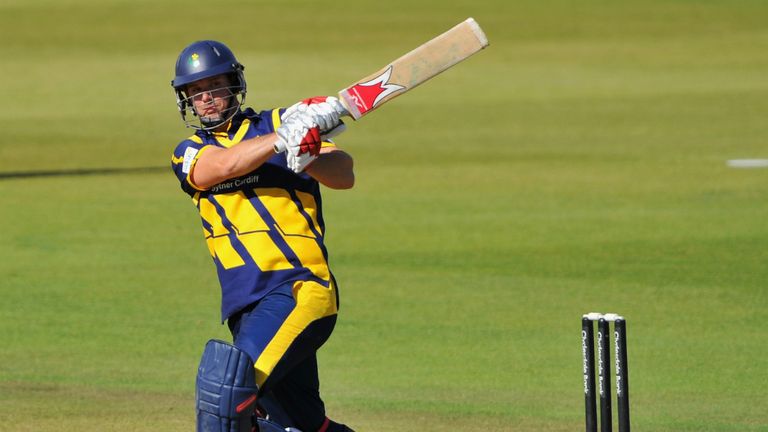 The Welsh county face Nottinghamshire in the final of the Yorkshire Bank 40 at the home of cricket with the aim of claiming their first ever win in the nation's leading one-day competition.
Finals at Lord's were once considered the showpiece occasions of domestic cricket, but the inexorable rise of the Friends Life t20 has led to that event's Finals Day - first held in 2003 - garnering equal, or even greater, attention.
However, Australia-born all-rounder Allenby, who has played in England for the vast majority of his senior career, would value victory at the weekend above any 20-over achievement.
"It's what you want to do as a county cricketer, it's the No 1 day of the year really," he told Sky Sports. "It's not lost on me because I wasn't here when I was a kid.
"All the boys that I know who have played in the Lord's final say how big of an occasion it is. We've done everything we can to get there this year and we've been rewarded for it."
"I think the tradition of the Lord's final is there," added the 31-year-old, who won the T20 title with Leicestershire in 2006.
"Twenty20 Finals Day is a great day, it's so much fun and there's a lot of media and it has all that razzmatazz that you would expect from T20.
"But these are the games that people remember forever. People may enjoy T20 while it lasts but it probably doesn't stick with you for the rest of your career like a Lord's final does. I think it's still No 1."
Underdogs
Glamorgan have never won the YB40, or the 50 or 60-over competitions which preceded it, and go into the clash as underdogs to an Outlaws side which is set to feature England duo Stuart Broad and Graeme Swann.
Allenby says a shock Glamorgan victory on Saturday would make major headlines in Cardiff and throughout Wales.
"Us getting to a final is already a big deal. It's something that we haven't done in a long, long time," the right-hander said.
"To win it would be another level again, to be the first Glamorgan side to win a Lord's final is something that's not lost on the players. They all know the significance of it.
"At the moment the city and the country are absolutely buzzing for cricket with the ODI (in Cardiff last) Saturday and our game the following Saturday. So it's hard not to know the significance of it.
"If you're in Cardiff or in Wales at the moment, you'd know that it means a lot to a lot of people."
Despite their run to Lord's, Glamorgan suffered another disappointing campaign in the four-day game and are languishing towards the bottom of Division Two as the season draws to a close.
Allenby was critical of his side following a similarly disappointing red-ball season last year, but thinks the limited-overs exploits have made up for that this time.
He said: "The County Championship hasn't gone well. The T20 went pretty well (Glamorgan finished third in their group) and (the YB40) has been awesome, it's been great fun.
"I consider (that) we've already had a good season having already made a major final and if we get one more win then it becomes a great season - up there with winning Division One of the Championship.
"There are obviously going to be only a handful of sides winning trophies each year.
"If we're one of them then we can take a lot of credit to the work that has gone into our side to go from basically nowhere in one-day cricket to being one of the major sides going forward."
Jim Allenby was speaking ahead of the Yorkshire Bank 40 final at Lord's Saturday 21st September. Tickets for this great family day out are available from tickets.lords.org