Andrew Strauss admits he was 'dumbfounded' by Kevin Pietersen text scandal
Andrew Strauss has lifted the lid for the first time on last year's text scandal involving Kevin Pietersen.
Last Updated: 28/09/13 11:22am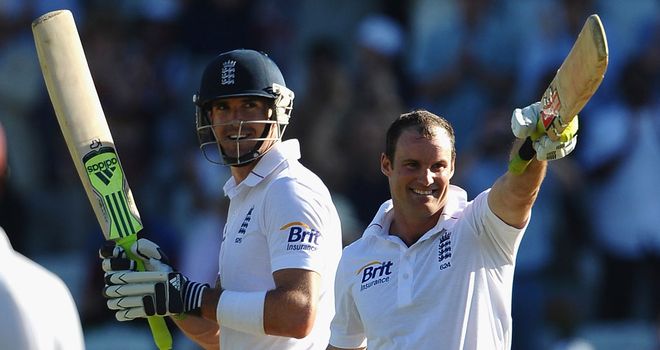 Pietersen sent texts to the South Africa team in which he criticised Strauss, an act which saw the batsman dropped from the England team and cause a huge rift with his skipper.
In his new autobiography, 'Driving Ambition' - extracts of which were published in the Daily Mail - Strauss describes the effect the news of Pietersen's texts had on him.
Pietersen was initially alleged to have called Strauss a 'doos' - an Afrikaans insult - and told the South Africans how to get the opener out.
"I was dumbfounded," he wrote. "I wasn't all that bothered about him sending texts to the South Africans players he knew quite well. I did however, have issues with him criticising me to the opposition. That felt like talking out of school, not to mention giving the opposition a way to drive a wedge between Pietersen and myself and the team.
"And if he really had given information about how to get me out, well that amounted to treachery and I would never forgive him."
Strauss revealed that Pietersen came round to his house to apologise personally, and was satisfied his team-mate had not given the South Africans information about how to get him out.
But Strauss admits that the furore left him "frustrated, tired and generally hacked off with life," and that in the next match at Lord's - his 100th Test - when he was dismissed, he left the field, sat down in the changing room and "buried my head in my hands. For 10 minutes I sit, unable to move."
Strauss retired at the end of the South Africa series and is now a Sky commentator, and Pietersen was rehabilitated into the team under the captaincy of current skipper Alastair Cook.