Will Gidman hoping ankle surgery will see him back to top form in 2014
Will Gidman hopes to be able to contribute in all forms of cricket for Gloucestershire next year after ankle surgery.
Last Updated: 15/11/13 3:44pm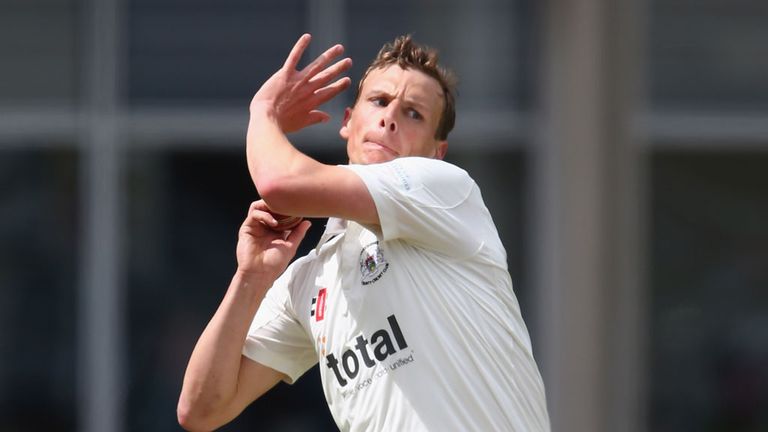 Gidman took 55 first-class wickets last season but pain in his ankle meant the all-rounder didn't play in many limited overs games and struggled to find his best form on a consistent basis.
The operation was only minor but it found the root of the problems he suffered last summer and Gidman hopes to be able to kick-on again in 2014.
He told Gloucestershire's official website: "It was a minor operation, so I was only in hospital for one night. I was expecting it to be keyhole surgery, but they found quite a lot of scar tissue, which turned out to be what had been causing the vast majority of the pain.
"That meant some open surgery and there was a bone spur which needed shaving off as well, but all went well and hopefully the problems are now behind me.
"I was on crutches for a few days to keep weight off the ankle, but after about ten days I was walking pretty comfortably and, apart from a bit of stiffness, there has been no reaction since.
"I won't really find out whether the surgery has been a true success until I start bowling, which probably won't be until after Christmas. But the signs are good.
"For the moment, while the other lads are already back batting and bowling, I am in the early stages of my rehab and making sure I take things a step at a time.
"Form permitting, I hope to play in all forms of cricket next summer.
"John (Bracewell) was gracious enough to say that the fitness was the main reason I didn't appear in more one-day matches this season, but I am tough on myself and know my performances at the start were not good enough
"I am very excited about the 50-over competition, which should suit me as a format, and I will certainly be doing all I can to be involved."