County cricket: Leicestershire spinner Jigar Naik signs new deal
Spinner Jigar Naik signs a new one-year deal with Leicestershire.
Last Updated: 22/11/13 3:14pm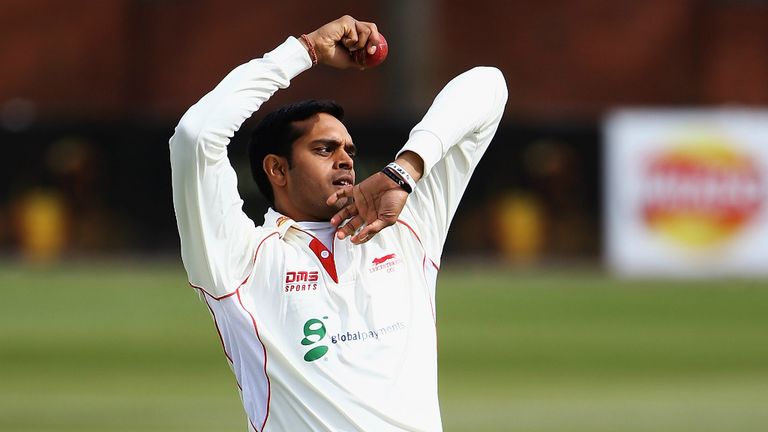 Naik missed much of last season after dislocating his shoulder during a Twenty20 match against Nottinghamshire.
But he has been able to make a full recovery, helped by club physio Rob Leather and doctor Harjinder Singh, and is back in the nets at Grace Road.
"I'm looking forward to the 2014 season already," Naik told the club's website. "I want to take a lot of wickets and have success as a team at Leicestershire.
"We are all working hard to make sure we have a good season. Rob and Harj have been fantastic in helping me since I got the injury.
"The operation was done by one of the top surgeons in the UK, and I feel lucky to have had that.
"Rob has been my best friend for the last four or five months. He has been working hard every day with me, working on my soft tissue, getting my range of movement back and building my strength back.
"He has built me a programme where I am just ready to start bowling again with a cricket ball, which is really exciting.
"The injury was quite hard to take but I just had to get used to it. I have come back strongly in the past and I'm definitely going to do it again.
"I know where I am, and I know what I need to do to get to where I want to be. Experiences like this can only make you stronger. I have always said to myself that if you come back stronger from these sort of life problems, then it is always going to make you a stronger character and a better cricketer."
The county's chief executive Mike Siddall said: "Jigar has been desperate to start bowling again and, because of the excellent injury management he has received from Rob and Dr Harj Singh, he has made an excellent recovery.
"I'm delighted that Jigar has signed a contract extension and we look forward to him playing a full season."