Ashes 2013-14: David Fulton fears Jonathan Trott may find it hard to return to England fold
Sky Sports cricket analyst David Fulton believes Jonathan Trott may find it hard to return for England in the future.
Last Updated: 25/11/13 5:52pm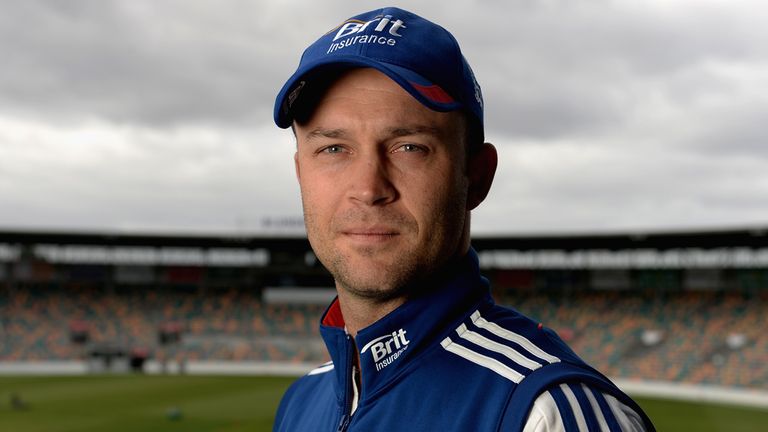 Trott has revealed he is suffering from stress-related problems that have forced him to fly home.
Fulton feels that was the correct move in the circumstances given the high-pressure atmosphere of international cricket and cited the examples of Marcus Trescothick and Michael Yardy, who have suffered from similar problems in the past.
"I think it's a very brave decision," he told Sky Sports News.
"Male professional sport still has an element of machismo, it is that kind of culture.
"You have to front up to bowlers bowling at 90mph and you don't want to show any chinks in your armour.
"It's easier than it was 20 years ago. I am sure there were players suffering with the kind of illness Jonathan Trott and Marcus Trescothick have struggled with in more recent times.
"I think it has got easier but it is still not easy.
Courageous
"It is a courageous move by Jonathan Trott and I think it is good it has happened this early in the tour so he can go and get the support he needs and England can move on while not too much damage has been done."
While the immediate focus is on Trott's recovery, Fulton also voiced concerns about his ability to return to international cricket in the future.
"There is a way back but it is not going to be easy, Marcus Trescothick has shown that," he added.
"He was a fine player but once you put your demons out there it becomes harder to come back.
"He (Trott) is a good enough player, he averages over 50 in one-day cricket for England and he averages just under 50 in Test cricket.
"But sledging is part and parcel of the game, so how hard do you go at players like Jonathan Trott, Marcus Trescothick and Michael Yardy, who have had similar problems?
"Cricket is quite conflicted in that it is a gentleman's game, supposedly, and yet there is this gladiatorial aspect to it, a nasty side.
"I think it is going to be difficult, some people would say it's open season and they can pile on in if he gets back on a cricket field and he has got to accept what is coming to him.
"I would like to think the game of cricket will treat him more gently than that and certainly everyone in the game wishes him well."
Former England captain Alec Stewart is pleased Trott was confident enough to share his problems publically and told Sky Sports News: "You only have to go back ten years, may not be as long ago as that, and people admitting something like this may have been a sign of weakness, had a bit of a stigma about it.
"But now thankfully people realise it's an illness, it's like an injury really, it needs treating and therefore he's going to be in very, very good hands and when the time is right, he will return.
"I'm sure he'll have a few tough days, a few dark times, but very much so you want people around you who you have their love and support and you start with your family obviously."
A number of key figures in the game have been quick to wish him well in his recovery.
"Love Trotty. Absolute champion of a man. He knows he has all the support of all the people around him. Puts cricket in perspective," Stuart Broad tweeted.
Another of Trott's England team-mates, spin bowler Graeme Swann, was also keen to get behind him.
"Glad there are so many good people out there showing support for Trotty. Those who aren't can quite frankly crawl back into the pond," he tweeted.
Australia head coach Darren Lehmann also offered his support via Twitter.
"I wish Jonathan Trott a speedy recovery from a tough situation, a safe flight home to be with family," he said.
Meanwhile, Marcus Trescothick, who also suffered from similar problems during his career that forced him to return home early from the Ashes tour of 2006-07, was keen to focus on the man behind the headlines.
"Let's not start pointing too many fingers at the reason why and how, let's just think about the man in the mist (sic) of it all," he tweeted.