Ashes: Shane Watson says Australia have learned from 2010 defeat
Shane Watson says Australia need to banish the memory of the Adelaide 2010 Test this week.
Last Updated: 03/12/13 11:54am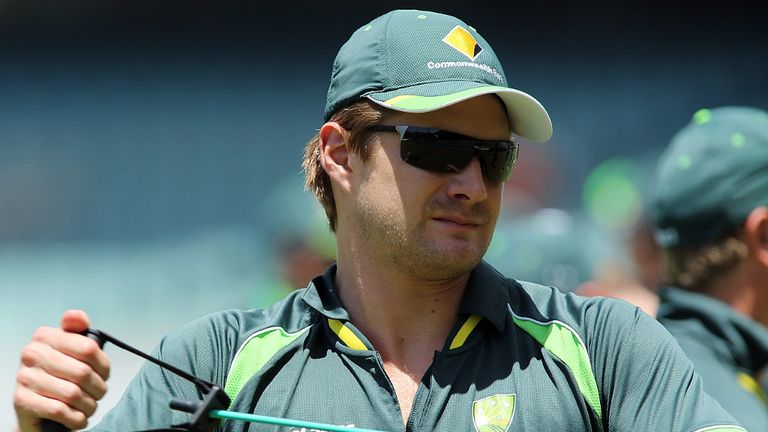 Australia arrived in Adelaide three years ago having been unable to stop England closing out a fighting draw in Brisbane, and then promptly shot themselves in the foot by stumbling to 2-3 on the first morning.
Kevin Pietersen scored a brilliant double century for England who went on to complete a thumping innings victory at the Oval.
All-rounder Watson warns they cannot be making those mistakes this time against opponents Australia still respect, despite their first-Test romp.
"We certainly experienced that in the Test here against England last time, losing quick wickets and making it very difficult to claw our way back.
"We know that's how important it is for us to be able to start well, whether we bat or bowl first.
"We know against England (we can) not have those lapses, because that's when we've lost Test matches and have not been able to stop that momentum."
On a roll
Watson says the whole country has been heartened by the first Test victory in Brisbane and they want to make their advantage count.
"We're certainly very hungry," said Watson. "We haven't enjoyed losing to the English over the last three series. There's been a number of us who have been involved in those series, and we're extremely driven to do whatever we possibly can to be able to win this Ashes series
"There's no doubt it means a hell of a lot to us as a team, to Australian cricket, and to everyone. You can really feel what it means to the Australian cricket-loving public ... to win the Ashes back.
"Even in Brisbane, it was the most support I ever felt by the crowd. It was absolutely extraordinary.
"It wasn't just a couple of balls; it was every ball. I just felt the whole Australian crowd was behind us. It was an incredible feeling.
"It's certainly a nice position to be in, compared to the last three series I've been involved in. But I know how quickly it can change. The English don't like losing - they haven't lost very often, especially to us, over the last three series."
Medium-pacer Watson was required to bowl only two overs - both, typically, maidens - as Australia trounced England by 381 runs in the first Test at the Gabba.
But he will be able to get through "as many as the captain wants me to bowl" at a venue where it should take significantly longer to bag 20 England wickets.
Watch the second Ashes Test between Australia and England from Adelaide - coverage starts on Wednesday at 11pm on Sky Sports 2 HD