South Africa v India: Cheteshwar Pujara bats tourists into stong position in Johannesburg
Cheteshwar Pujara's 135 not out batted India into a strong position against South Africa at the Wanderers.
Last Updated: 21/12/13 3:11pm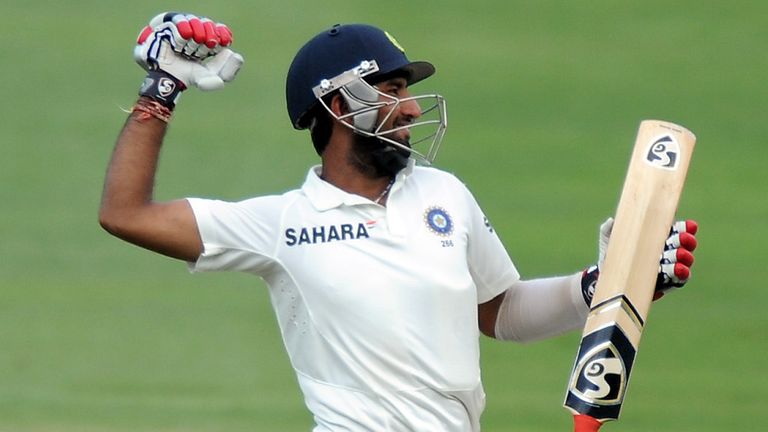 After quickly running through South Africa's tail in the morning session, the tourists reached the close on 284-2 in their second innings and with a lead of 320 runs on a Wanderers wicket showing signs of baring its teeth.
India have lost their previous eight away Tests - their last foreign win was against West Indies in June 2011 - but will resume on Saturday with Pujara (135 no) and Virat Kohli (77 no) firmly in control after a 191-run stand.
Pujara followed Kohli's first-innings hundred with his sixth Test ton to further underline India's new generation of batsmen are well-equipped to take over from where Sachin Tendulkar left off after ending his 24-year career in November.
Morkel injured
To add to South Africa's woes they will be unable to call on quick Morne Morkel to bowl for the rest of the match, after he forced off after turning his ankle in the outfield shortly before lunch break.
The right-armer is also in doubt for the second, and final, Test on Boxing Day after an MRI scan confirmed a Grade One sprain.
"The recovery period is usually seven to 10 days and he is doubtful for the second Test starting in Durban in less than a week," South Africa team manager Dr Mohammed Moosajee said in a statement.
South Africa's attack was left severely short-handed in his absence, at one point AB de Villiers gave up the wicketkeepeing gloves to turn over the most gentle of overs, while Imran Tahir's struggles continued.
The leg-spinner's 11 overs cost 55 without success while he dropped a simple return catch from Pujara in the evening session when the right-hander was on 51.
Fellow spinner JP Duminy (0-42) was equally targeted as the bedraggled hosts conceded 175 runs without a wicket in an elongated final session of 38 overs.
With few other options to turn to South Africa skipper Graeme Smith was unable to make use of any demons the wicket had promised when his side's last four wickets lasted just 9.3 overs in the morning session.
Vernon Philander managed to reach his half-century but like overnight partner Faf du Plessis fell to Zaheer Khan (4-88) who prised out three wickets in the early collapse.
Ishant Sharma (4-79) accounted for the other, Dale Steyn, who with his side bowled out 36 runs in arrears loomed as the key man with ball in hand.
But the world's top-ranked quick failed to take a single wicket - after managing one in the first innings - with his 21 overs being taken for 64.
Weary
With Morkel only able to bowl two overs before he was forced off, and their spin options picked off at will, South Africa wearily succumbed to Pujara and Kohli in the final session.
Philander had quickly removed Shikhar Dhawan (15) to an edge to Jacques Kallis to provide early hope and his 100th Test wicket.
Kallis then had Murali Vijay strangled down the leg-side, but not before his 39 had helped build the lead to over 100.
Pujara and Kohli took over as they suffocated the life out of South Africa's under-manned attack, resulting even in De Villiers being used for a rare over before tea.
Like everything else Smith tried it failed as his side were left with the objective only of trying to save a Test match in which rain is forecast for parts of the final day.