Ashes 2013-14: Andy Flower pays tribute to Graeme Swann after England spinner's retirement
England coach Andy Flower says retiring off-spinner Graeme Swann will be hugely missed by the team.
Last Updated: 22/12/13 12:24pm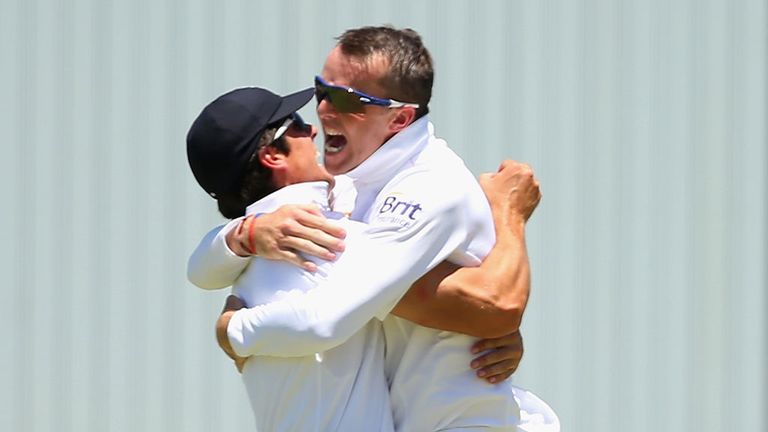 Swann has decided to quit cricket after an outstanding career, during which he has been one of the leading lights in a very successful England Test side.
He finished as the leading wicket-taker on either side with 26 in England's 3-0 Ashes win over Australia in the summer but has not been as successful on the current Ashes tour and has now decided to bring his career to a close, with two matches to play and England 3-0 down.
And Flower said: "Graeme Swann has made an outstanding contribution to the England cricket team in all formats throughout an incredibly successful career and I would like to congratulate him on all that he has achieved.
"His commitment, competitive spirit and sense of humour have been recognised and admired by team mates and supporters alike, and he has played a big part in England's success over the last five years.
"The dressing room will be a very different place without Graeme's unique personality and I would like to wish him all the very best for the future."
Swann, who began his career with Northamptonshire, moved on to Nottinghamshire and helped them to win the County Championship in 2005, before making his England Test debut against India in Chennai in December 2008.
Newell praise
Nottinghamshire Director of Cricket Mick Newell said: "Swanny has been a dominant performer in Test cricket for six years and it will leave a huge gap in the England team, because there is no outstanding spinner quite ready to fill the place that he will leave.
"I'd imagine that coaching would be far too mundane for him but he'll always be welcome at Trent Bridge.
"I expect that we'll see him launch a media career and I'm sure he'll be very successful."
Former England captain Michael Vaughan tweeted: "Too soon in my opinion for Graeme Swann to retire but it's been an absolute pleasure watching him perform for many years. Finger spin out of the top drawer.
"Of all the England players over the last 20 years, he is the one the team will miss the most. Spinners of his quality are a rare breed.
"He has also been a brilliant character who plays the game how it should be played, with energy, fun and humour."