Graeme Swann denies taking swipe at England players following retirement
Graeme Swann has denied his criticism of some international cricketers was aimed at any of his ex-England team-mates.
Last Updated: 23/12/13 12:12pm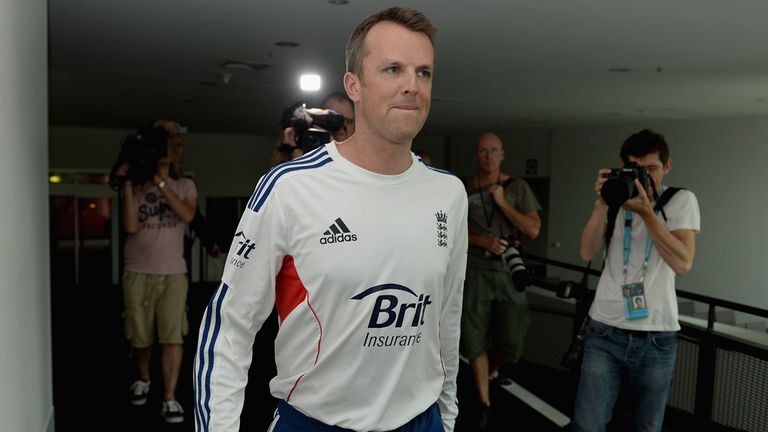 England's second most successful Test spinner quit all cricket with immediate effect on Monday having taken 255 wickets in 60 matches.
And in a parting shot he took aim at "some people playing the game at the minute (who) have no idea how far up their own backsides they are.
"It will bite them one day, and when it does I hope they look back and are embarrassed about how they carry on."
Swann's comments immediately led to speculation he was referring to members of the England squad and brought a terse response on Twitter from former Ashes-winning captain Michael Vaughan.
Vaughan wrote: "We all make mistakes @Swannyg66. I make plenty... I am afraid on this occasion you have made one...."
But Swann later disputed the version of events reported by Daily Telegraph cricket correspondent Derek Pringle, who said the 34-year-old's comment amounted to "a barely disguised swipe at some of his fellow England players."
Swann tweeted in response: "Just because Derek Pringles (sic) writes something I find it astonishing that people buy into it?!"
And he found an ally in Monty Panesar, the man who is expected to replace him in England's side for the fourth Ashes Test in Melbourne this week.
Panesar said: "I think Swanny probably knows who he's referring to, but in terms of the dressing-room we're right behind him. We loved him to bits.
"When he played with us he had great character, his sense of humour was good. We all back him as a team.
"I'm replacing an icon player. He's done unbelievable things over the last few years for English cricket and will be remembered as one of the greats."
Durham leg-spinner Scott Borthwick has been called into the squad for the final two Tests, while Kent off-spinner James Tredwell will join the group ahead of the fifth Test in Sydney.
Watch the fourth Ashes Test live on Sky Sports 2 from 10.30pm on Christmas Day
An England and Wales Cricket Board press release read: "Borthwick will arrive into Melbourne later today, will train with England...and will be available for selection for the (fourth) Test, beginning on Boxing Day.
"Tredwell will arrive in Melbourne during the fourth Test and will be available for selection for the final Test in Sydney beginning on January 3."
But for Panesar, there is the prospect in what will be his 50th Test of proving a point for himself and his team.
"I would say they've been a bit more ruthless in their cricket," he said of England's hosts, who lost 3-0 in the first of this year's back-to-back Ashes series last summer.
"They've come quite hard at us - and you have to give credit to the Australians, the way they've played their game.
"They've fought really hard and always put us under pressure, never let us get back in the game.
"They've played a really strong brand of cricket, so we're hungry and determined to show what we can do to them as well.
"In these next two Tests we want to show what this team is about."