Ashes: Alastair Cook calls Graeme Swann's decision to retire 'brave'
England captain Alastair Cook has described Graeme Swann's decision to retire as "brave".
Last Updated: 25/12/13 10:38pm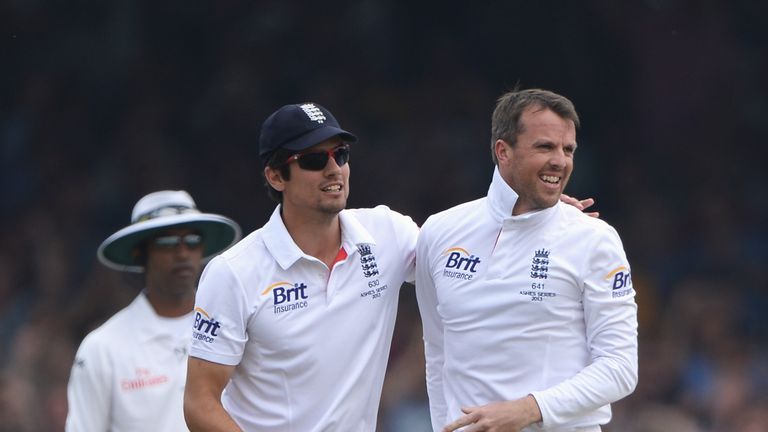 Cook also admitted he was concerned when Swann criticised some players as being "full of themselves" but is now confident the remark was not aimed at anyone in the England team.
"When I first saw the comment that morning, a phone call to Swanny quickly reassured me that it wasn't anything at all about the England players," Cook said.
"I haven't heard the quote or seen what has been written but he has totally, 100%, reassured me and the whole of the England team that it was not about us so to me the matter is closed."
Swann had struggled against Australia's batsmen in all three Ashes Tests and there was speculation he might be dropped for the Melbourne Test before he announced his retirement.
However, Cook refused to be drawn on the issue, describing the question as "irrelevant".
"His selection would have been talked about, of course," he added. "But to me that question is irrelevant now because he was no longer involved by the time we started talking about selection.
"I think it's a very brave decision because he could have just hung on for these two games but looking into his eyes when we had that chat it was obviously quite emotional - when someone gives up playing for England.
"It's a huge decision to make - he's only 34 - but speaking to him about his body and his mind he said he had nothing more to give and that he couldn't do it.
"To me, once a guy is in that situation there's really no point in hanging around because you'll only drag energy away from the group."
Uppermost in Cook's mind, though, is the urgent need to take a second whitewash in the space of three tours to Australia off the New Year calendar.
"It's very important," he said. "You don't want to lose many games of cricket, and you certainly don't want to lose five in a row.
"We're desperate not to let that happen this time."
You can watch the fourth Ashes Test on Sky Sports live from Melbourne starting at 10.30pm, Sky Sports 2HD