West Indies captain Darren Sammy aims to apply England pressure
West Indies captain Darren Sammy expects his side to defeat England in the Twenty20 series.
Last Updated: 09/03/14 9:05am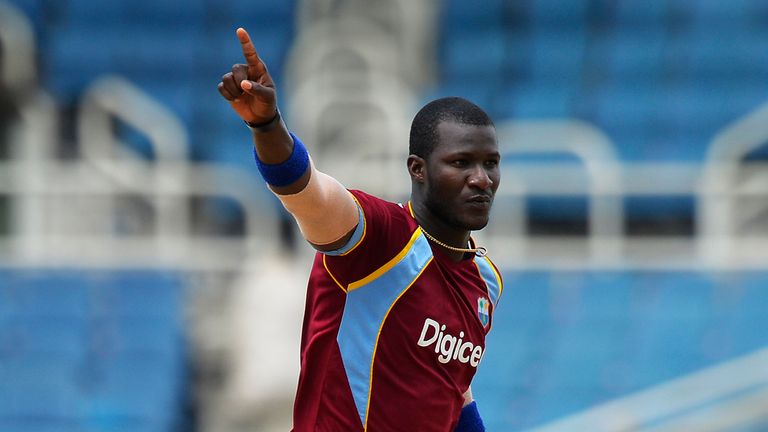 The three-match Twenty20 series gets under way at the Kensington Oval in Barbados on Sunday and the hosts will have destructive opener Chris Gayle back in their side, after he missed the 2-1 one-day international defeat against England in Antigua.
The ICC World Twenty20 champions will therefore be at full strength, with the exception of powerful all-rounder Kieron Pollard, as they seek to complete preparations for the defence of their world title in Bangladesh.
"Yes, England did win the one-day series. But we've shown that, once we put them under pressure, they don't respond too well," said Sammy.
"We're looking to do that in Twenty20 - and being defending champions, we have to go out and play like that."
Sammy has great faith in mystery off-spinner Sunil Narine and Twenty20 specialist leg-spinner Samuel Badree.
"In Twenty20, the spinners play a very important role - wherever the game is being played," he said.
"We welcome Badree back into the attack, with his very good Twenty20 economy rate, and we all know Narine is the number one bowler - and the Englishmen did not pick him too well.
Run-fest
"We expect it to be a run-fest, and we hope we can entertain the people and come out victorious.
"This is all final preparation going into the Twenty20 World Cup. It's good to have matches where we can finalise the combination of our team, and these three matches present us with that opportunity.
"We still have the power in the team, and if we go out and perform to our full potential we know we will be the team to beat.
"It's a great feeling to be world champions. But that's all gone.
"When we get to Bangladesh it's a fresh start, and everybody needs to do what we did in Sri Lanka again - which is to play as a team, play for the people ... to defend the title."
Watch West Indies take on England in the opening T20 international live on Sky Sports 2HD at 6pm on Sunday.