Australia seamer Ryan Harris confident of being fit to face Pakistan after knee surgery
Australia seamer Ryan Harris is confident of being fit for their next Test series, against Pakistan in October.
Last Updated: 12/03/14 11:45am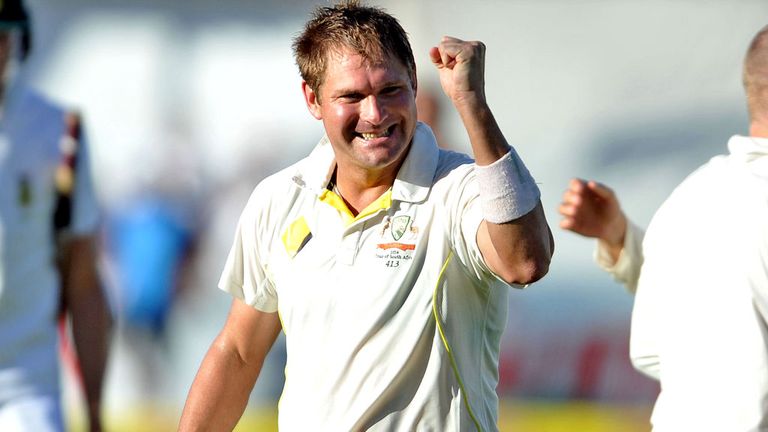 Harris bowled Australia to a last-gasp series win over South Africa in Cape Town recently and there were fears that his career could be in doubt due to the knee problem.
"It's nowhere near my career over," said Harris, who took over as the world's second-ranked bowler after the 2-1 victory of the Proteas.
"I did this to prolong it more than anything. My knee is damaged - probably a little bit more damaged than the last time they went in a few years ago. But it's still a good knee.
"After what I've put up with in the last few weeks, I can probably put up with just about anything now.
"I'm already looking forward to hopefully getting back for the Pakistan tour. That's my goal, and a very realistic goal."
Locked
The injury-prone 34-year-old had long been due to go under the surgeon's knife, after piecing together 12 consecutive Tests - easily the longest run of his late-blossoming career.
Harris visibly struggled with the problem during the South Africa series while it locked on him during the flight home.
The knee operation therefore came as "good relief" even though Harris expects to one day need a complete replacement.
Harris hopes his knee will hold up for a few more years and is desperate to help the Australian's defend the Ashes next summer in England.
"I've already told the surgeon just keep me on the park for another two or three years and we'll worry about that (the knee replacement) later," Harris said.
"I'll give him his money later, it's already guaranteed.
"I probably am (going to need a replacement) at some stage. But again I just want to do whatever I can now to keep playing in this team and enjoying the success that we've been working so hard to get to."
Cartilage
The initial injury flared up midway through the 5-0 Ashes whitewash.
"It's feeling better today and yesterday than it felt before I went in," he added.
"It's good relief. A couple of days after the last win and when I got home it was actually quite painful. It's been cleaned out, which is what I've been waiting for for a while.
"There was a fair bit in there. I saw a couple of pictures of quite big pieces of cartilage. They were a lot bigger than what I thought they were going to be."