Sri Lanka Cricket Board denies claims they criticised two senior players
Sri Lanka Cricket has strongly denied accusations from two of its players that it criticised them in the media.
Last Updated: 09/04/14 3:41pm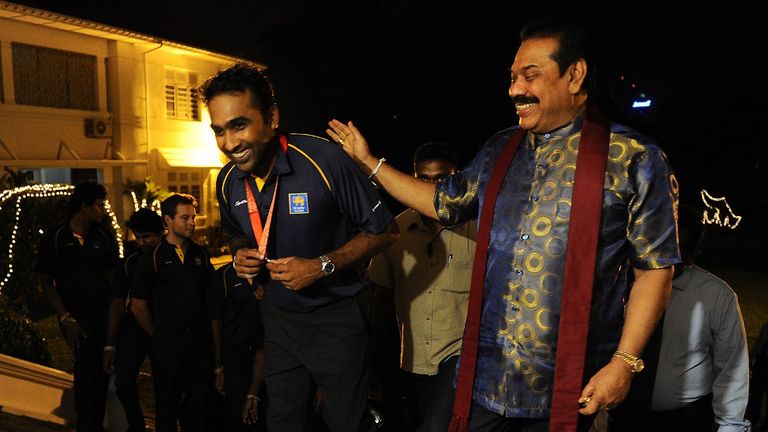 Former national captains Mahela Jayawardene and Kumar Sangakkara, considered legends of Sri Lankan cricket, told reporters upon their return as World Twenty20 champions on Tuesday that SLC secretary Nishantha Ranatunga and CEO Ashley de Silva had made derogatory comments about them to the press.
Ranatunga and de Silva had reportedly criticised the two experienced batsmen, who had inspired Sri Lanka to their first international trophy in 18 years, for revealing they would retire from T20 cricket at the end of the tournament in Bangladesh.
But in a statement released on Wednesday, the SLC said: "We would like to categorically state that neither the secretary nor the CEO made any statement to the press regarding Mahela Jayawardena's comments in the media about his apparent retirement from the T20 format of cricket.
"The SLC regrets such unsubstantiated accusations levelled by a senior member of the national team without verifying the facts; a sportsman we hold in the highest esteem as both a former national team captain as well as a brand ambassador for the nation.
"Sri Lanka Cricket wishes to inform the media that, in all matters of such nature, we consider these statements as damaging to both the image of the institution and the officials concerned.
"They could also have had a detrimental effect on the state of mind of the players prior to such an important tournament and may have caused the players to lose focus, thus potentially impacting their mind frame and the outcome of the game in a negative manner."
Retirement
The statement added: "We do not know how accurate the reports of players' retirements are because we would naturally expect the players to communicate such an important decision to SLC first. So far, they haven't informed us that they have taken such decisions."
Both Jaywardene and Sangakkara are considered among the best batsman in world cricket. Jaywardene has over 11,000 Test runs including 33 centuries at an average of over 50, while Sangakkara has 35 Test centuries at an average of almost 60.
The players maintain they spoke only about the idea of retirement and did not confirm their intentions after Sri Lanka defeated India in the T20 final to lift their first trophy since the 50-over World Cup of 1996.