Eoin Morgan has sympathy for those puzzled by ECB's decision to axe Kevin Pietersen
Eoin Morgan admits he has sympathy with those who believe Kevin Pietersen should still be playing for England.
Last Updated: 20/04/14 5:37pm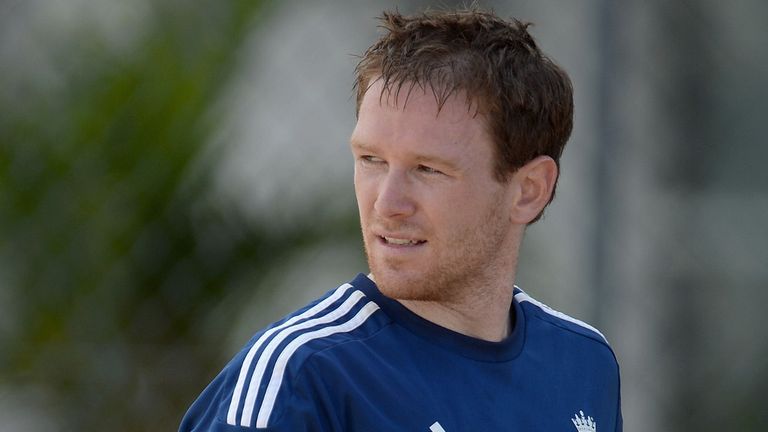 Morgan says he regularly speaks to Pietersen, who was jettisoned by England after the winter tour of Australia.
On Saturday ECB chief Paul Downton said Pietersen was "disengaged" from the team in Australia, and that the team - under new head coach Peter Moores - will move on without a man who has scored more runs for England in all formats than anyone else.
Morgan admits he understands some people remain puzzled by the decision: "A little bit... but again there is not a lot you can do.
"I still talk to him all the time. I've learned a huge amount from Kev. He has been supportive of me since I came in the side.
"He's a guy who you bat with and gain a lot of confidence from watching him at the far end. He plays a shot that leaves everyone in the field thinking 'there's nowhere to go here' - and everybody in the field drops. That gives you a huge boost. He's been a pleasure to play with."
The Middlesex star remains a fixture in England's limited overs set-up, and he is one of several men who I scrapping to take the place of Pietersen in the Test line-up.
England shirt
He is resigned to never seeing Pietersen in an England shirt again though.
"I don't think he will be (involved with England again). He's going to play IPL, Caribbean Cricket League, play for Surrey."
Nottinghamshire batsman James Taylor is another in the frame for a Test place. He gave a less-than-ringing endorsement of Pietersen.
Taylor played alongside Pietersen in two Tests, and put on 147 with him for the fifth wicket against a strong South Africa attack at Headingley in 2012.
Taylor, then just 22, scored just 34 of them as Pietersen took the Proteas apart.
The Nottinghamshire star said: "I never spoke to KP. He didn't say anything to me. That particular situation that I batted in didn't ask for anybody to go out and play ridiculous shots or do anything too different to what I did.
"We put on 150. KP was playing the innings of his life at the other end, while I was doing what I needed to do.
"He never said anything to me ... so, it didn't happen ... in my eyes. Either way, it doesn't bother me. It's the past, and he never said anything to me."