Hashim Amla appointed new South Africa Test captain
South Africa have named Hashim Amla as their new Test captain following Graeme Smith's retirement.
Last Updated: 03/06/14 2:05pm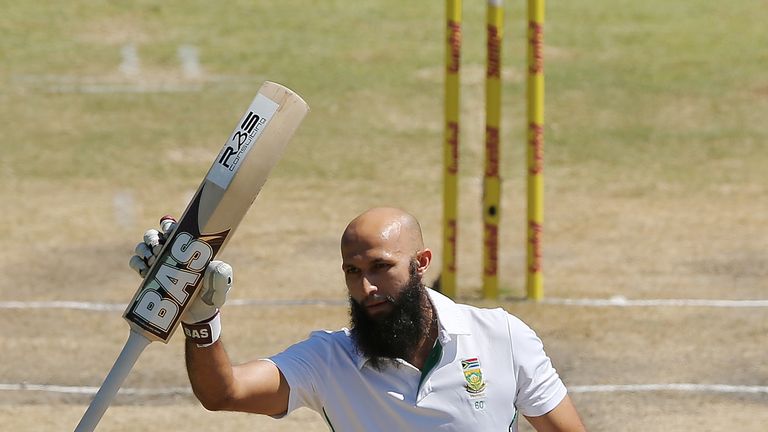 Batsman and wicketkeeper AB de Villiers, who skippers the one-day side, had been the favourite to replace Smith in the five-day format.
But the selectors have opted for Amla, whose first job will be to lead his side in their two-Test tour series against Sri Lanka next month.
Amla, 31, has played 76 Tests, scoring 6,214 runs to register an impressive batting average of 51.35.
"It is an honour and a privilege to be given this responsibility," said Amla, who becomes South Africa's second non-white Test captain after Ashwell Prince.
Amla praised the work done of predecessor Smith, who captained South Africa in a world-record 109 Tests before announcing his retirement during the third and final Test against Australia in March.
"This is an exciting challenge but one that I take on with positivity with our Test team being in an exceptionally good space at the moment with the support of a strong core of senior players," said Amla.
"I have concentrated on taking my batting to the highest possible level and now I feel I am in a position to make a contribution to South African cricket in a leadership role."
Under-19 captain
Amla captained South Africa at the Under-19 World Cup in New Zealand in 2002 and was appointed skipper of the Dolphins franchise early in his first-class career before resigning after one season to concentrate on his batting.
The devout Muslim was appointed De Villiers' vice-captain in the one-day set-up in 2011 and led the side in three matches; he gave up the job last year but was reappointed to that position on Tuesday as part of the announcement confirming his role as Test skipper.
Cricket South Africa chief executive Haroon Lorgat said Amla's appointment would help to bring stability to the world's second-ranked Test side after the retirements of several senior players.
"It is a reflection of the excellence and standing of our senior players that there was more than one quality candidate to consider for this most important leadership position," he said.
"Hashim is universally respected, both in South Africa and around the cricketing world, not only for his quality as a player which has seen him ranked among the best batsmen in the world in both Test and ODI cricket, but also for his personal qualities.
"He has earned particular respect as a role model for his humility and his upholding of the best traditions and spirit of the game.
"Stability has been one of the endearing qualities he has brought to the Proteas and this is important at a time when we have had to replace several key players in Smith, Kallis and Mark Boucher."
Smith was quick to give his support to the new South Africa captain.
Smith wrote on Twitter: "Just landed in Jhb to news of @amlahash congrats my bud and excited to watch you shape proteas test future."