Ready for the rivals
Jimmy Anderson says he's committed to England's ODI side and can't wait to face old enemy Australia.
By Peter Smith
Last Updated: 28/06/12 9:10am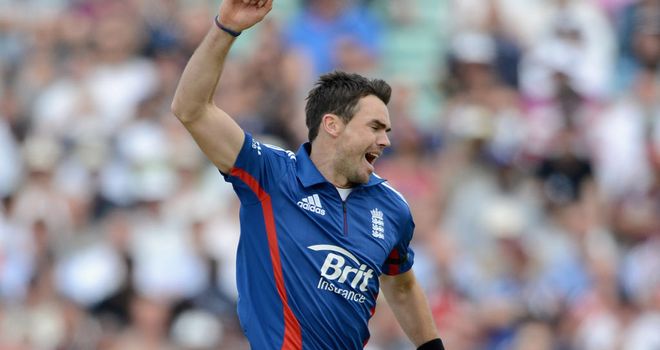 Jimmy Anderson is relishing the prospect of taking on Australia in the upcoming one-day series and has ruled out any chance of following Kevin Pietersen into retirement from international limited-overs cricket.
England were rocked by Pietersen's decision to step away from the shortened versions of the game last month.
Talismanic batsman Pietersen said he needed to reduce his workload to remain at the top of the game.
And the issue of England's busy schedule was raised again a few weeks later when Anderson and fellow frontline bowler Stuart Broad were both rested for the third and final Test against West Indies earlier this month.
Anderson was disappointed not to be involved in that match, however, he told skysports.com he remains committed to the 50-over side and doesn't feel the strain of competing for England in both forms of the game is taking its toll on him - yet.
"I want to represent England in all forms of the game," he said. "I made my debut for England in one-day cricket so it is important to me for a lot of reasons.
"I find ODIs really great to play in and a lot of fun. I love playing Test cricket - it's the pinnacle for most players, myself included - but I also enjoy the different challenges one-day cricket brings.
"I want to force my way back into the T20 team too, if I can. Hopefully playing well in the ODIs will be another stepping stone to that. They're very important games.
"It's unfortunate KP has decided to retire form one-day cricket but that was his decision and we just have to get on with it.
"In terms of being rested it's just one of those things and something you can't do much about. Unfortunately with the amount of cricket we play the management are going to have to be quite smart about how much we do.
"But my body feels fine and I think it will be a few years before I have to worry about choosing one form or the other."
Consistency key
Australia are ranked number one in the world in the 50-over game and Michael Clarke's men will give England a clear indication of where they are in their limited-overs development - and how far they've got to go before the 2015 World Cup.
Anderson is among the 14-man squad which has been named for the series. There have been no changes from the squad which defeated the West Indies - and Anderson believes consistency in selection is crucial.
"Consistency is very important in one-day cricket," he said. "It's something we've lacked in recent years in the one-day format.
"We played well against the West Indies in the two games we could play in the series and it's good we can keep the same squad together and have a long period of one-day cricket where we can improve.
"To win a game of cricket you need the batsmen scoring big runs and the bowlers taking wickets. You then need to do that consistently to move up in the rankings, which is what we want to do as a team. Hopefully we can kick on with our recent form.
"Australia will be the real test of how far we've come. We've played some really good cricket this year home and away but we've got a pretty poor record against Australia in ODIs in the last few years, so it'll be a good test for us and also a good check of where we are as a team at this time."
Aussie overkill?
The visit of Australia also raises the issue of whether England are meeting their arch rivals too often in the modern game, and whether that is taking anything away from the prestigious Ashes series.
Jonathan Trott has voiced his concerns that England are seeing too much of the Aussies, but Anderson is instead relishing the opportunity to take on the world's best ODI side.
"Everyone will have their opinion on it but whether it is right or wrong, I'm not sure," he said. "As a player we've got five one-day matches to contend with against Australia and we'll be putting everything into winning that series.
"I don't think it will take any gloss off the Ashes series because they are particularly special. No matter what sport you play England always want to beat Australia and Australia always want to beat England. It will be great for the fans. Hopefully the grounds will be sold out and we can win the series."