Pick of the day
We look back on the best of the action, reaction and opinion from the final day at Old Trafford
Last Updated: 06/08/13 12:01pm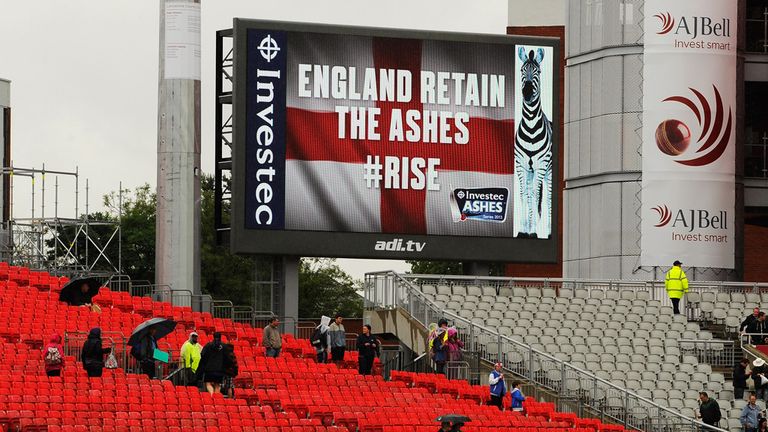 The word from the start was that rain clouds would steal the headlines at Old Trafford on Monday and, despite a lively morning in which Australia briefly dared to dream, that proved to be the case.
With Australia having declared to set them 332 to win, England were probably somewhat surprised to even be out on the pitch after a barrage of early morning rain, but it cleared sufficiently to allow the tourists time to claim three quick wickets.
With Michael Clarke dropping a chance to make it four, there were undoubted jitters in the home dressing room and in the stands, but shortly after lunch the rain came... and this time for good.
By late afternoon hands had been shaken on a draw and England had ensured that the little urn remained in their possession. We look back on the pick of the action, reaction, video and opinion from the fifth and final day in Manchester.
Anti-climactic end
When it came, it was hardly the way England's players would have imagined it. Certainly there was not quite the jubilation of Melbourne in 2010 but, nonetheless, Manchester's rain ensured it was job done - England have retained the Ashes. With forecasts having predicted a total washout it was a small mercy that the players made it out on to the pitch at all on Monday. Indeed, during an unexpectedly tense morning session there was even the suggestion that Australia could pull off an improbable win to keep their hopes of reclaiming the urn alive as Ryan Harris (more on him shortly) spearheaded a fine bowling display that yielded three wickets in 20 overs to leave England looking decidedly shaky. But that would be as good as it got for the tourists as Manchester's grey clouds came riding to rescue to leave the England team and their fans singing in the rain.
Man of the day
With just 20.3 overs of play possible at Old Trafford on Monday it was impossible for anybody to make a truly telling contribution. But Australia will undoubtedly be left with a feeling of 'what might have been', especially after the early efforts of Ryan Harris. Since being recalled for the second Test the burly paceman has proved what a high-quality operator he is by claiming 11 wickets at an average of 18 exactly. On Monday, he set nerves jangling in the England dressing room by dismissing Alastair Cook with the 15th ball of the day and then snared Jonathan Trott after a period of sustained pressure led to a strangle down the legside. The 33-year-old possesses a potent mix of accuracy and aggression and the pity for Australia is that his creaking body has not let him play more than 14 Tests.
More hurt for Haddin
Australia may have had much the better of things for all five days at Old Trafford, but that was scarce comfort to Brad Haddin as he faced up to the reality of a third straight Ashes series without capturing the urn. The 35-year-old wicketkeeper was buoyed by the fact his side had demonstrated their competitiveness in Manchester, but insists it will take victories rather than positive signs satisfy the Australian camp. Haddin feels there can be no more excuses and has called on his side to lay down a marker and sign off the tour in style - starting with the fourth Test in Durham on Friday. "We're in an Ashes campaign and have got to make sure we deliver. We've shown with our best cricket we can be very competitive."
Fight pleases Flower
While he may have wished to see his players secure the Ashes in slightly more memorable style, England coach Andy Flower insisted there was still much to admire about his side's efforts at Old Trafford. While conceding his side had been "slightly behind the whole way" in Manchester, Flower paid tribute to the battling qualities of his players, especially their efforts with the bat in the first innings which - thanks to Monday's rain - ultimately proved good enough to get them over the line in the series. "I must say that the fight that really ensured our draw in this Test was the fight we showed in the first innings. To bat for 140 overs on that pitch that was already taking wear was a great effort."
Losing faith in technology?
The major talking point from the little play that was possible on day five centred around the dismissal of Kevin Pietersen. England's first-inning centurion was on eight when Australia had him caught behind off the bowling of Peter Siddle, even after the decision was reviewed. Pietersen even seemed a little resigned when he made the 'T' gesture to on-field umpire Tony Hill, as if he knew technology wouldn't spare him. While Hotspot showed nothing, the fact there was a noise meant third umpire Kumar Dharmasena had to uphold the initial decision. It all left Andrew Stauss wondering if players were beginning to lose faith in the technology being used in the international game.
Changes for Chester-le-Street
With their overriding objective now achieved, England will head to Durham thinking about completing a series win but perhaps also with one eye on the future and the return series Down Under at the end of the year. With such a gruelling schedule ahead, Andy Flower and his staff may just think about resting one or two of their key men for the second instalment of the latest round of back-to-back Tests. Sky Sports pundits Nasser Hussain and Sir Ian Botham both believe that in-form Graham Onions - recalled to the Chester-le-Street squad along with Chris Tremlett - has a great chance of playing on his home patch. But just who would England drop? And how would that decision go down?
As it happened
You can relive all the best action from day five by reading our interactive commentary from Old Trafford. You can also view a gallery of the day's best images here.