Ashes Paper Talk
Round-up of lively Ashes gossip and top features from the back pages of Friday's Australian papers.
Last Updated: 05/12/13 9:57pm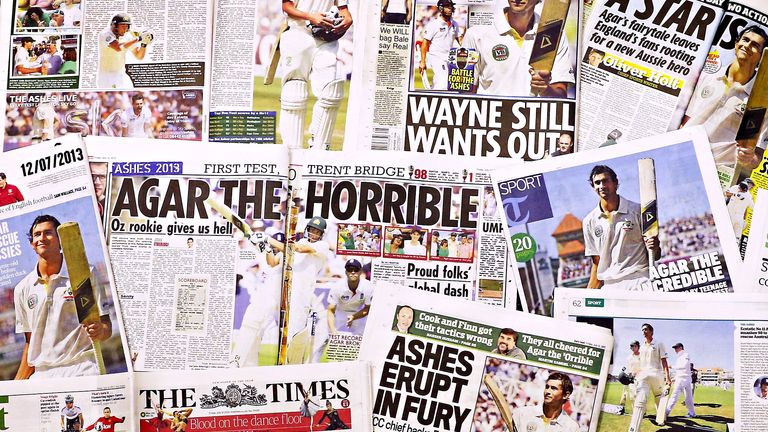 We check out what the latest gossip is in Friday's Australian papers on the Ashes with the second Test under way in Adelaide as poor catching and dodgy batting is under the microscope.
THE AUSTRALIAN
"The Poms have let Australia off the hook" the paper cries! both teams are ripped into though as it suggests Australia's top order "failed to drive home the advantage achieved by victory in Brisbane and winning the toss". However, with England's butter fingers late in the day, the relieved reporter says "it could have been worse had Michael Carberry not dropped one of the easiest catches you will see at this level two overs before stumps".
Gear-gate? The paper reports on England fighting back following claims it had stocked up on protective clothing after a bruising experience in Brisbane.
Shane Warne said on Aussie radio that he heard the tourists had ordered extra padding between Tests. "I've got a scoop for you guys, that England bought nine of them - extra chest guards and arms guards. So I think they are expecting more of the same."
An England cricket spokesperson has responded by stating the gear was ordered at the start of the tour and only just arrived.
SYDNEY MORNING HERALD
It's all about the "blunders" of the English in the Herald. It reports: "On an unseasonably chilly summer's day in Adelaide, England couldn't catch a cold and Australia could thank its lucky stars. Michael Clarke's side was let off the hook after the visitors dropped three key chances - including a sitter in the dying stages of a delicately balanced first day." Enough said.....
However, as much as they are laughing at England's fielding, one man whose halo is being buffed up is Monty Panesar. He was the "pivotal figure" they state.
"England gambled on two spinners in an effort to conjure a result in Adelaide, turning to a bowler who has been both a brilliant performer and a figure of fun. So it proved for Monty Panesar. All in one day, Panesar produced a touch of genius to dismiss Steve Smith, lived up to his reputation as a hapless fielder with a missed return catch to spare George Bailey, and was mocked in a photo tweeted and subsequently deleted by Cricket Australia."
DAILY TELEGRAPH
One man looking at the bigger picture is reporter Malcolm Conn whose analysis of the sport is headlined: "The high of a gripping Ashes contest masking world cricket's great shame, match fixing"
And so he writes: "The history, tradition and pulling power of Ashes contests camouflages the fragile state of cricket in most other countries and the sorry state of its administration. Then there is the game's dark underworld, which continues inducing players into match and spot fixing despite the many millions of dollars spent over the years on the International Cricket Council's largely invisible anti-corruption unit. Contrast the opening day of the second Test in Adelaide and its near sell-out crowd at a spectacular new venue with what took place at the University Oval in Dunedin on Thursday.
Conn is also unhappy with the low crowd and poor showing of the "once mighty" West Indies, forced to follow-on by a "particularly modest" New Zealand team, clouded in match-fixing controversy.
HERALD SUN
Apparently, Shane Watson has a problem "all in the mind" after failing to capitalise from a bright start at the crease.
Robert Craddock provides the evidence. "The ball before Watson was dismissed, ex-England captain Michael Vaughan said that once you get set in Adelaide the only way you will get out will be mental error. You won't get nobbled by terrors in the pitch or the unplayable ball. The demons you must fight are the ones inside your head. He had barely finished the sentence when a serenely set Shane Watson tried to drive a ball that was a metre or two too short for the shot and smacked a low return catch to Jimmy Anderson."
In another piece, Craddock focuses on George Bailey's unusual training methods. In the story, he says: "Bailey used sheep as fieldsman when batting on his family farm and for a while on Thursday made England feel like lambs to the slaughter. Bailey's early batting skills were honed on a farm outside Launceston where he placed feed in key fielding spots in an attempt to lure sheep there. The main difference between those days and England's fielding effort was that the sheep were better at catching."
BRISBANE TIMES
Nice little piece on some charity work, all in the name of sledging!
"Michael Clarke's fine for his ''broken f---ing arm'' taunt in Brisbane didn't leave much of a dent in his pocket, but it has inspired an innovative fund-raising idea. Labelled the ''Michael Clarke Sledge Fund'', a Facebook group is looking to raise AUS$3300 (£1830) which equates to the fine of 20% of Clarke's match fee - for charity. ''Cricket fans of Australia,'' the group says. ''We set out to compensate Clarkey for the fine he copped for his awesome sledge of Jimmy Anderson. Pup will not accept the money [nor needs it], so instead we are aiming to match the fine dollar for dollar and donate it to the McGrath Foundation.''
Watch the second Ashes Test from Adelaide, Wednesday-Sunday, 11pm on Sky Sports 2 HD