Ashes: Australia's press on the fall of England and KP fighting back
Reaction from Australia's press on the rise and fall of Captain Cook's England ship and KP fighting back.
Last Updated: 24/12/13 6:37pm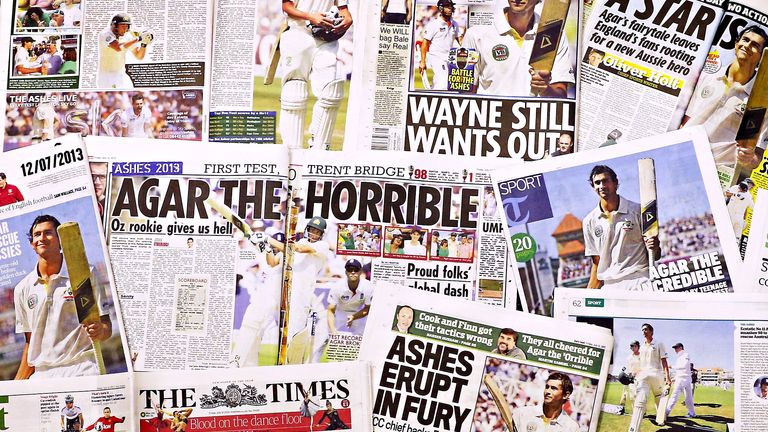 THE AUSTRALIAN
Former England skipper Mike Atherton reflects of the plight of Alastair Cook's boys ahead of the fourth test in Melbourne.
The headline reads: "Flailing England short of options". Athers states: "The Boxing Day Test match three years ago might be seen as the high watermark of the team created by Andy Flower. On Boxing Day itself, English cricket supporters could scarcely believe their eyes as Australia were humbled for 98, England reached 0-157 in reply. With Australian hordes deserting the MCG long before the finish, it was a day to remember." It seems a long time ago.
Aussie opener David Warner is never short of word or four and he's been raving about his team's batsmen.
"We are well on our way. We've been gelling well together and working hard together in the nets. We're playing good cricket at the moment."
DAILY TELEGRAPH
And despite his troubled summer, it seems Warner is a man transformed.
Aussie team-mate Steve Smith says Warner is fast emerging as an Australian captain candidate.
Smith says: "The way he controls himself around the group, it's been amazing to see the way he's transformed and he's heading in the right direction that's for sure. He's been in terrific form all summer, even starting with the domestic stuff before this series."
SYDNEY MORNING HERALD
Smith has also been talking about how his team will aim to smash Monty Panesar off the park in Melbourne.
"The best way we play spin as a batting unit is playing quite positively against it. When he comes on to bowl I'm sure we're going to be looking to keep scoring runs and putting the pressure back on him."
Meanwhile, another ex-England star takes a look at the troubled reign of the England skipper.
Derek Pringle writes: "The previous Captain Cook's visit to Australia was on a voyage of discovery over 240 years ago, but whatever privations suffered by him and his 18th-century explorers the current captain Cook is experiencing their modern equivalent as he seeks to fashion a winning team from the wreckage of this tour. In three swift and brutal ambushes, Michael Clarke's Australia have wrenched the Ashes off him that he won during the summer. In time, Alastair Cook will break all England batting records in Test cricket but they will be forever tainted by the fact that he lost the urn after holding it for just 19 weeks."
Monty has opened his heart with the extra pressure of replacing Graeme Swann.
"I thought my chance had probably gone in the summer, I thought that was it, really. Maybe I won't get another chance. I'm very lucky to be out here, got an opportunity. I just want to grab it, make the most of it, enjoy it and play the sort of cricket with a smile on my face. Yes, the start of another chapter. I've
probably got to become a bit more of a smarter bowler."
WEST AUSTRALIAN
The paper goes big on KP. It says: "Colourful. Ego-driven. Outspoken. Kevin Pietersen has been called many things. But his critics won't be able to add quitter to the list this summer after he announced he had no intentions of following Graeme Swann into a mid-series retirement."
Big news for Aussie cricket TV viewers. Cricket Australia says the Ashes is on track to be the most-watched and most-followed series ever played Down Under. The Nine Network's coverage has attracted an average of 1.55 million viewers per day. The third Test in Perth drew a series-high average peak of 2.37m on the third day. While 'Cricket Australia Live: The Official App has been downloaded more than 500,000 times since early November.
It seems everything Cricket Australia touches, it's turning to gold right now. Melbourne awaits.....
Watch the fourth Ashes Test, live on Sky Sports 2 HD, on 25 December from 10:30pm