SA v Aus, Test series: Jacques Kallis absence a boon for visitors
Ian eager to see how Proteas replace great all-rounder - and how debutant Doolan fares
By Ian Harvey
Last Updated: 11/02/14 3:27pm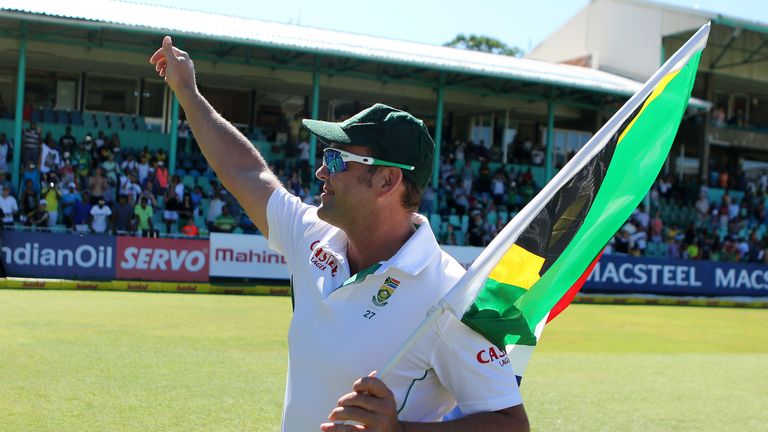 Michael Clarke's team performed fantastically in the Ashes to earn a 5-0 whitewash but will now get a chance to back that up away from home against the number-one ranked side in the world.
South Africa possess excellent batting and bowling line-ups so Australia will be tested to the max over the next month, but I think they can give a great account of themselves in conditions that won't be too dissimilar to the ones they've just come from.
Seamers Peter Siddle, Ryan Harris and, in particular, Mitchell Johnson were brilliant Down Under against England and I don't think they will have to change too much to be successful in South Africa with pitches suited to pace bowling.
Australia must continue to be aggressive with the way they try to take wickets and constantly put batsmen under pressure but the South Africans will be helped by having faced quicks such as Dale Steyn and Morne Morkel in the nets.
You'd think they might be able to deal with hostile bowling better than England but that should fire up Johnson and co and they should embrace the challenge of trying to reproduce their form in another country against different opposition.
Earned
Australia will tinker with the batting line-up as Shane Watson has been ruled out of the first Test in Centurion, with a calf injury and Ashes number six George Bailey was not selected for the tour, so Alex Doolan looks likely to bat at three.
Doolan has performed really well over the last few years in the Sheffield Shield competition for Tasmania and really earned his spot in the Test set-up - and the fact I have seen clips of him fielding at short leg in practice suggests he will get the nod.
South Africa is one of the best places - outside of an Ashes series - to make your debut as you know there will be dangerous bowling to face, and hearing about his temperament and knowing the form he has been in I think Doolan will do himself proud.
Alex is just one of a number of middle-order options for Australia coach Darren Lehmann - Phil Hughes and Shaun Marsh are in South Africa - with players now getting picked because of their form not because there is a lack of alternatives elsewhere.
When Australia were at their strongest they had a very good A team that could have competed in and won most international games against full-strength nations and that pressure really kept the first-teamers on their toes.
For a few years we didn't have that but now there is more depth and Darren knows that if players aren't performing consistently he has got others who can come in and fill those roles.
Sensational
Someone will have to fill Jacques Kallis' role in the South Africa team now and while their batting speaks for itself - Hashim Amla, Graeme Smith and AB de Villiers - I think they will really miss the influence of their star all-rounder.
The transition could be easier because technically they are only losing one key player - Australia's struggles came about when they lost five or six greats - but in a way they are losing two: someone with a sensational record batting at three or four, and a top, top bowler.
South Africa will not be able to replace Kallis like-for-like so they will have to alter the make-up of the team to compensate for the absence of an out-and-out bowler and out-and-out batsman.
More pressure will now be placed on Steyn, Morkel and Vernon Philander who may have to bowl longer spells and hold up an end, not just act as impact bowlers, and that could help Australia in this series.
I hope my country get another whitewash but what's more important is that they maintain their consistency in another part of the world as they strive to eventually get back to number one in the Test rankings.
I expect a close-run series - and Australia to pip South Africa at the post.