Smiles better
The Sky Sports experts feel the West Indies' t20 win is a good moment for world cricket.
Last Updated: 07/10/12 7:02pm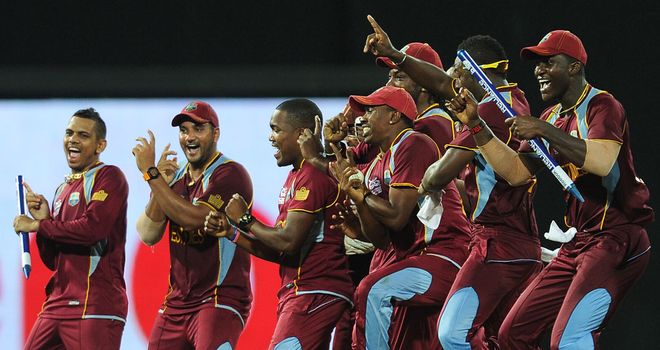 The Sky Sports experts feel the West Indies' victory in the ICC World Twenty20 Final is an important moment for world cricket.
The national side has been dogged by poor form and in-fighting for several years, but their t20 team displayed plenty of swagger as they beat Sri Lanka by 36 runs in Colombo.
And as the players began their celebrations in their own unique style, Michael Atherton reflected that it was exciting to see West Indies cricket with a smile on its face again.
"They should be a threat in Twenty20 and 50-over cricket," he told Sky Sports.
"I think Test cricket is a different matter. I don't think they'll be back for a while yet in that, but regardless, this is a terrific night for this team and a great night for West Indies cricket fans, who've been through some very hard times over the last few years.
"It's brilliant for the game, full stop, but in particular for West Indies cricket, which has been through some horrendous times over the last few years.
"All the cricket fans who've probably deserted the team over the last few years will all be tuning in back in the Caribbean and they might come back now.
"There's always been a great love for West Indies cricket around the world. People enjoy watching the West Indies play because they play with a certain style.
"That's why we hate it when we've seen the West Indies in England looking disunited, uninterested, defeated and looking as though they don't care.
"It depresses people because I grew up watching that team of the 1980's and there was no greater sight in cricket.
"This team is nowhere near that, but it's fantastic to watch them back and playing with a smile."
Thrilled
David Lloyd was also pleased that the squad appeared to have regained its positivity during this tournament.
And he paid tribute to the leadership of Darren Sammy for revitalising the mood in the camp.
"I'm absolutely thrilled," he said.
"It's so important for West Indies and so important for world cricket that the West Indies are coming back.
"They seem to have put lots of things behind them and they are a dangerous side. Sri Lanka, as the home team, were thoroughbreds, but these are dangerous. When they limped along to 130+ we didn't think it was enough, but they got stuck in.
"I cannot emphasise how good this is for world cricket. The West Indies have been in the doldrums with all the in-fighting and the scrapping.
"The captain is a damn good leader and they look to enjoy themselves. They worked hard and he is a serious player, even though he's daft as a brush."
Chris Gayle has been the West Indies' star performer throughout the tournament, but was dismissed for just three runs against Sri Lanka and took no wickets from his two overs.
And Atherton was pleased to see the West Indies prove that they can win, even when their best player isn't at the heart of things.
"It's great that the team won without him today," he said.
"We asked the question before the start if this was a one-man team. We thought not and today they proved it.
"There are plenty of other good players in that team and I think it's good that they've won without a serious contribution from him."