Cheteshwar Pujara's batsmanship for India shows England the way, says Mike Atherton
England must learn from Cheteshwar Pujara's superb batsmanship, says Mike Atherton.
Last Updated: 16/11/12 12:48pm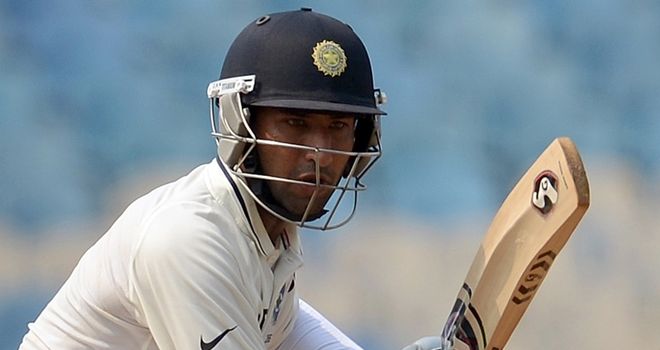 Pujara, 24, notched his maiden Test double-hundred in an eight-and-a-half hours that enabled the home side to declare on 521-8 before England collapsed to 41-3 in reply before stumps.
Only six Tests into his international career, Pujara has already served notice of his intention to be Rahul Dravid's long-term successor at number three - and Atherton told Sky Sports News that he can see several likenesses between the newcomer and the retired 164-Test veteran.
"There are a lot of similarities with Rahul Dravid in the way that Pujara plays, his style; he's a man who is very, very greedy for runs," reflected Atherton.
"As a 14-year-old he got a triple hundred, in one month as a young man he got three triple hundreds; nine of his 16 first-class hundreds are scores of 150 or more. He likes to bat, he likes to get runs and we saw that today. It was a brilliant exhibition of batsmanship.
"It was a very costly miss when he'd scored eight by Jimmy Anderson who misjudged that ball at mid-on but after that he didn't give another sniff of a chance and he was the glue that held that Indian innings together.
"It would take a lot to put that hundred of Virender Sehwag's in the shade but Pujara's double has done that."
Difference
England, needing 322 to avoid the follow-on, will start day three on 41-3 after spinners Ravichandran Ashwin and Pragyan Ojha made early in-roads before the close, which came with skipper Alastair Cook (22no) and Kevin Pietersen (6no) at the crease.
"There's a very long road ahead for England; they are clearly right up against it," said Atherton. "They need two of Pietersen, Cook, Bell, Prior to get big scores - a hundred or thereabouts and that would give them a chance of getting past that follow-on.
"Pietersen is a world-class player but he will find it difficult when he comes out tomorrow. Starting in India is difficult against spin - you've got men around the bat, the bowlers are fresh, that new ball is still pretty hard and the pitch is crumbling. It's not going to be easy for anybody to get in.
"But what I will say is there's a big difference when you do get in. If you can be lucky enough or skilful enough to get through that first 40 minutes, then it does get easier. The bowlers' fingers start to get tired, the ball gets older, the field gradually disperses and life takes on a little bit of a different hue for a batsman."
Hammer-blow
Former England captain Atherton dismissed the idea that the tourists' batsmen lacked practice going into the first Test, but admitted that they now need to show plenty of resolve if they are to rise to the challenge and get on a par with India's first innings.
"I'm sure England knew that India were going to bowl a lot of spin at them but it's one thing knowing what's coming, it's an entirely different thing being capable of playing it," he said.
"It was a perfect situation for India; they had 521 on the board at the end of the second day with 18 overs remaining and no chance for England's batsmen to get in and get a big score. They could crowd the bat; the pitch is beginning to break up although I don't think it has changed massively since the first day. But there's no doubt that it's more worn that it was.
"England really needed to get through tonight - maybe losing one wicket maximum. Losing the three is a bit of a hammer-blow and they know they've got a long, hard road ahead."
He added: "England are not undercooked - they've had three practice games but, of course, they haven't faced much spin in those practice games. That's been a very deliberate tactic from India to keep England away from spin in the warm-up games and provide a pitch on which India's spinners can enjoy themselves.
"That's playing in India - it's sub-continental cricket. You know you are not going to get a diet of medium- pace and the ball nibbling around. It's going to be spin. Now, England do have some good players of spin but as we saw last winter they are more likely to struggle in these kind of conditions than they would do at home.
"The contrast between the conditions in which we saw India get absolutely walloped 4-0 by England to what we are seeing now could not be more extreme; that's the challenge of the game, of course, to adapt your game to different conditions when you travel."