The Overview: Day 2
Trott's troubles, Compton's competency but a good day for England... read what they were saying in the Sky Sports box!
Last Updated: 24/11/12 1:44pm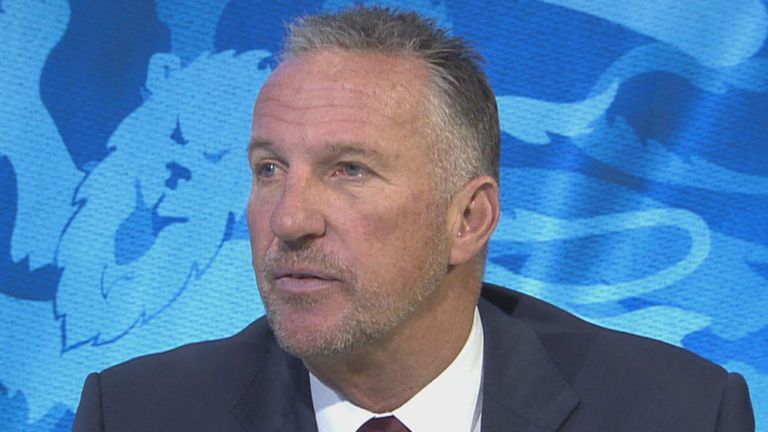 That was the question being posed in the Sky Sports commentary box on what would turn out to be one of the brightest days for the tourists on their tour of India so far.
England resumed on day two looking to break the seventh-wicket stand of Cheteshwar Pujara and Ravichandran and Monty Panesar made the breakthrough when he flicked the flaps of Ashwin's pads with a flat ball and Tony Hill gave the decision, despite replays suggesting it may have been just outside the line...
Sir Ian Botham: Ashwin has played extremely well and I thought his innings yesterday was magnificent. For me it looked out, it was given out and DRS said it would be the umpire's decision. I think Monty Panesar deserved it. It goes on, it doesn't turn and for me that's out. Well bowled Monty, it was clever bowling and whether it was deliberate we'll never know!
Jonathan Trott failed to get down to grab a chance offered to him by Harbhajan at slip, the latest in a long line of missed chances, and the issue of close catching was soon on the lips of our experts...
Michael Atherton: It's often said that close catching is an area where England have an advantage over India, but right around the bat I'm not sure at the moment. England's catching unit is in quite a bit of flux; we saw Cook take himself out of short leg this morning, Trott is at slip and Anderson's having real confidence issues around the bat. Where you've got a game where so much spin is being bowled and little catches around the bat will come, that could have a key role to play as we go through the game.
Graeme Swann eventually claimed the scalp of Pujara and the Indian innings was wrapped up when Zaheer Khan was given out by Aleem Dar, much to the chagrin of our pundits...
Nasser Hussain: It's a tail-enders dismissal, it really is. I reckon if this was Sachin or Pujara, Aleem Dar would have said he wasn't too sure about that. The fact he had to think so long about it makes me think 'oh, it's only Zaheer, that's out'. I don't think that's good umpiring.
David Gower: Let's leave that alone. We know these guys get it right so often and they are very good umpires, but human. We've done the memo to the BCCI about DRS and we won't do it again at this stage!
That left England chasing a first-innings total of 327, which will come as a disappointment after they'd got to 169-6 on day one. However, Athers and Nass said England should approach the second innings with confidence...
Athers: England had a chance there and partly through the brilliant batting of Pujara and Ashwin last evening, they just let India get away from them. I don't think they'll be desperately unhappy because it's not a massive first innings score, but we've seen the ball turn consistently so I think it's a highly competitive score. From 169-6, that's the point England will feel they let him get away, but we've seen Pujara show that if you get in, play well, concentrate hard and don't make mistakes then you can score runs on this pitch. The way that India's tail got them from that position of 169-6 up to that 327 must give England some confidence. It's going to be tough for England, but I don't think it's impossible. Run-scoring should be possible because there's nice bounce off the pitch and the outfield is fast. I think 327 represents a good score, but it's not an impossible mountain for England to climb.
Nass: Just go out and do what you're paid to do. It's not supposed to be easy and it's not new to anyone, going to India. It's tough and it's spinning like a second-innings pitch already, so if you want to get a score then get it in your first innings. You don't want to be on nought going into day four or day five. The bowlers have worked hard; Swann and Panesar have bowled a whole heap of overs, so give them a rest and go out there and do your job. Bat long.
England's openers steered them steadily to 66 before Ojha found the outside edge of Nick Compton (29). He may be a seen as a 20-and-out man at present, but Beefy says there are promising signs from the new man...
Beefy: It'll come. It's quite an experience to come out here because you're not used to having four or five people around the bat in the cricket he's been playing and the surfaces he's been playing on. Suddenly you've got a ball, spitting and turning and bouncing and it takes the outside edge straight to Sehwag. This is all part of his learning curve and he strikes me as the sort of guy who will learn and develop. He doesn't do a lot of opening for Somerset so give him time. From what I've seen so far he looks pretty composed, nothing seems to ruffle him. He was bitterly disappointed to get out, obviously, but from what I've seen so far I don't see any problems.
India struck again just before tea as the out-of-form Jonathan Trott was trapped plumb lbw for a duck. Nick Knight says England's number three just needs to catch a break...
Nick: He has a very heavy technique - and by that I mean his footwork is very heavy and quite obvious. He has a big trigger across the stumps and he was in the mindset of playing back. In the first Test match he edged one going forward, so why did he go back to that ball? I think it's because he was thinking he didn't want to get trapped in that position. Again, it's difficult when you start with men around the bat. I know Jonathan very well and it's a big challenge for him because he grew up in South Africa with a South African technique - heavy hands and heavy feet - and it's an area of his game he's constantly adapting and working on. He just hasn't got a start in the last couple of innings and he just needs to get away with one.
However, no wickets fell in the evening session as Alastair Cook (87no) and Kevin Pietersen (62no) guided England to 178-2 at close and David Lloyd says this series is still alive...
Bumble: Excellent from Alastair Cook and excellent from Kevin Pietersen; a partnership of 100 and England finish day two 178-2, trailing by 149. It was a terrific day's play because many would say India's 327 was plenty - and it's still a handy score - but England have done very, very well. They're striving to earn respect at trying to play the spin bowling and these two have been excellent. Pietersen and Cook have given England something to smile about and they're still in the series. They're definitely in this game!