England seamer James Anderson has removed Sachin Tendulkar more than anyone in Test cricket
James Anderson has now got Sachin Tendulkar out more times than anyone else in Test cricket.
Last Updated: 14/12/12 2:23pm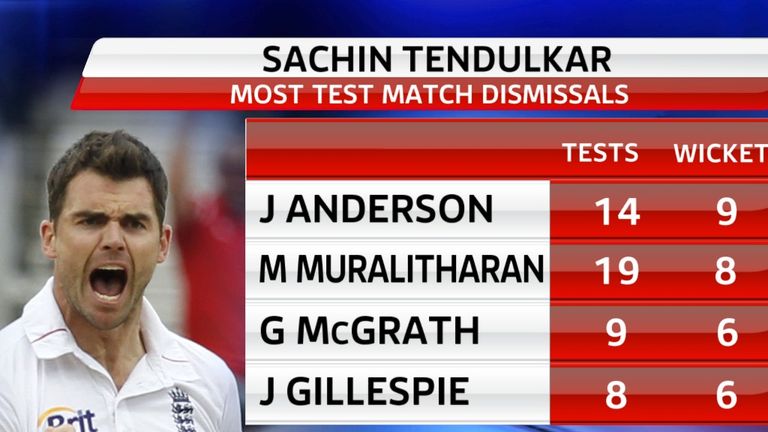 Tendulkar may be winding down his amazing career, but his wicket is still one of the most prized in the world of Test match cricket, and now Anderson can claim to have got him out more times than any other bowler.
Sri Lanka spinner Muttiah Muralitharan had been leading the way with eight Tendulkar scalps, but now Anderson has nine from 14 Test matches.
Here we look at how Anderson has got the better of Tendulkar over the years.
March 19, 2006, Mumbai
A rare false shot from Tendulkar gifted Anderson his wicket for the first time. Having made only one, the batsman drove loosely outside off stump and the ball took the toe of his bat and went through to wicketkeeper Geraint Jones.
July 20, 2007, Lord's
Umpire Steve Bucknor adjudged Anderson's full inswinger, which hit Tendulkar on the pad as he looked to drive through the leg side, would have clipped leg stump and sent him on his way lbw for 37.
August 10 & 12, 2007, The Oval
Anderson established his dominance over Tendulkar by taking his wicket in each innings, first via a regulation edge to Andrew Strauss at slip when on 82 and then bowled off the inside edge for one second time around.
December 22, 2008, Mohali
Another loose edge saw Tendulkar depart for five, with Graeme Swann at gully the catcher on this occasion.
July 25, 2011, Lord's
Tendulkar's likely last innings at Lord's brought him just 12 runs before Anderson nipped one past his inside edge to dismiss him lbw.
July 29, 2011, Trent Bridge
In the second Test of the same series, Tendulkar managed 56 in a forlorn fourth-innings chase before shouldering arms to a big inswinger which trapped him leg before once again.
December 5, 2012, Kolkata
Tendulkar made 76 before an excellent outswinger from Anderson caught his outside edge and was held by a tumbling Matt Prior behind the stumps.
December 14, 2012 Nagpur
Tendulkar made just two before Anderson got one to nip back off the seam, deflect off a thin inside edge and on to middle stump.