Sir Richard Hadlee on Stuart Broad, New Zealand's current squad and his memories of playing Sir Ian Botham
Sir Richard Hadlee delivers his verdict on Stuart Broad and explains what he expects from New Zealand.
By Oli Burley - @SkySportsOli
Last Updated: 28/02/13 11:48am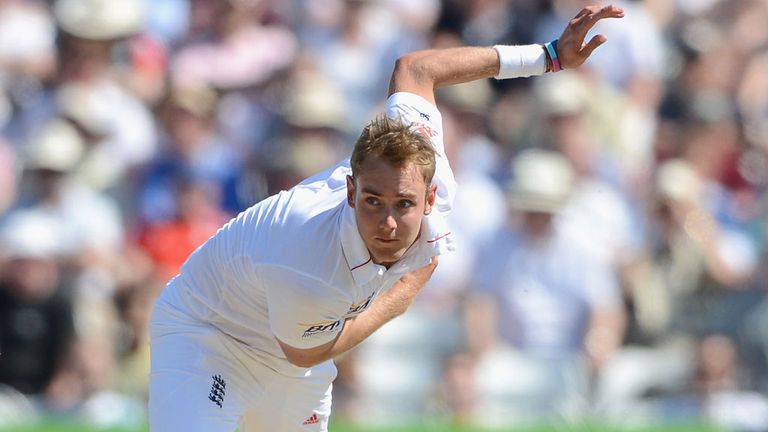 His tally of 97 wickets in 21 Tests against England is still more than twice as many as any New Zealand bowler has achieved, while he scored nearly 800 runs with the bat to boot in a career spanning 1973 to 1990.
As England's preparations for Saturday's opening T20 against the Black Caps continue, the legendary all-rounder explained his hopes and fears for New Zealand cricket, why rotation is a sensible policy and what it was like playing in the same era as Sir Ian Botham...
But Hadlee began by giving us his views on Stuart Broad, who proved he's recovered from his bruised heel and is ready to lead England in the three-match T20 series by taking six wickets - including a hat-trick in the two warm-up games...
How highly do you rate Stuart Broad as an all-rounder?
Hadlee: Once he bowls the right lengths he can be a bit of a handful because he's a tall boy who gets a bit of bounce. In the early days of his career he was guilty of bowling a little bit too short or too full whereas the sign of being a quality new-ball bowler is the ability to beat a batsman off a length, when the batsman isn't sure whether to come forward of go back and is crease-bound. In recent times Broad's started to hit those lengths a lot more; he does something with the ball and is lively so he complements Jimmy Anderson at the other end very well.
As a batsman, he is technically sound and he's got some shots - he stands firm and takes whatever is thrown at him without flinching. At 26, he's still very young in the game; he might have another eight or nine years ahead of him and his record will develop and grow. His batting average is in the mid-20s (he averages about what I did) while his bowling average is in the early 30s. He needs to get his bowling average lower than his batting average. If he does that, he'll be an even greater asset to the side.
The days of all-rounders scoring 10,000 runs and taking 1,000 wickets in first-class cricket seem over. How has the role of the all-rounder changed?
Hadlee: The all-rounder role is still the most difficult one in the game, although I'm sure opening batsmen will tell you different! An all-rounder can change the course of a match with either an inspired batting or bowling performance - he's someone who can win you a game and that brings its own pressures. If you are playing in all three formats of the game - as Stuart Broad is - it is demanding on the body and it can take its mental toll as well. Then there's how you think technically and tactically for each format and adjust your game accordingly. Nowadays the way to give players longevity and make them more performance-effective is to rest or rotate them, or allow them to specialise in one form of the game. It comes down to a management decision. A lot of people seem to hate the idea of rotation, but it's a positive decision to get the best out of a player.
How do you assess New Zealand's all-round options with regard to the upcoming Test Series?
Hadlee: The likely absence of Daniel Vettori is a big loss; his Achilles tendon problem has been worrying him for some time and it's still not right. His statistics as an all-rounder are quite remarkable - he has 360 Test wickets and 4,516 Test runs to his name - so New Zealand will miss his run-making abilities, his skilful bowling and his leadership as a senior player. He was the rock of the team but we haven't had him for the last six months effectively, which probably explains some of or poor Test results.
Kane Williamson is a quality batsman and more of a part-time off-spinner - he's unlikely to get you four or five wickets in a Test match. Nathan McCullum might be the next one who is required to bat at around about eight and bowl off-spin. The disappointing one for us is James Franklin - he should be our main all-rounder. He's a quality batsman but the stats don't reflect his ability and I'm sure he's more conscious of that than anyone else. He's capable of scoring hundreds batting at six and picking up three wickets here and there, so we've got to get a lot more out of him. If he can function that way then it certainly steadies up the team and gives it more backbone. Otherwise, there aren't a whole lot of options!
Just how good a batsman could Kane Williamson be?
Hadlee: He's a young man who has been thrust into spotlight. So far he's got three Test and three one-day hundreds to his name. Unfortunately he's also had a lot of misses so there is not a lot of consistency there - it's either feast or famine. He's technically very sound and has got all of the shots; he will build a substantial record over the next 10 years and I suspect that he could become New Zealand's leading run-scorer by the time that his career ends. What concerns me at the moment is that he's being asked to play in all three formats of the game. A player of his ability should be averaging in the high 40s if not 50s in Test cricket but he's only averaging 30, so maybe he needs to be withdrawn from some forms of the game so he can practice more on his Test cricket. But we just don't play enough Test cricket for him to make a living so it's understandable that he should want to play as much cricket as possible.
How badly do New Zealand need Ross Taylor back and firing?
Hadlee: We need his batting ability and experience - the big problem is that he and the selectors and management team are going to have to resolve is whether he's focused enough to come back into international cricket after losing the captaincy. The fact that he hasn't done much on his return to domestic cricket, to my mind, could make things uncomfortable; he'll be sitting in the same dressing room as some players who presumably were in favour of a new captain. That could be very distracting and destructive. These are the unknown things that need to be worked through at this time.
New Zealand bowlers have taken 10 wickets in a Test against England only five times - and you did it twice. How do you rate the current attack?
Hadlee: Actually, I think our attack is one of our strengths even if the South Africa series did not suggest as much. Trent Boult has got great potential - he reminds me of a young Wasim Akram; he swings the ball, he's quite lively and he has a competitive attitude. Tim Southee is the key man for us; he seems to be in the bowling form of his life so he needs to come back from his thumb injury as soon as possible. Doug Bracewell has put in a couple of good performances but consistently bowls either too full or too short - he needs to get that length right. The interesting one is what the selectors do with Chris Martin, who is by far our most experienced bowler but is there a place for him in the side? The young brigade might get the nod and Martin could miss out.
What's your most cherished memory of playing England?
Hadlee: The series I enjoyed more than any other was in 1983. It was the first time that I'd played a four-match series and we won our first Test against England, in England, at Headingley. I didn't get a wicket in the match but I got a few runs - 75 in the first innings - and that series overall was a pretty good one for me personally. I ended up averaging over 50 with the bat and took 21 wickets at about 26, so as far as playing as an all-rounder goes that series stands out.
Did you consciously measure your performances against Sir Ian Botham?
Hadlee: There's no doubt about that - yes. The late seventies and eighties was a great era to be playing in because Beefy, myself, Imran Khan and Kapil Dev were all vying to outdo each other. Whenever you had your one-on-one battles you never wanted to get out or vice versa; we pitted ourselves against each other, knowing that whoever had the better of those exchanges could have a real influence on the result of that game and series. I know technology has moved on in recent times but even back then we knew what each other was doing around the world - whether Beefy had just got a hundred or Imran had picked up five wickets. We were aware of where each one of us was at with our careers. There was definitely a feeling, particularly when we played in New Zealand, that the media were aware of the Hadlee v Botham storyline. You could sense that everyone - including the spectators and the players in the middle - expected something to happen, either one way or the other!
That to me is what the game's all about. It's the one-on-one contests that you have between bat and ball, with the fielders in the supporting role. That's the way I'll always remember it and want it to be.
Watch the first T20 international between New Zealand and England live on Sky Sports 1 HD on Saturday at 5.30am.