Let battle commence
Arguably the most intense team rivalry in sport returns on Wednesday when England & Australia renew their Ashes contest. Ahead of the first Test, England's Stuart Broad sits down with Peter Fraser to discuss the challenges, a hero status & life as 'an angry fast bowler'
By Peter Fraser - Follow me on Twitter @SkySportsPeteF
Last Updated: 08/07/13 8:45am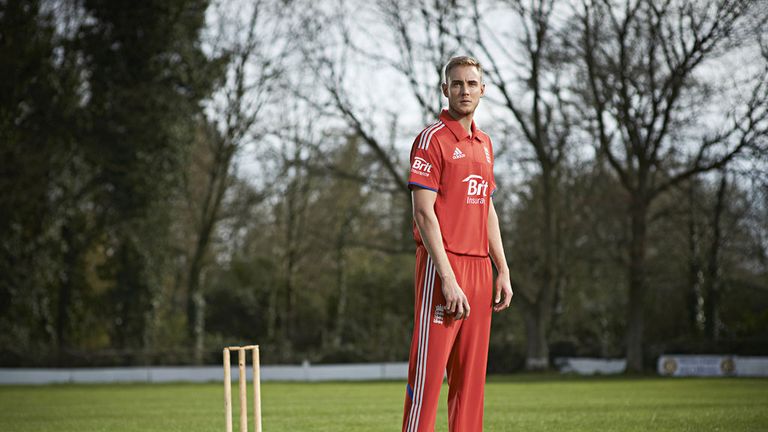 As our interview began, it was difficult to believe this was the same Stuart Broad who could often be seen fiercely confronting opponents, nosily appealing to umpires, or shooting glares which could kill at any team-mate who had been unfortunate enough not to meet his high standards.
When we first met in the stands in front of Trent Bridge's Members' Pavilion on an afternoon at the end of June, as grounds-staff tended to the outfield amid the drone of lawnmower engines, Broad's first suggestion was, "It might be a bit noisy out here, shall we go inside?". Upon entering the Pavilion, the 27-year-old advised me to take care, because, at 6' 6'' tall, he had in the past had to beware some of the low head room.
Such manners were more in keeping with his choirboy looks than with the feisty England fast bowler who will on Wednesday face Australia when this summer's much-anticipated home Ashes series gets under way on the same pitch which lay in front of us.
As we spoke, sitting at a table in the dining room adjacent to Nottingham County Cricket Club's Members' bar, hometown lad Broad was then more than happy to break off to acknowledge the greetings of a group of supporters who were arriving for their lunch.
Was this the same man who infamously did not hold back as a mere 21-year-old when sledging India's legendary Sourav Ganguly in a 2007 One Day International? Was this the same man who memorably went almost nose-to-nose with Australia's Mitchell Johnson in the 2009 Ashes?
Of course it is the same Broad. But, as is often the scenario with professional sportsmen, there is a difference between the person and the player. As was also the case with his father, former England opening batsman, Chris, competitive spirit can take over. And Broad openly admits to a different personality when crossing the boundary.
"An angry fast bowler," he said with a laugh when the subject came up in Sky Sports' exclusive interview in association with England's kit suppliers, adidas. "There is maybe a little bit of white-line fever there. My theory is that I have always been passionate about playing cricket, passionate about beating the opposition and passionate about winning. The worst thing anyone can say to me is that it is not the winning which is important. You get all your memories from winning. No-one wants to score a hundred or take a five-for in a losing Test match. You want to do it to win. I live off that adrenalin. You need it as a bowler. If you do not have a presence as a bowler, you lose a lot of what you have got."
Broad splits opinion. Some view his fiery on-field persona as simply just not cricket while others have accused him of a sometimes flashy lifestyle away from the sport. Suggestions Broad was to become England's next top-class all-rounder to follow in the footsteps of Andrew Flintoff have slowly faded. Broad's batting is perhaps not quite good enough for him to be considered an all-rounder. But, at the same time, he has become one of the best fast bowlers in the world.
As a member of England's feared pace attack, which will include James Anderson and one of either Steven Finn, Tim Bresnan and Graham Onions against Australia, he has now taken 195 Test wickets in 57 matches at an average of 30.93 and a handy strike-rate of 60.5. Including limited overs cricket, since his ODI debut against Pakistan in Cardiff in 2006 and his maiden Test outing versus Sri Lanka in Colombo in 2002, Broad has now taken 410 international wickets.
He was an integral part of England's ascent to becoming the No.1 ranked Test nation in the world in 2011 and he remains a vital part of coach Andy Flower's meticulously detailed plans. Such has been his development, Broad was named England's Twenty20 captain two years ago and remains in the role under new limited overs coach Ashley Giles.
A worrying dip in form and a related heel injury disrupted Broad's 2012 winter in India and he ultimately had to return home. But he has a habit of producing performances when his doubters are stirring. He was later that winter England's most effective bowler in the drawn Tests in New Zealand, going back to pushing his length a little fuller to good effect, and, in the return home series against the same opponents, produced a career-best 7-44 at Lord's in the second innings of May's first Test. He then again looked back to his best in the ICC Champions Trophy but could not quite help England overcome India in the final.
Our conversation continued amid the background hum of the members preparing to eat their meal and so the question had to be asked as to whether Broad has now come of age. Did he re-watch some of his inexperienced behaviour, or attitude, on the field in the past and wince?
"A few years ago, maybe," he said. "But I think I have really matured now and have done a lot of work on keeping my balance. I feel like I have developed quite nicely."
He added: "I have played quite a bit of cricket for my age, really. Someone told me the other day that I had just taken 400 international wickets, which only five other Englishmen have done. That is a very special thing to be a part of and comes with the excitement that my best is yet to come. They say that you peak from 28 years old to 32, so that would be very special if that could happen. I have been fortunate to play in an era when we have got some very good players. To play with them and see the special things that happen, to be a part of these sort of things, is amazing."
Despite the crowded dining room, there was no further distracting Broad from the main event of this summer. With the early visit from New Zealand complete and the disappointment of that Champions Trophy final in the past, Broad and his England team-mates will this week take to Trent Bridge for the first Test of this summer's Ashes. Like his dad in the 1980s, Australia will once again be in the Broad firing line.
Broad has already been a part of two Ashes-winning England squads - including his famous 5-37 in the space of 21 deliveries in the first innings of the 2009 series-clinching victory at The Oval - before playing in the first two Tests of the 2010/11 tour Down Under prior to an unfortunate torn abdominal muscle.
However, this summer, there is a different feeling to the Ashes. England are strong favourites to win a fourth series out of the last five amid the visiting Australian turmoil - their Test whitewash in India in February and March; the sacking of former coach Mickey Arthur and subsequent appointment of Darren Lehmann just 16 days before the start of the Ashes; David Warner's punch on Joe Root; and the uncertainty about their batting line-up away from the established skills of captain Michael Clarke, if his back can stay fit, and reinstated opener Shane Watson.
Such English Ashes success is almost unthinkable for a generation who grew up watching Australia win eight series in succession between 1989 and 2003. But with that comes a build-up with an extra intensity, expectation and pressure. Even more so than in the past, it dominates news agendas, conversations and mentalities.
"The build-up has been fantastic," said Broad. "It has been quite hard as an England player, because we have had different challenges. We have been trying to keep the Ashes out of our minds, because we had the New Zealand series, the Champions Trophy - game, game, game. But now the Ashes has been upon us so the mind has started drifting towards it. It is hugely exciting.
"With me living in Nottingham, I have just been home for two or three days and the buzz around the place is fantastic. All the restaurants have been talking about how busy they will be and there is a vibe around the city. It is great. The excitement is building hugely. Everyone in England is desperate for us to win, and everyone in Australia is desperate for them to win. Those sort of rivalries are why you play."
For Broad, who spent the previous day to our interview working the stopwatch at his teacher mum's primary school sports day in Nottingham ("eight-year-olds get flying starts and jump the gun!"), there is added determination to face Australia.
After the injury which ruled him out of playing a full part in England's first series win Down Under in 24 years and then the heel problem of last winter, he is straining at the leash. Broad even had to accept being rested from June's T20 internationals against New Zealand in preparation for the Ashes and a few days after our interview took place he was also left out of the warm-up victory over Essex in order to ensure he was in peak condition. It is a watching brief which sportsmen have to accept as strategy but none enjoy.
Broad said of his ability to spectate: "No, awful, awful! Even with The Lions in rugby, I am there shouting at the TV. I know very little about rugby. But you suddenly become a know-it-all, don't you? I do get quite nervous when I am watching the guys [England's cricketers] on TV. I have to be doing things like walking in and out, or making cups of tea. I always much prefer to be out on the field and playing, because you have a bit of control over it. Even when you are in the changing room and watching a tight situation, it is awful. You do not get a better feeling than performing out in front of a crowd. It is why you train. It is why you do your hard work in the nets - to showcase your talent out on the field. That feeling when you pick up a wicket or your mate gets a hundred, it is brilliant."
England will be hoping for plenty of wickets and hundreds when they face Australia. Some in the media have gone so far as to suggest it will be an easy task and, ahead of the massive back-to-back Ashes which come with this winter's return trip to Australia, there have been predictions of a 10-0 whitewash in favour of England.
In contrast, it has been argued the appointment of Lehmann could have a revitalising impact on Australia, who found some form in their warm-up win over Somerset and draw with Worcestershire, while bowlers Mitchell Starc and James Pattinson cannot be underestimated. That has led to caution from other pundits, including former England captain Andrew Strauss, who will be working for Sky Sports. In a year when he could find himself being interviewed post-match by Strauss ("It will be funny to see Straussy in a suit instead of his England cap and jumper! But he will be good at his job. He is a good speaker"), Broad, unsurprisingly, agrees with his ex-skipper.
"It is probably something England have not been used to for the past 25 years," said Broad of the position as favourites. "As a youngster when I was growing up, Australia just used to thump us. They used to just turn up, [Glenn] McGrath would get seven-for, [Shane] Warne would get five-for, everyone would get hundreds and we would lose. But this England team for the past three years have been very good. We have been very fortunate to have some really talented players and we have played some good cricket together. There have been quite a few series where we have gone in and been expected to win. But this is probably the first Ashes series that we have been talked up to win. But one thing we are aware of in the four walls of the changing room is the danger Australia will pose. You might get ex-pros writing Australia off but I think they are very inaccurate to do that. Michael Clarke is a world-class player. Shane Watson is a very dangerous player. They have got bowlers who have taken a lot of wickets in Australia. So, we know the dangers they have got and we will have to play well to win."
Ashes fever will sweep the nation in a summer when there are no distractions, such as 2012's London Olympics or football's European Championship. As the Nottingham local and as demonstrated by the way he was recognised by passers-by in our time together, Broad will likely also receive a majority of the attention, especially at Trent Bridge. He will be an idol for thousands.
Broad has spoken in the past of how he grew up hero-worshipping Australians, such as McGrath or Matthew Hayden, due to his desire to replicate their success. But, now, he will be the star for English fans, particularly young, aspiring cricketers who could likely replicate his every move, including his typical on-field fashion.
Broad said with a smirk: "Parents tell me their kids are always wearing the big sun hat and the sweatbands! It is great to hear that sort of thing. But, as a player, you cannot get too concerned with stuff like that. At the end of the day, I know this sounds very basic, your job is to deliver out in the middle and help England win games. If you do that, other great things come your way."
He added with a joke: "The only downside is when you have had a bad day and people tell you so when you walk in the Starbucks queue!"
Broad and England will therefore want a repeat of their recent successes at Trent Bridge in order to start the Ashes without any form of complacency. In 2008 there was the win over New Zealand while there has also been 2010's victory over Pakistan, 2011's success against India and 2012's defeat of West Indies. The triumph over India particularly sticks in the memory due to Broad's first innings hat-trick, in which he dismissed MS Dhoni, Harbhajan Singh and Praveen Kumar, as part of five wickets in just 5.4 overs.
It is a habit he seems to have developed for a domino effect on opponents. When he gets one wicket, others tend to follow. This was the case with his five wickets at The Oval against Australia in 2009 or, more recently, his seven-for versus New Zealand.
Broad quickly answered when asked about his wicket-taking patterns: "Like little bursts? I suppose it is like hitting a rhythm. You get your stride pattern right, you hit the crease at the right pace and you get the ball in exactly the right spot. You go with the flow. It is like a batsman when getting a hundred. It works your way that day. That seems to happen with me with the ball."
Another man who will be unable to escape the spotlight this summer will be the returning Kevin Pietersen. Last year's text scandal saw Pietersen messaging opponents South Africa with unflattering conversations about captain Strauss, who ultimately retired after the home series defeat which cost England their status as the world's best Test team. England's star batsmen, Pietersen, was eventually 'reintegrated'. But, although he featured against Essex after his return in the T20 game against New Zealand was rained off, he has not played in a competitive international since March due to injury.
"I imagine Kev is certainly excited about coming back into the setup," said Broad. "He has had a bit of time out with a knee injury. But he is fighting fit and scoring runs. The atmosphere [in the England dressing room] has been incredible from the start of the summer. The guys have really enjoyed being around each other, we have played good cricket and there has been a real passion for each other to do well.
"Having caught up with Kev, he has got a real hunger to come in and succeed. You can tell he has got a real eagerness to come in and continue his fantastic Ashes record. We are certainly a better team with KP scoring runs. He is a world-class player. I am sure he is buzzing about the fact he can come back into a very happy changing room and play his cricket the way he can. We know he is a feared opponent for anyone."
With that and a handshake, our time was over. Broad headed for Trent Bridge's car park in order to make the short drive home. Australia will be next to face the 'angry fast bowler'.
Stuart Broad was launching the new England One Day International and Test match cricket kits, supplied by adidas. Visit www.adidas.com to purchase yours or join the conversation @adidasUK