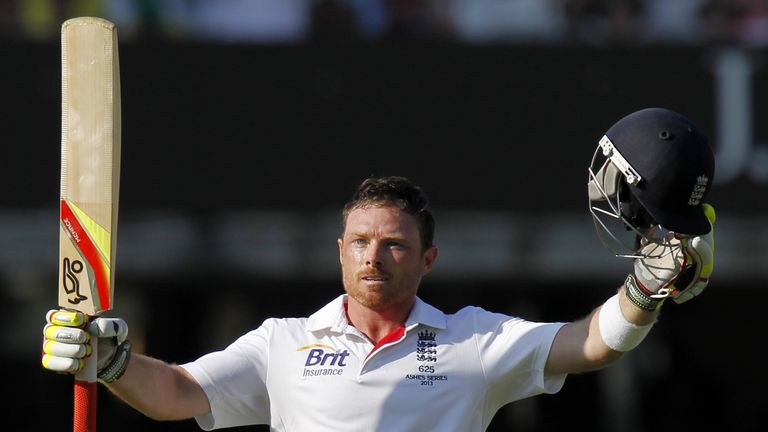 That represented a recovery from 28-3, led by Ian Bell's 109, but was also a missed chance having been 271-4 in the evening session.
Leg-spinner Steve Smith produced a six-over spell of 3-18, including the wickets of Bell, Jonny Bairstow and Matt Prior to leave the match back in the balance.
With the dust having settled, we pick out some of the talking points to emerge.
Worth the wait
Bell joined rarefied company with centuries in three successive Ashes Tests.
He failed to reach three figures in his first 17 Tests against Australia but his 115 in England's Ashes-clinching win in Sydney in January 2011 proved a watershed.
The Warwickshire right-hander followed up with a match-turning 109 in the second innings of England's win at Trent Bridge last week and then, having come in at 28-3 today, another 109 led his side's recovery.
Among Englishmen, only Jack Hobbs (twice), Wally Hammond and Chris Broad have previously achieved the feat.
Lord's specialist
Smith had to wait until the 77th over to get his first chance to turn his arm over - but soon made up for lost time.
Once hyped as the 'new Shane Warne', Smith's leg-spin failed to develop at the same pace as his batting, which is now regarded as his stronger suit.
He has happy memories of Lord's where he claimed 3-51 on Test debut in the second innings of Australia's win over Pakistan in 2010.
And he added some more by removing Bell with his sixth delivery, finding the outside edge with a sharply-turning leg-spinner that ended in the hands - or to be more accurate trapped between the wrists - of Michael Clarke at slip.
That breakthrough encouraged Clarke to delay the second new ball for a few overs and was rewarded when Smith added the bonus wicket of Jonny Bairstow, who hit a full toss back to the bowler.
Still he wasn't done, deceiving Matt Prior with a front-of-the-hand variation to complete a spell of 3-18 from six overs.
Sloped off
James Pattinson's early struggles with the Lord's slope prompted Clarke to turn to Shane Watson's medium pace for the fifth over of the day.
It proved an inspired move as Watson got rid of Alastair Cook with his second delivery, pinning the England captain lbw as his head tipped over to the off side.
Watson's pace - or lack thereof compared to Pattinson - was a factor in the dismissal giving Cook, playing from the crease, a fraction more time to lose his balance.
In a week when former coach Mickey Arthur claimed in leaked court documents that Clarke regarded Watson as a "cancer" in the team, it was an instance of the two working together in perfect harmony.
Royal appointment
Play started 15 minutes later than usual to allow for Queen Elizabeth II to meet the players on the outfield.
Her Majesty chose a blue hat for the occasion which has become a tradition during the Lord's Test of an Ashes series.
Everybody was on their best behaviour and the Australians resisted the temptation to pull out an autograph book and pen and ask for the Queen's signature as Dennis Lillee did at the 1977 Centenary Test in Melbourne.
On that occasion, Lillee's request was declined although he reportedly received a signed photo in the post a few weeks later.
Missing piece
Ryan Harris' early impact with the new ball was a reminder to England of the threat posed by the veteran fast bowler.
After making a belated Test debut at the age of 30, Harris provides a 90mph cutting edge to Australia's attack - when he's been fit to take the field that is.
And therein lies the problem. The Sydney-born 33-year-old has played just 13 of a possible 37 Tests in that period due to injury problems, most notably chronic knee issues.
England knew what was coming when Harris was preferred to Mitchell Starc at Lord's as he had taken nine wickets at Perth in Australia's only win of the 2010/11 Ashes series.
But he sustained a stress fracture in his left ankle during the next Test in Melbourne and England won the final two matches of the series to earn a 3-1 victory.
Since then, his career has been stop-start and, with all five Tests in this series being squeezed into just over six weeks, Australia's management know Harris' workload must be managed sensibly to avoid another breakdown.
Conversion decline
Jonathan Trott has been a rock for England at No.3 since his debut in the final Test of the 2009 Ashes series, averaging close to 50.
But his dismissal for 58 on day one at Lord's continued a downward trend in turning 50 into 100 over the past two years.
When he scored the seventh of his nine Test hundreds, 112 against Sri Lanka in Galle in March 2012, Trott had an exceptional conversion rate of 47 per cent.
Since then, he has passed 50 on 11 occasions but has only twice gone on to a century - a conversion rate of 18 per cent.