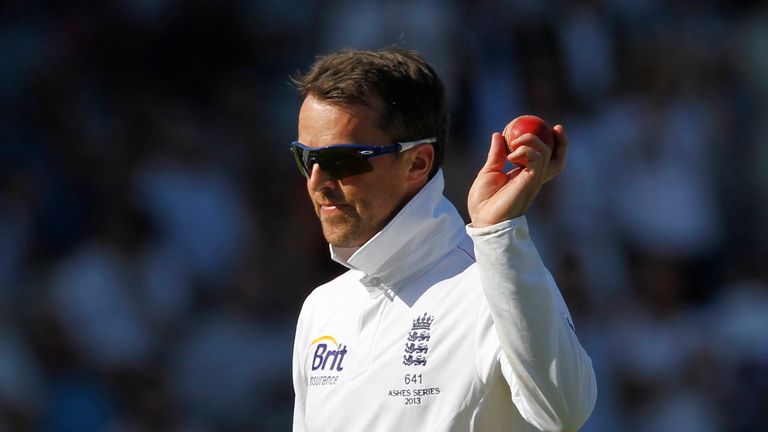 After all the excitement, England emerged well on top, finishing at 31-3 in their second innings with an overall lead of 264.
Peter Siddle's late three-wicket burst salvaged something for Australia, who had been bundled out for 128 shortly after tea in reply to England's first-innings 361.
We pick out some of the key moments of the day.
Turning point
While Swann earned most of the plaudits it was Tim Bresnan who produced the ball of the day to dismiss Shane Watson on the stroke of lunch.
The delivery itself was good enough, tailing back off the pitch, but it was elevated by the context.
England's 361 looked a moderate effort given the conditions, an impression that was backed up when Watson raced to 30 amid a flurry of well-struck boundaries.
Had Australia finished the morning session on 42-0, they would have been more than happy with their morning's work, even accounting for Stuart Broad and Swann's last-wicket stand of 48 from 40 balls.
Instead, Watson - he of the big stride and even bigger front pad - fell lbw in familiar fashion and compounded the error by burning one of Australia's two reviews for the innings (more on that further down).
England went to lunch on a high and came out from their refreshments to dominate the afternoon session, Bresnan finishing with 2-28 to justify his recall in place of Steven Finn.
Well adjusted
Ian Bell did not have anything like the impact on today's action as yesterday but he still produced one moment of magic in the field to take catch of the day honours.
Australia were already mid-collapse when Bell's reaction grab at short-leg sent Steve Smith on his way and gave Swann his third wicket.
It was a good ball, taking the glove after bouncing more than Smith - an accomplished player of spin - expected as he stretched forward.
Bell had to quickly readjust in order to make the catch as it died in front of him, a task he completed in expert fashion.
In need of review
Australia's troubles with the Decision Review System (DRS) continued with Watson and Phil Hughes using up their first innings quota inside 19 overs.
Watson, for the second innings in a row, was unsuccessful with his attempt to overturn an lbw verdict - his "T-signal" being greeted with incredulity by some of England's fielders.
Worse followed as Watson's opening partner Chris Rogers decided against challenging an lbw decision shortly after lunch when he was struck just below the waist by a Swann full toss.
Had he done so, Rogers would have been reprieved as 'Hawkeye' showed the ball to be comfortably missing leg stump.
And Australia were quickly out of reviews when Hughes sent a caught-behind decision upstairs, only for there to be no clear evidence either way, meaning it stayed with the on-field call ('Snicko' - not part of the DRS - later indicated a clear edge).
Past glories
There was a painful reminder of better times for the Australian contingent of the crowd during the tea interval when leg-spinning legend Shane Warne was inducted into the International Cricket Council's Hall of Fame.
Warne claimed 195 of his 708 Test wickets against England, starting with his 'ball of the century' to bowl Mike Gatting in 1993.
The 43-year-old was joined on the outfield by his parents Keith and Bridgette and girlfriend Elizabeth Hurley in front of an appreciative crowd.
Warne is part of a four-strong entry into the Hall of Fame for 2012-13 alongside former team-mate Glenn McGrath, West Indies batsman Brian Lara and women's cricket pioneer Enid Bakewell.