Ashes: We look back on the third Test as England retained the urn
Australia fought hard, but in the end the rain won out. A look back at the Old Trafford Test.
Last Updated: 07/08/13 4:59pm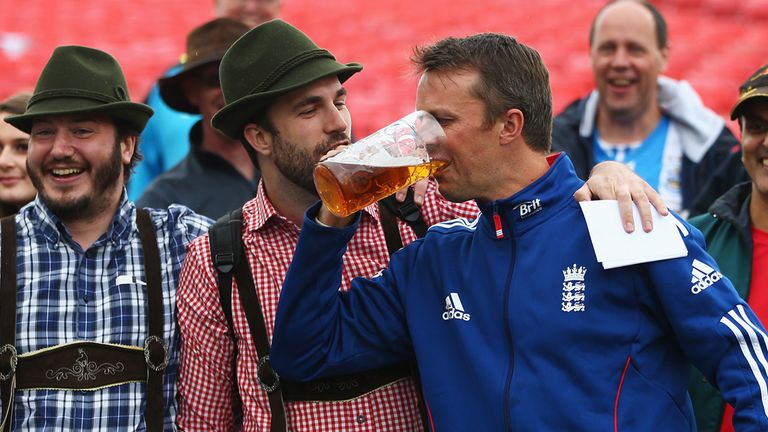 Alastair Cook already had one hand on the miniature urn after contrasting victories at Trent Bridge and Lord's, leading to much talk of a potential series sweep.
However Australia showed some fighting spirit at last, and not just because they recalled David Warner. Michael Clarke led from the front with the bat and their seamers out-performed their English counterparts on a true surface.
In the end, though, the weather gods had the last word. Chasing 332, England had limped along to 37-3 by the time wet weather came to bring about an early - and extremely damp - end to the final day.
Here we take a look back at all five days, picking out some highlights not only from on the field but also off it.
Day one close - Australia 303/3
Australia arrived at Old Trafford 2-0 down in the series and needing victory to keep alive their hopes of regaining the Ashes. The tourists recalled David Warner, Nathan Lyon and Mitchell Starc in an effort to spark a turnaround, while England were unchanged after Kevin Pietersen recovered from a calf problem. Australia captain Michael Clarke won the toss for the first time in the series and chose to bat first in ideal conditions - a hot, cloudless day and a quick, true pitch. Chris Rogers, just shy of his 36th birthday and playing for his Test future after a double failure in the second Test at Lord's, led the way with a boundary-laden half-century as Australia reached 92-2 at lunch. Shane Watson made his customary start then, as usual, got out and Usman Khawaja became the latest victim of DRS controversy that has dogged the series. Khawaja was given out caught behind off Graeme Swann's bowling by umpire Tony Hill. Khawaja asked for a review and replays showed clear daylight between ball and outside edge. But there was also a sound as the ball passed bat and third umpire Kumar Dharmasena felt unable to overturn Hill's on-field verdict, sending a bemused Khawaja on his way.
Swann pinned Rogers lbw for 84, denying him a maiden Test hundred and leaving Australia on 129-3 and at a crossroads. This time, instead of another collapse, Clarke and Steve Smith seized the moment for the tourists, batting throughout the remainder of the day in a fourth-wicket stand worth 174 by the close. Clarke was unbeaten on 125 - the first Australian century of the series - and Smith 70 not out, taking advantage of England's tiring seamers in the evening session.
Day one recap | Gallery | Atherton - Captain fantastic
Day two close - Australia 527/7 declared, England 52/2
There were several highlights on a fun Friday in Manchester - Michael Clarke going on to 187, a cameo from Mitchell Starc with the bat, Stuart Broad claiming his 200th Test wicket, yet another Test five-for from Graeme Swann and a late double burst from the ever-reliable Peter Siddle. However, the prime moment for the home spectators came with David Warner's emergence from the pavilion. He was greeted by pantomime boos from the vast majority and was jeered off after making just five, his demise coming despite a rather embarrassing review when he was adamant he didn't nick a delivery from Swann that ended up in Jonathan Trott's hands via Matt Prior's left thigh. The commentary box wasn't without some laughs either, as Ian Ward's tweet comparing Nasser Hussain to Montgomery Burns from The Simpsons particularly tickled Shane Warne.
England, however, were hardly all smiles by stumps. Clarke made serene progress before becoming Broad's landmark victim, almost punching the ball onto his stumps as he looked to play a late cut to third man. Steve Smith should also have made it to three figures but for a horror stroke to Swann that saw him caught for 89. Brad Haddin (65 not out) and Starc, who hit nine boundaries to race to 66, put on an unbroken stand of 97 before the declaration finally came shortly after tea. England's reply started in sedate fashion to say the least - Joe Root dug in a manner his surname would suggest, eventually falling for eight from 57 deliveries. Tim Bresnan emerged as nightwatchman with half-an-hour to play and also fell to Siddle, even if replays showed he hadn't actually hit the ball, meaning Jonathan Trott was forced to come out and bat before the close after all. Australia started and finished on top, leaving their hosts with work to do.
Day two recap | Gallery | Nasser - Patience pays off
Day three close - Australia 527/7 declared, England 294/7
Before many club cricketers made it out into the middle on Saturday afternoon, Nasser Hussain and Andrew Strauss stepped into the Ashes Zone prior to the start of play at Old Trafford to give a few pointers in a batting masterclass. The pair dealt with the positioning of feet, back lift, trigger movements and grip. "Not everyone plays exactly the same way, but you do have to have some fundamentals of getting the bat through straight," said Nasser, before then taking some throw downs from Ian Ward. Kevin Pietersen had problems just laying bat on ball when he got out into the middle, but some dogged determination saw him overcome a tough start to post his 23rd Test century. England were indebted to his ton - as well as a fine knock of 60 by the in-form Ian Bell - as they battled to avoid the follow-on. KP did go nuts against Nathan Lyon after lunch, but was otherwise becalmed on his way to becoming England's highest run scorer in all forms of international cricket. Alastair Cook himself looked set to reach three figures before being spectacularly caught down the leg-side by wicketkeeper Brad Haddin, while Jonathan Trott mustered just five to continue his lean run in the series.
Australia stuck manfully at their task throughout proceedings - Mitchell Starc finished with three wickets, including dismissing centurion Pietersen for 113 in the final session. However Ryan Harris and Peter Siddle also played important roles and by close England were still not out of the woods.
Day three recap | KP 'just magnificent' | Batting masterclass
Day four close - Australia 527/7 dec & 172/7, England 368
Australia captain Michael Clarke ended the fourth day with a disappointed look on his face. That was nothing new really considering how the series had gone so far, except this time it was the weather - not the state of the match - that had him shaking his head. When bad light then rain cut shot proceedings on Sunday, it denied the tourists the chance to force England's top order to come out and bat facing a huge deficit and in tricky conditions. Crucially, the hosts had managed to scrape past the follow-on target in the morning session, Matt Prior and Stuart Broad completing that task in a hurry with a flurry of boundaries. However, England still ended up conceding a hefty first-innings lead and although they lost plenty of wickets, Australia were able to extend the margin to 331.
In truth it was not an exhilarating day, but the highlight was very much the dismissal of David Warner after he'd been promoted to open. This time there was no careless use of the DRS, just simply a well-hit shot being caught at deep square leg by...Joe Root. That's right, Root was on the end of a Warner hook. There may have been some banter on the field at that dismissal, and there was also a little bit of fun in the Sky Sports commentary box, again at poor Nasser's expense. Gary Neville dropped in to have a stint next to the former England captain before then stepping into the Ashes Zone, allowing the Monday Night Football pundit to point out some flaws in the Hussain technique, as well as annoy the Arsenal supporter with a recap of Robin van Persie's stunning volley for Manchester United against Aston Villa.
Day four recap | Strauss faces the quicks | Neville in the Zone
Day five close - Australia 527/7 dec & 172/7, England 368 & 37/3 - match drawn
Rain, rain, go away. Australia must have woken in their hotel on Monday morning and immediately feared the worst. The forecaster had seemingly got it right - Manchester was looking miserable and play seemed unlikely. Hope came along for the tourists in the form of a break in the clouds, allowing play to get underway at 11.30pm. Having declared to set England an unlikely 332, Australia's seamers immediately had their opponents wobbling. Ryan Harris dismissed Alastair Cook for a duck and then had Jonathan Trott caught down the leg side during an excellent seven-over spell. His replacement in the attack, Peter Siddle, then claimed the big wicket of Kevin Pietersen, albeit with the DRS again in the spotlight after Hotspot failed to show a mark on the bat. At 37-3 England were wobbling with seemingly two sessions to play.
However, they were given a helping hand by the elements. Shane Warne realised the game was up for Australia long before the umpires officially called off play - "We're cooked," he said on the commentary box. David Gower got sidetracked by a wagtail on the field and everyone waited for the inevitable abandonment. An inspection at 5pm was never needed - England had retained the Ashes in just 14 days of Test cricket. It wasn't quite the same as the scenes in Melbourne or Sydney, but the job had been done. On to Durham.
Day five recap | Gallery | Strauss on Hotspot