Ashes: England's James Anderson talks to Sky Sports ahead of Australia tour
Ahead of an Ashes tour, Rob Lancaster spoke to England's leader of the attack about the pursuit of history, playing against Australia in their own backyard and his future in the game beyond the next few months Down Under...
By Rob Lancaster
Last Updated: 22/10/13 12:26pm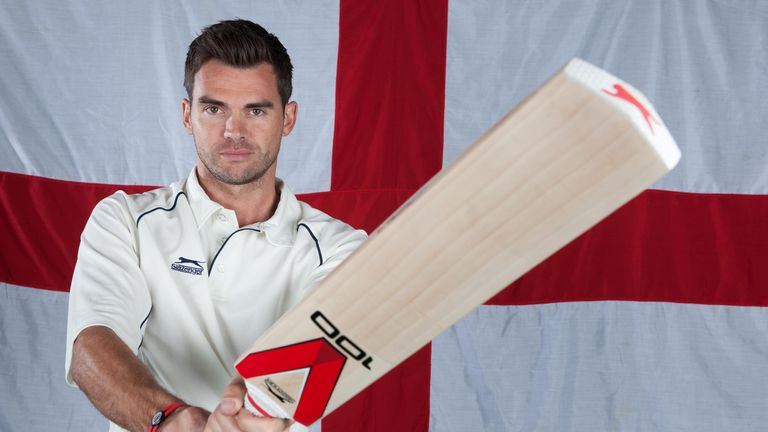 Back in January of 1987, when a squad led by Mike Gatting that included current Sky commentary duo Sir Ian Botham and David Gower sealed a 2-1 series win, few could think an England team would have to wait so long to be triumphant again on Australian turf.
Tour after tour followed with little success - if it wasn't Michael Slater's slashing blade it was the fighting spirit shown by Allan Border and Steve Waugh. If it wasn't the nagging accuracy of Glenn McGrath, it was the flight and guile of Shane Warne. Many an England skipper before Cook was sunk in a hurry.
Then, on the 2010/11 trip, all those past failures became forgotten memories. The tourists not only retained the urn by a 3-1 margin but ended 24 years of hurt.
Since then, they have kept a tight grip on the trophy, meaning they go to face their oldest rivals seeking a fourth successive series win, something that has not happened in the past 123 years.
If history is to be made then James Anderson will surely play a key part.
The Lancashire bowler will be on this third Ashes tour of duty, and he couldn't have experienced more different emotions in his previous two visits.
Contrasting fortunes
His maiden trip finished with five wickets at a cost of over 82 in a whitewash defeat. Then, second time around, he finished up doing the celebratory sprinkler dance on the outfield of the famous Sydney Cricket Ground, having claimed 24 scalps in the five Tests.
So, as he prepares for the pinnacle of all overseas tours for an Englishman, did the 31-year-old feel the need to prove himself on Australian soil last time out?
"I hadn't really thought about it, to be honest," Anderson, who will be using the Slazenger V100 ULTIMATE TAS in Australia, told Sky Sports.
"I certainly wanted to put in a better performance than I did the time before. But I knew I was a better and different bowler than the one who went there in 2006/07.
"I just wanted to show people what I could do.
"The Ashes are huge for us and we love playing in them. There is no better series for an Englishman, so it's exciting that we've got the chance to win four in a row this time around. Everyone is really relishing the chance to do that.
"It can be quite a daunting place to go because of the stick you get from the crowd, but the last time we were there we embraced it.
"We tried to engage with the public and the fans, and we really enjoyed that. Hopefully it can be the same this time around."
Anderson starred as England retained the miniature urn this summer, claiming 22 wickets - 10 of which came in the opening Test at Trent Bridge, a match he seemingly won single-handedly with the ball on a gripping final day - as the hosts ran out 3-0 winners against Michael Clarke's troops.
His efforts earned the Burnley-born seamer a breather for the one-day series against the Aussies, allowing him to take a holiday with his family and "generally just stay away from cricket for a bit".
"It was a really close-fought series, even if the final scoreline says 3-0," he admitted. "The games themselves were very close and it was tough, both physically and mentally, as it always is.
"With the away series being so soon, it was good to get a break before we go again.
"It is frustrating missing cricket, especially when you're fully fit. But, seeing the bigger picture and with an important series coming up, it was probably the right thing to do.
"I still kept in touch with the one-day series and tried to watch as much as I could."
Record bid
During the most recent Ashes he moved past Bob Willis on England's all-time wicket-taking list, meaning now only the great all-rounder Botham sits above him. Although still 74 adrift, there is little to suggest he cannot get to 383 and beyond before he hangs up his bowling boots.
"At the moment, with the way my body is and with the way I feel about the game, I want to keep going as long as I can and see where I get to, really," Anderson admitted.
"I don't want to set any time limit just yet - I just want to play it by ear."
He also has no plans to end his one-day involvement to further his Test career, particularly with a World Cup looming on the horizon, adding: "After we got to the final of the ICC Champions Trophy I do think we have got a really good chance of winning that 2015 World Cup - and I would love to be a part of it."
It was the 50-over format that launched Anderson onto the international scene; he took to it like a duck to water after being plucked from seemingly nowhere to provide cover for Andy Caddick in Australia in 2003.
Now, a decade on, he returns as the leader of the attack. Despite going through some tough times, and a variety of different hair styles, 'The Burnley Express' is still going at full steam. The final stop seems some way off yet, too.
James Anderson will be using the Slazenger V100 ULTIMATE TAS bat during this winter's Ashes series, part of the new 2014 Slazenger cricket range available to pre-order in November.
For more information on the Slazenger range for 2014 visit Store.slazenger.com